In the mid-1960s, Ferrari developed a new entry-level sports car. This was to feature the V6 engine developed by Alfredo 'Dino' Ferrari as its power source. Alfredo was the son of company founder Enzo Ferrari and, according to his whishes, was to take over the car company one day. For this Dino attended the best schools and was sent to Switzerland to study engineering. During this time he was diagnosed with muscular dystrophy. As early as 1955, Dino discussed a new V6 engine with two overhead camshafts with his father and his father's chief engineer, Vittorio Jano. This was initially to be used with a displacement of 1.5 liters as a power unit for Formula 2 racing at the time. However, later use in racing cars wasn't ruled out. Dino's illness worsened and led to his death on June 30, 1956.
Production sports car needed for engine homologation
The engine he devised won third place for the first time in the Naples Grand Prix in April 1957, followed by numerous other successes. Among others, Phil Hill won the 1961 Formula 1 World Championship with a further developed Dino V6. In memory of his son, Enzo Ferrari never named the racing cars with the V6 engine as Ferrari, but as Dino. For the 1967 season, the FIA announced new regulations that stipulated that the engines used in Formula 2 had to come from series production. However, Ferrari was unable to achieve the required number of 500 production cars sold in a hurry. At the time, the factory in Maranello produced a total of a mid-three-digit number of sports cars per year by hand. Enzo therefore agreed to cooperate with Fiat, where the Dino engine was converted for road use by means of a cast block and new innards. The Turin-based brand then installed the engine in the Dino Spider and Dino Coupé from 1966.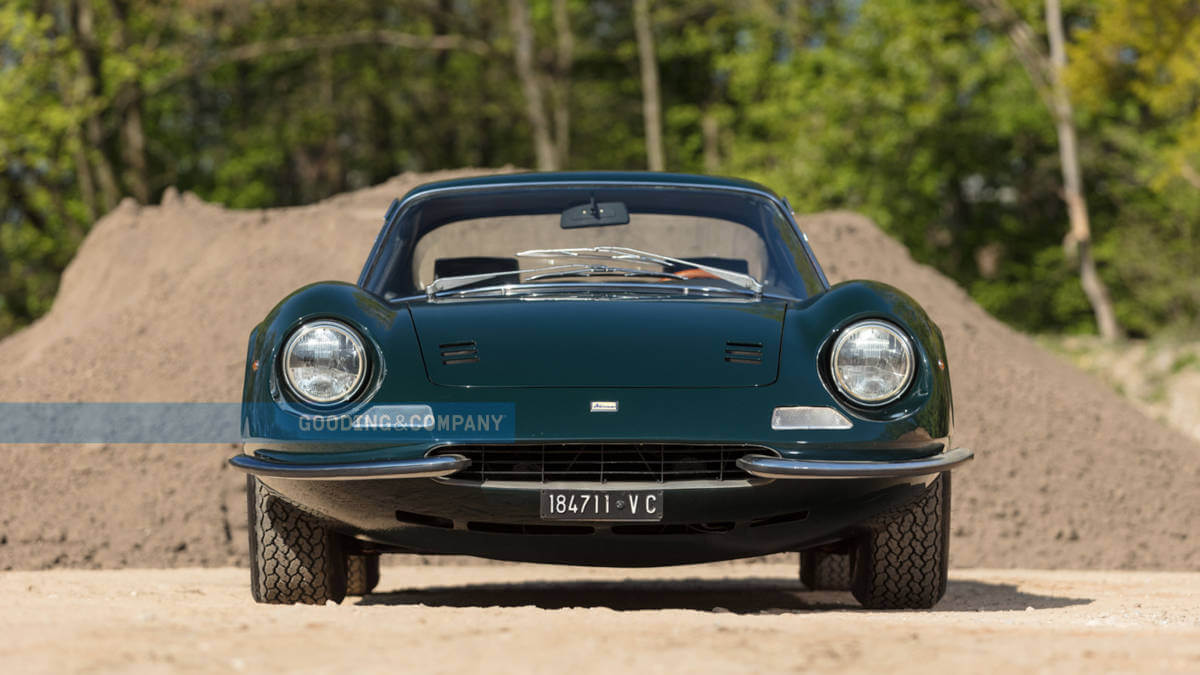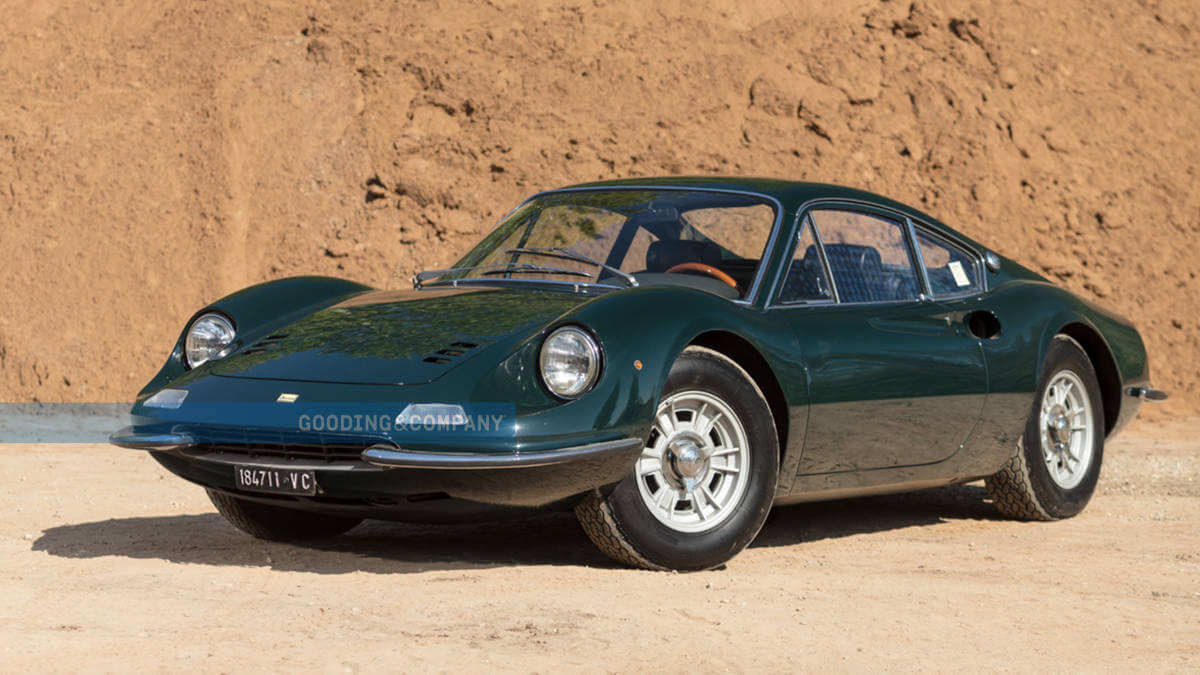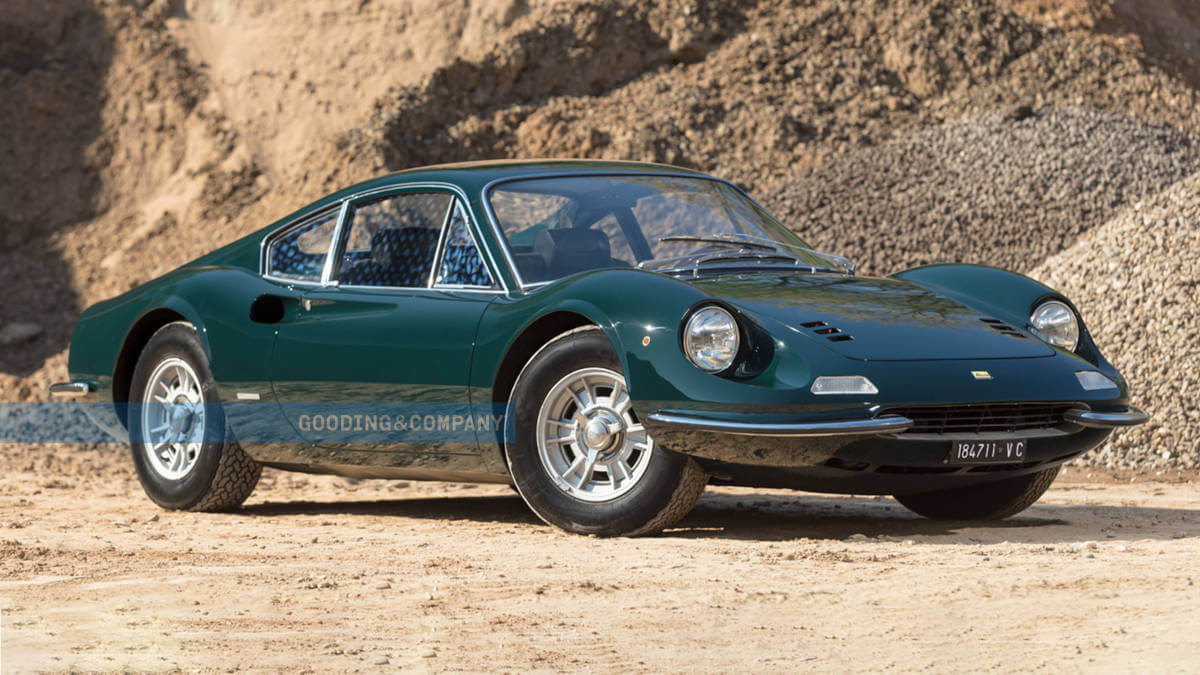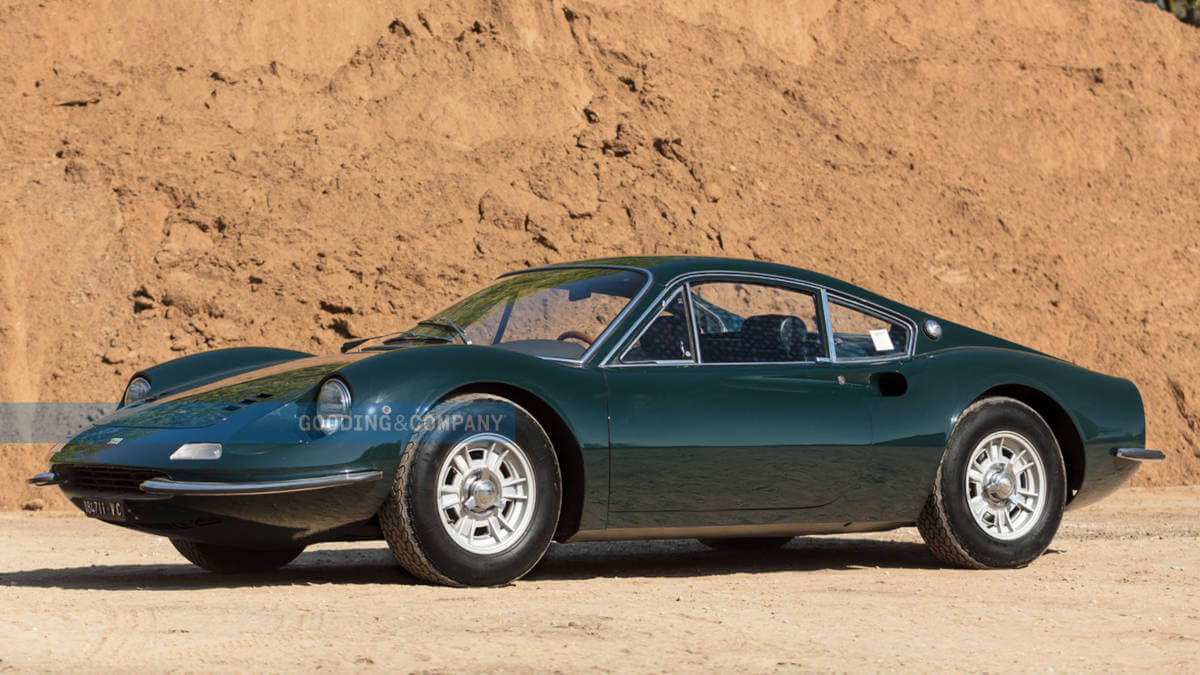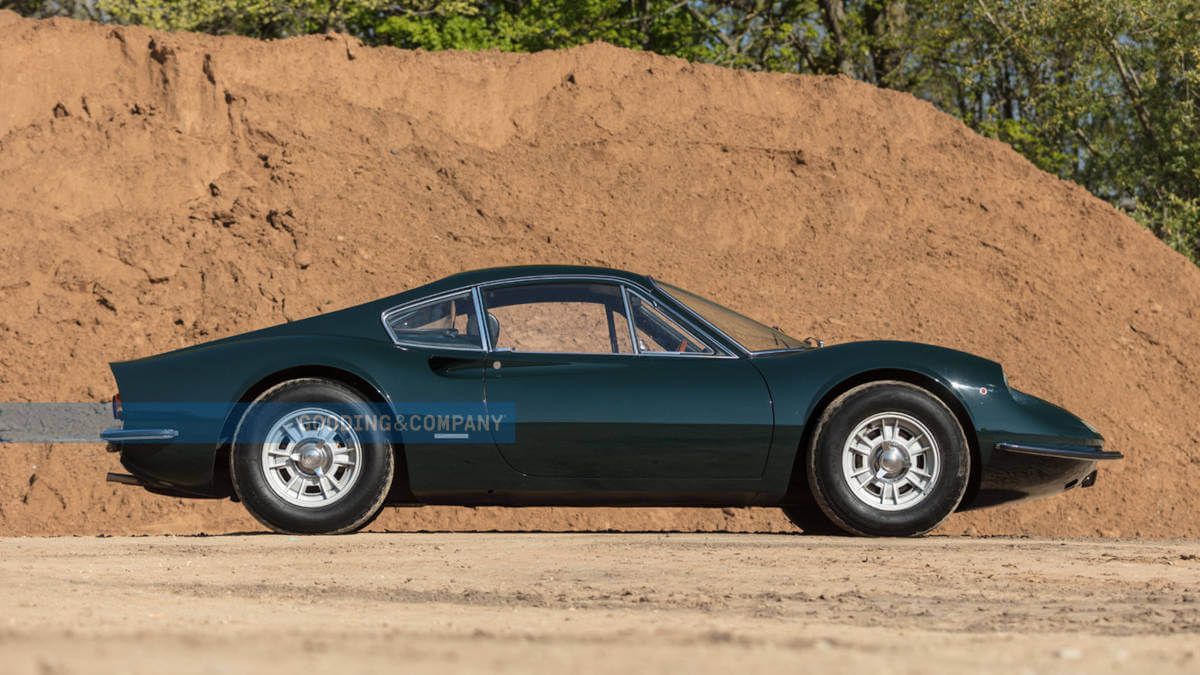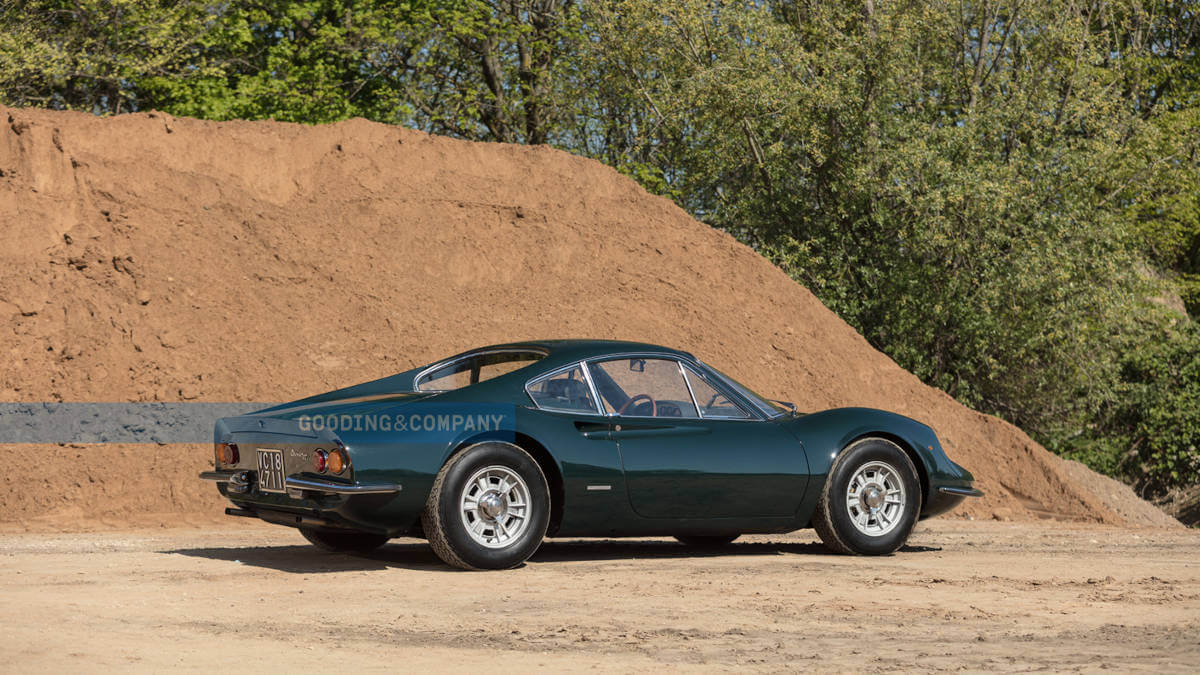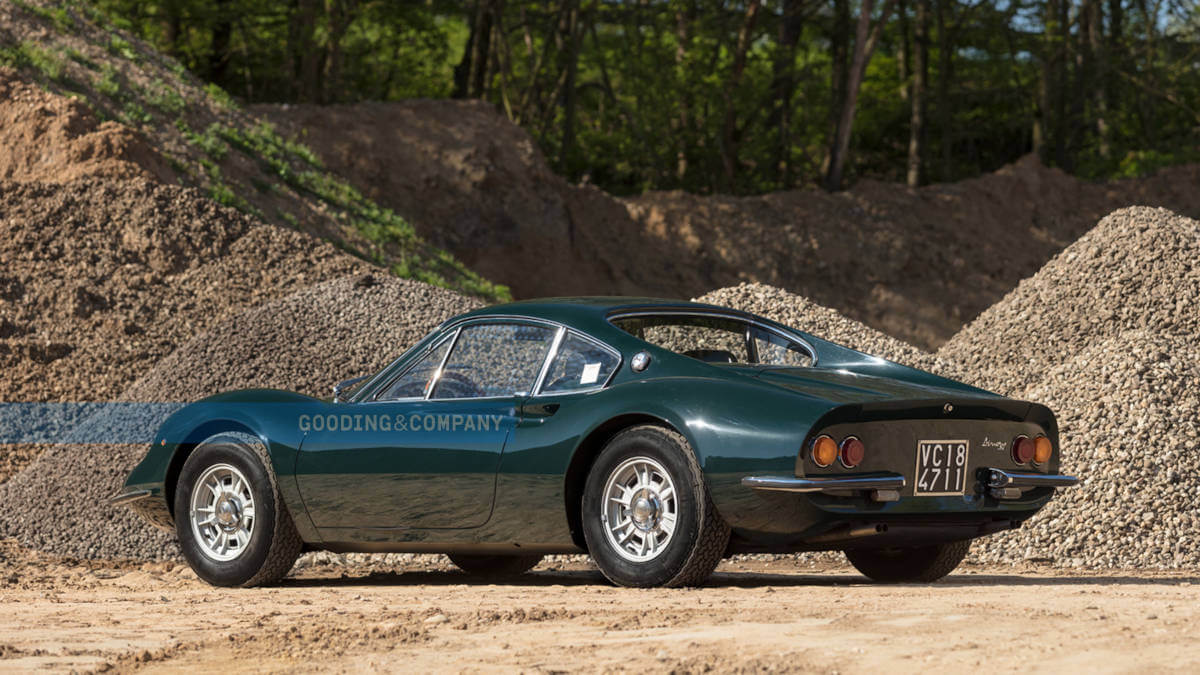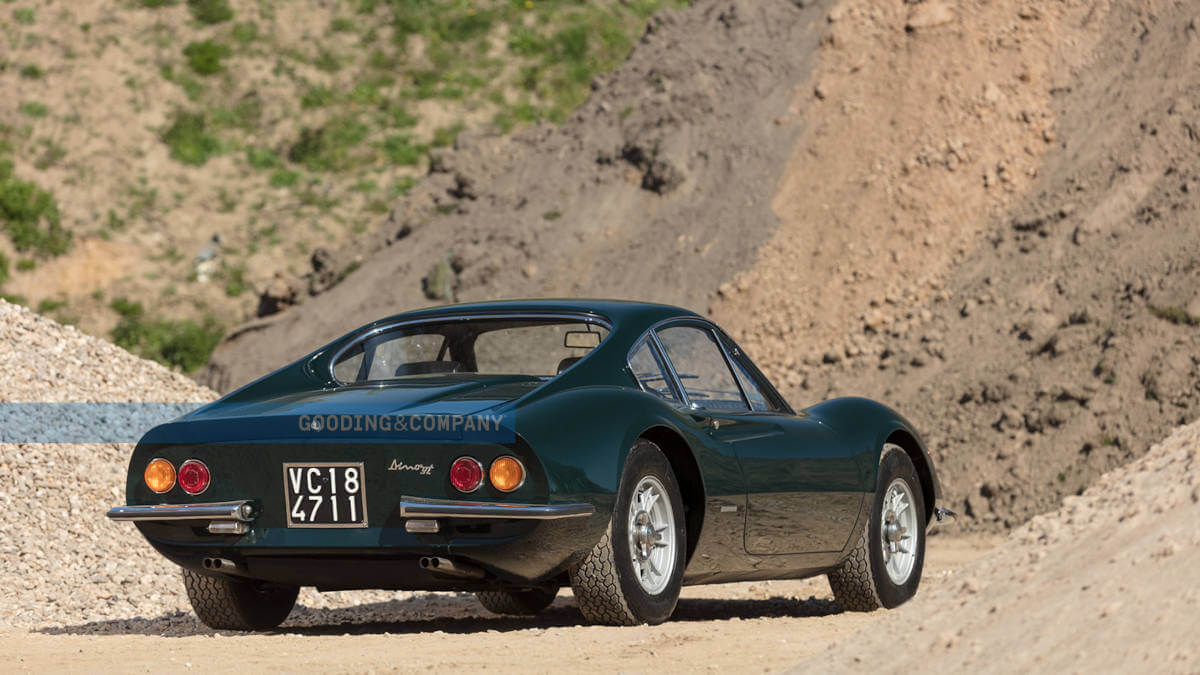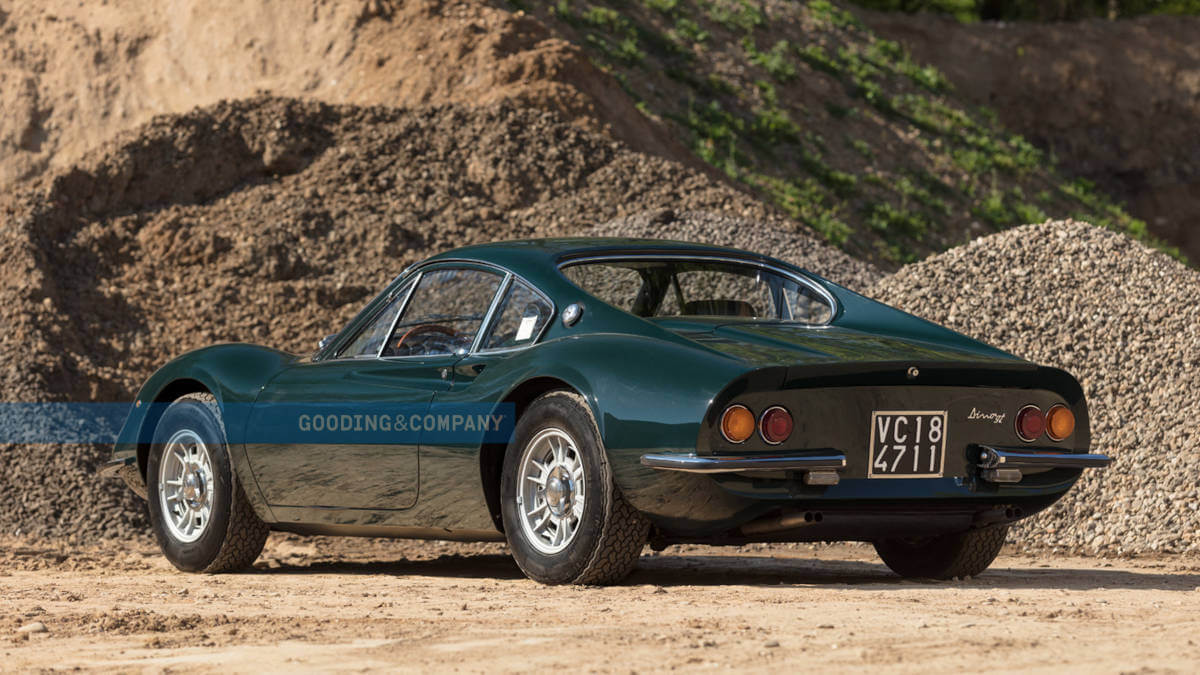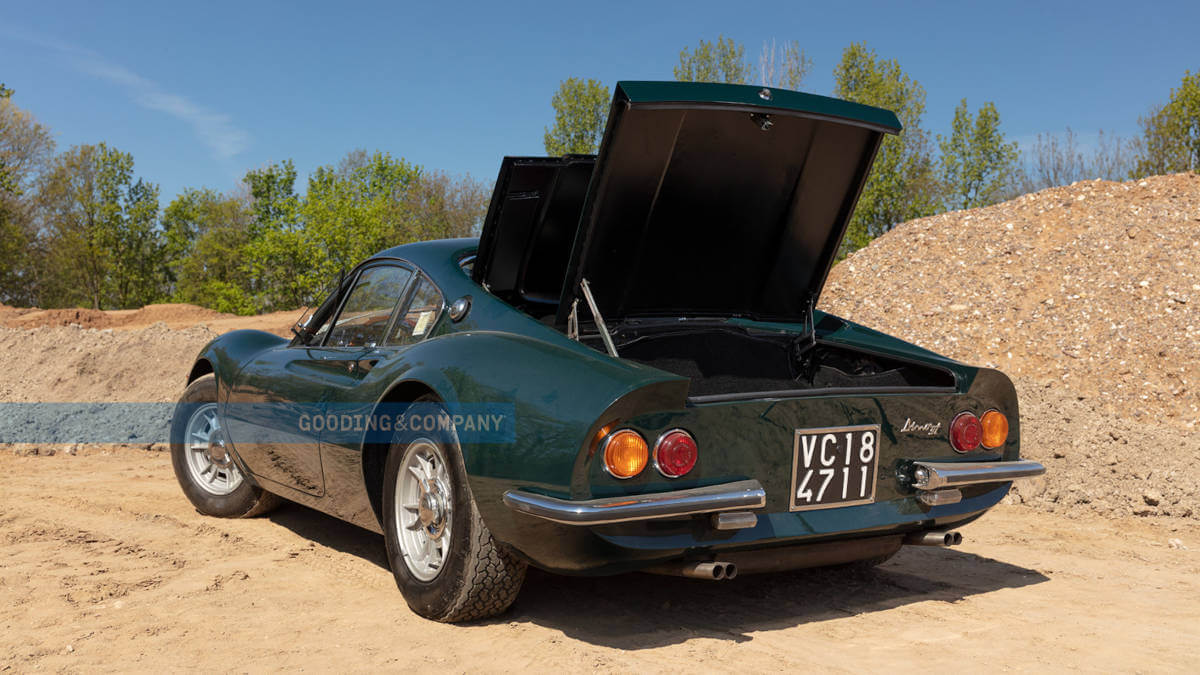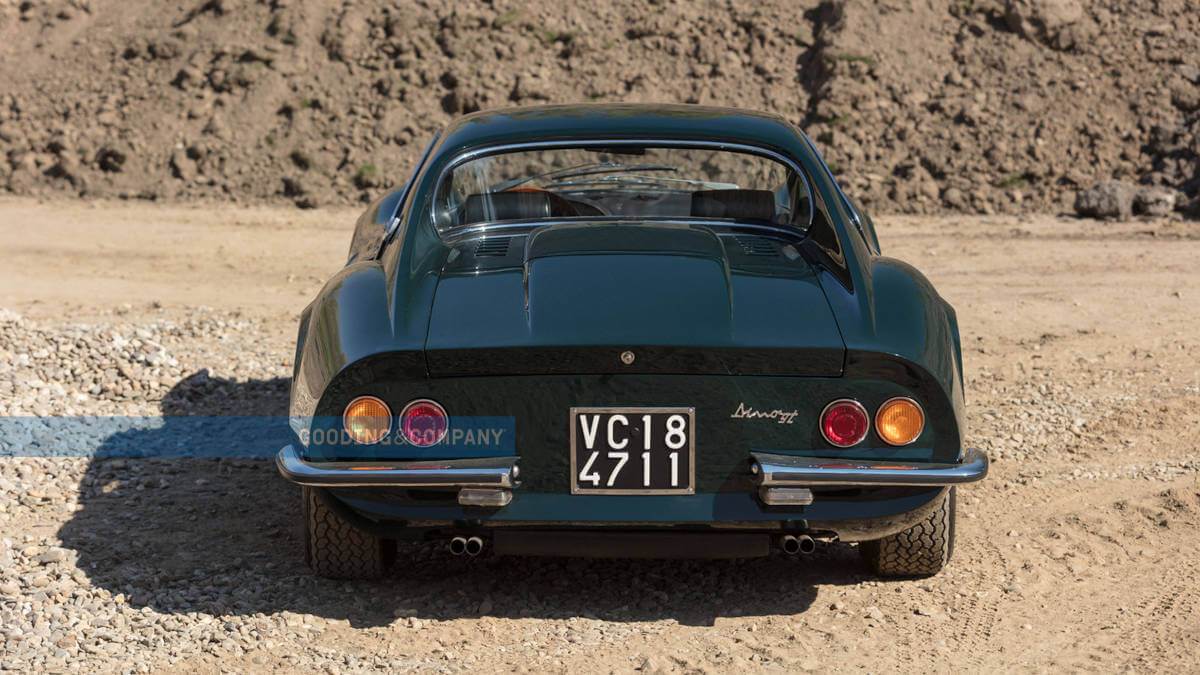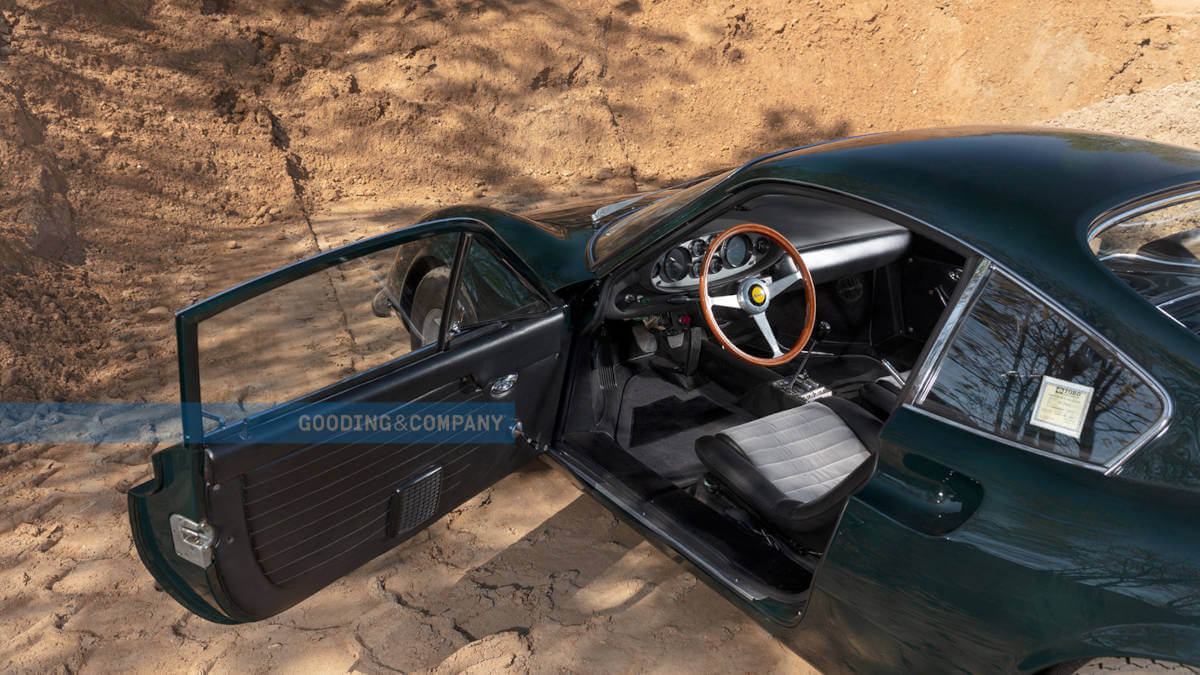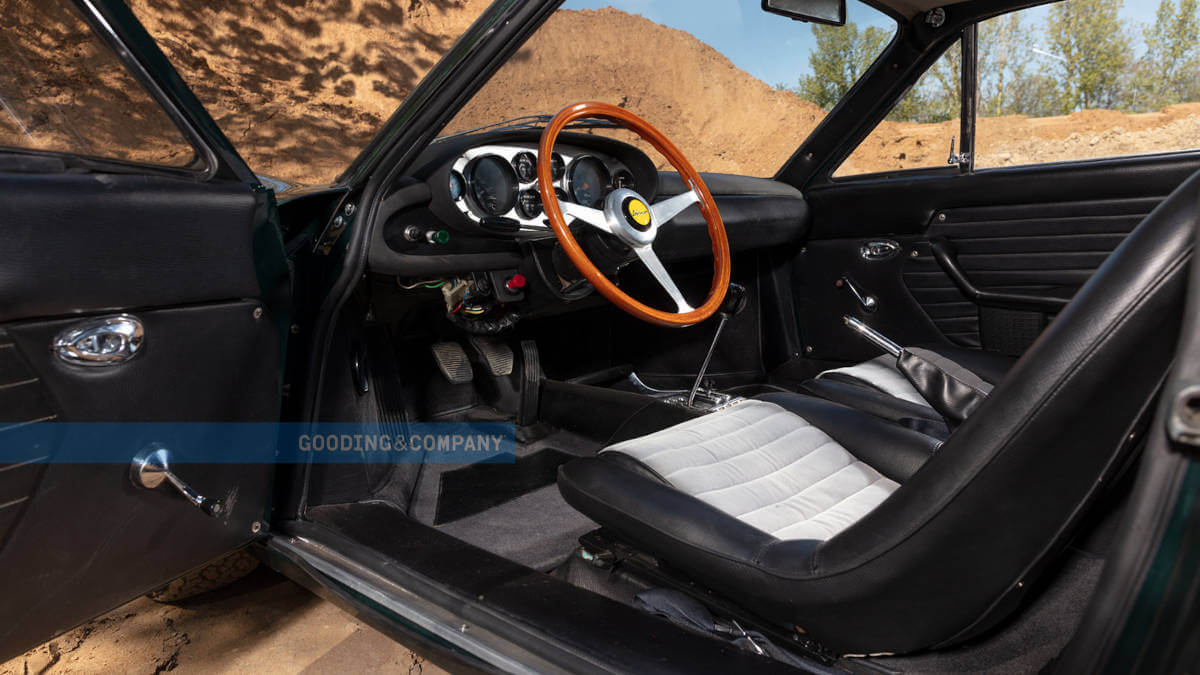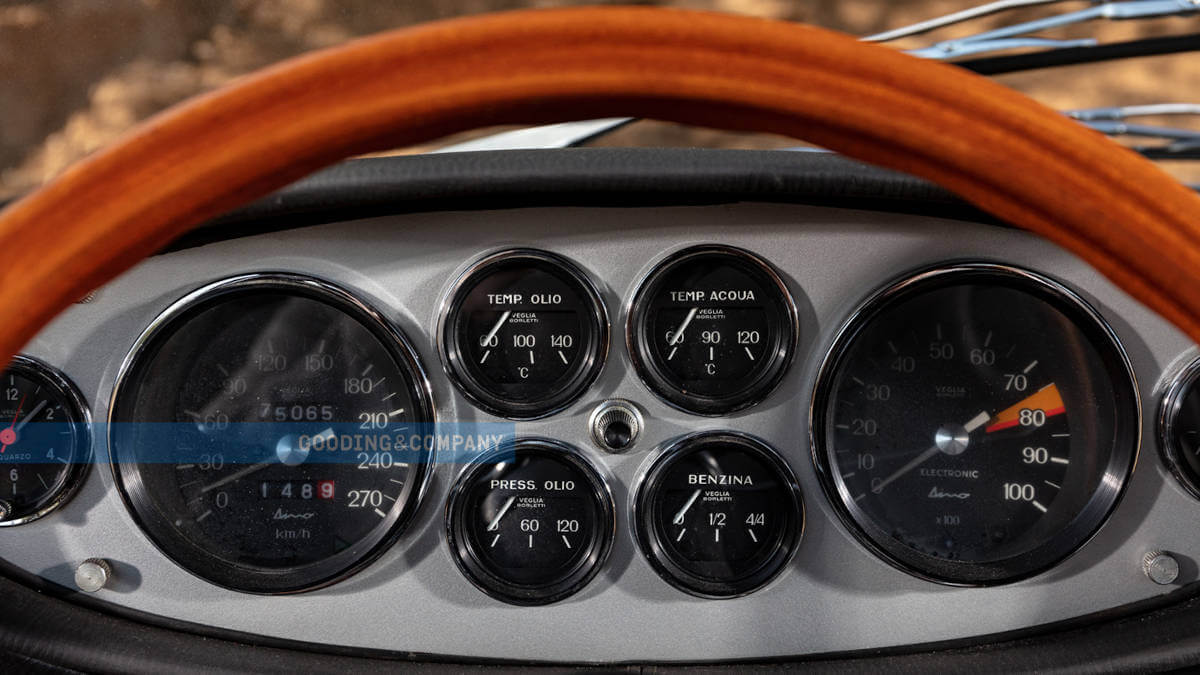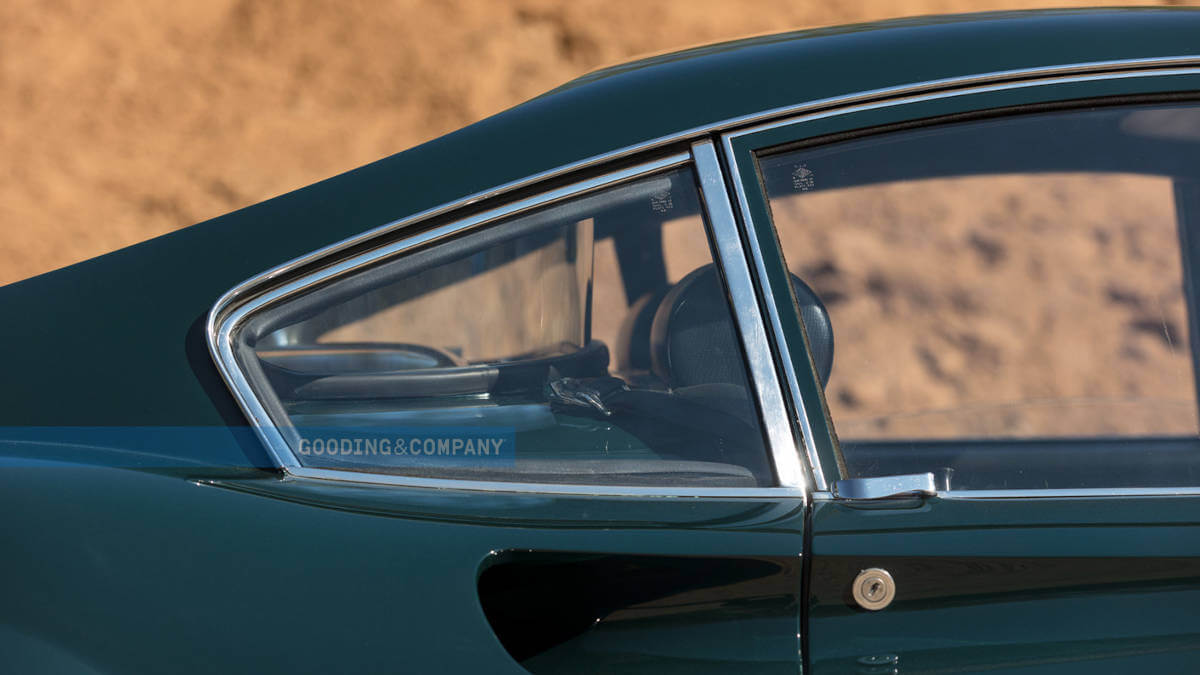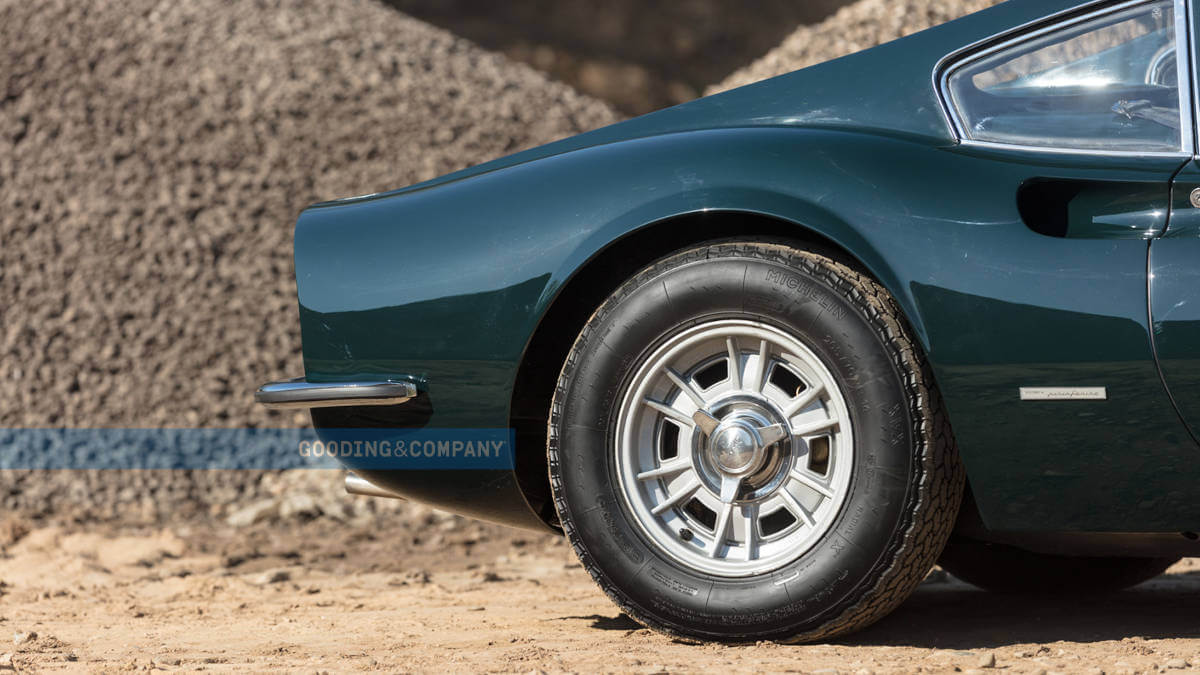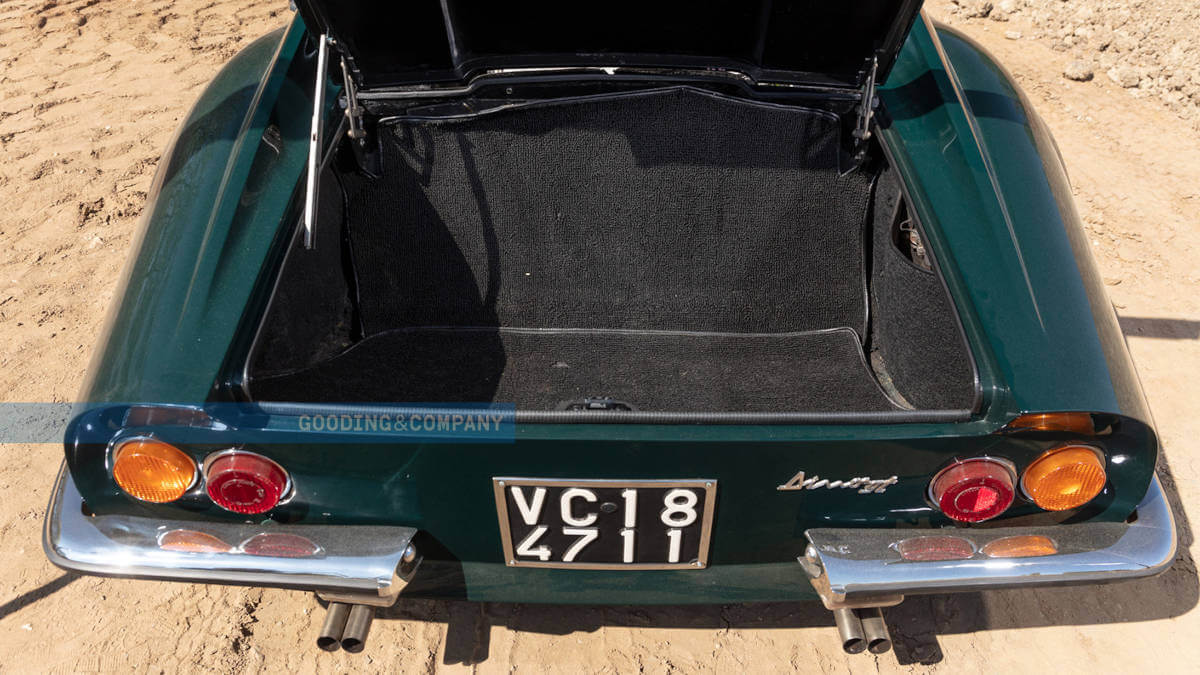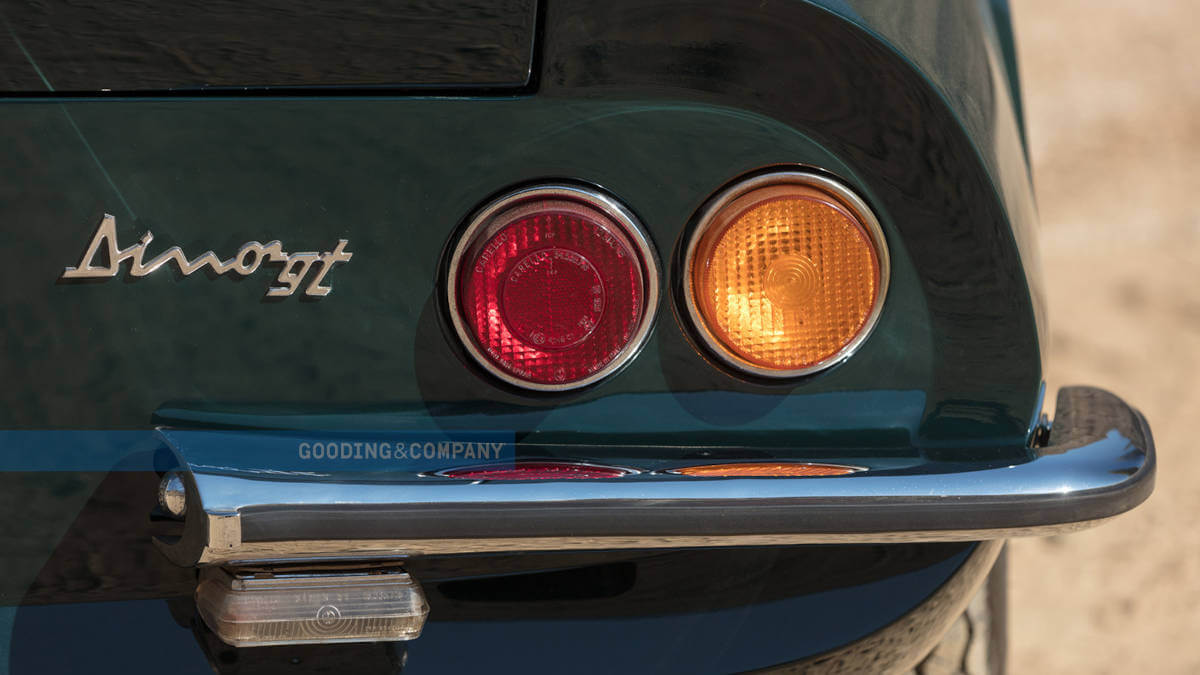 First mid-engined sports car from Ferrari
At the same time, Ferrari developed its first mid-engined road sports car, the Dino 206 GT. Aldo Brovarone and Leonardo Fioravanti were responsible for the styling at Pininfarina. The aluminium body was given the typical curves of the 1960s. At the front, the headlights were recessed, and clear glass covers would have fitted nicely over them. However, these weren't permitted in some markets due to undesirable reflections. Directly behind the cockpit was the V6, which had been enlarged to two liters and taken directly from the Fiat production line. That's why there are still doubts about the official power rating of 180 hp, while early Fiat Dino cars officially had only 160 hp. A five-speed gearbox transferred the power to the rear wheels and made the Dino 206 GT up to 146 mph fast. Between 1967 and 1969, 153 examples were produced. Subsequently, both Fiat and Ferrari made a switch to 2.4 liters of displacement.
Chassis number 00210 at Gooding & Company
Gooding & Company auctions a Dino 206 GT online for a week starting from tomorrow. Chassis number 00210 was first delivered on November 16, 1968 in the color 'Verde Scuro' with black cloth interior. The first owner was the company Cartiere del Timavo S.p.A. of the private racing driver Pietro Ferraro. From 1970 onwards, five other owners followed in Italy, then one in the Netherlands. The latter had the Dino carefully restored and repainted in the original color. At Techno Classica 2018 in Essen, the sports car finally stood in its new glory. In October 2020, the dark green 206 GT received its Ferrari Classiche certificate. In the online auction, Gooding & Company expects a hammer price of between £ 450,000 and £ 550,000.

Images: Gooding & Company