Automotive
Ford Torino Talladega Prototype
NASCAR races are less popular in Continental Europe than they are in the US. There the fans celebrate their drivers and the corresponding cars like heroes. The most successful brands include Chevrolet, Dodge and Ford. In the 1960s, however, Ford lost ground as they invested a lot of time, money and effort in the sports car project around the GT40 to beat Ferrari in Le Mans and in the World Sports Car Championship. To counteract this trend, Ford developed a sportier version of the Fairlane Torino in the development department's hall, internally known as the 'X Garage' and unmarked from the outside. This mid-size series first appeared on the market in 1968 and was produced 172,083 times in the first model year alone.
Various optical changes
To develop the new sports version, the X Garage received two Fastback Coupés directly from the production line in Lorain, Ohio. These vehicles arrived in September 1968 and were immediately converted. Then they were fitted with ram-air air intakes in the hood, an interior with sports bucket seats in black vinyl and a center console in between. They also had air conditioning, independently styled rocker panels, chrome rims, C-shaped decorative stickers on the sides and special aluminium T-badges. The result of these efforts was the limited edition Torino Talladega. The additional name referred to the Talladega oval race track, which was still under construction at the time and was opened in 1969 by Bill France. Interestingly, in the series production, the sports seats gave way to a continuous bench. In addition, the series cars were equipped with horizontally arranged parking lights in the front fenders and hood pins. The only paint colors available were 'Royal Maroon' (red), 'Presidential Blue' or 'Wimbledon White'.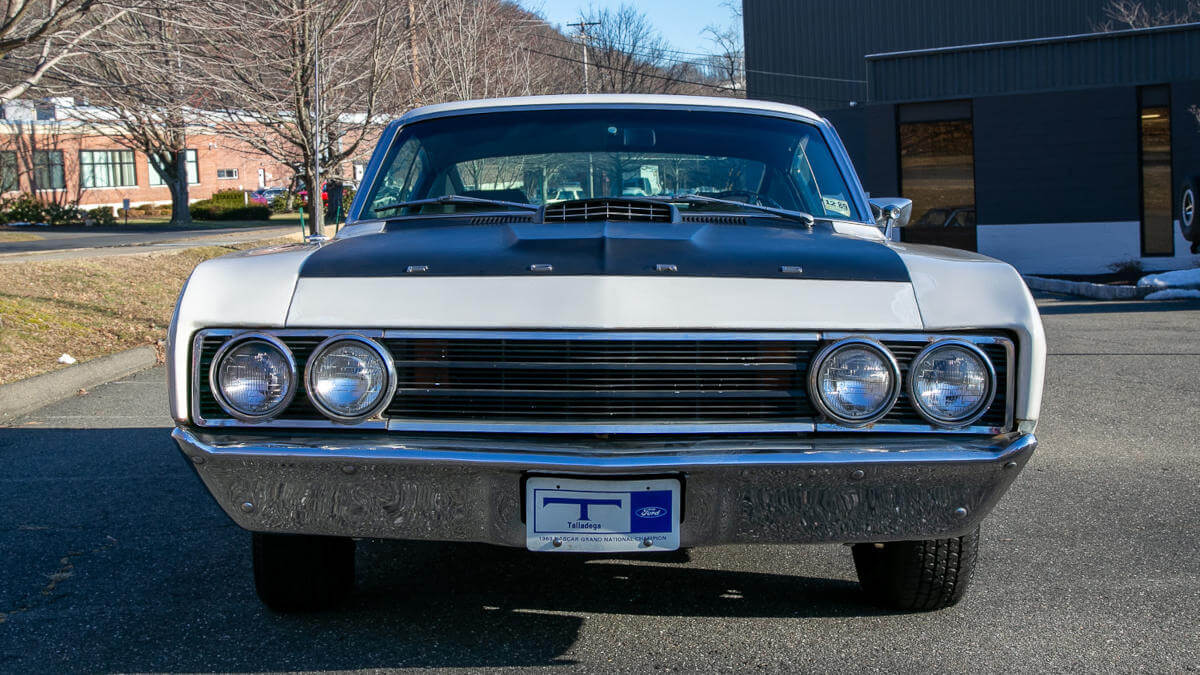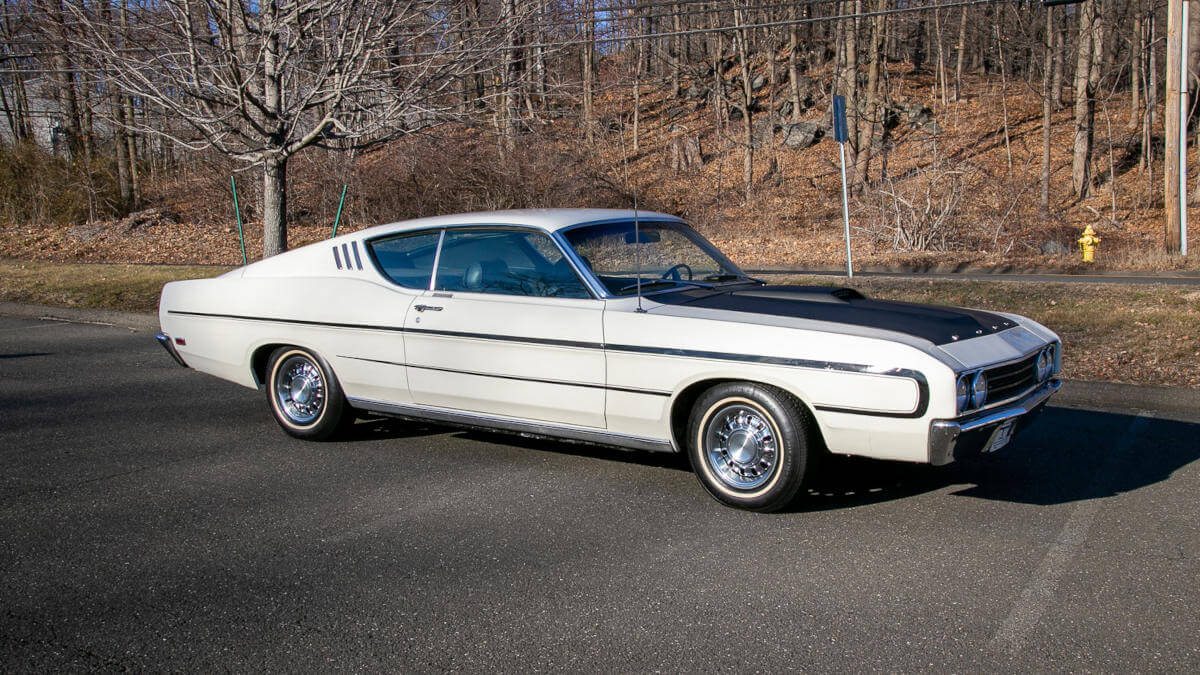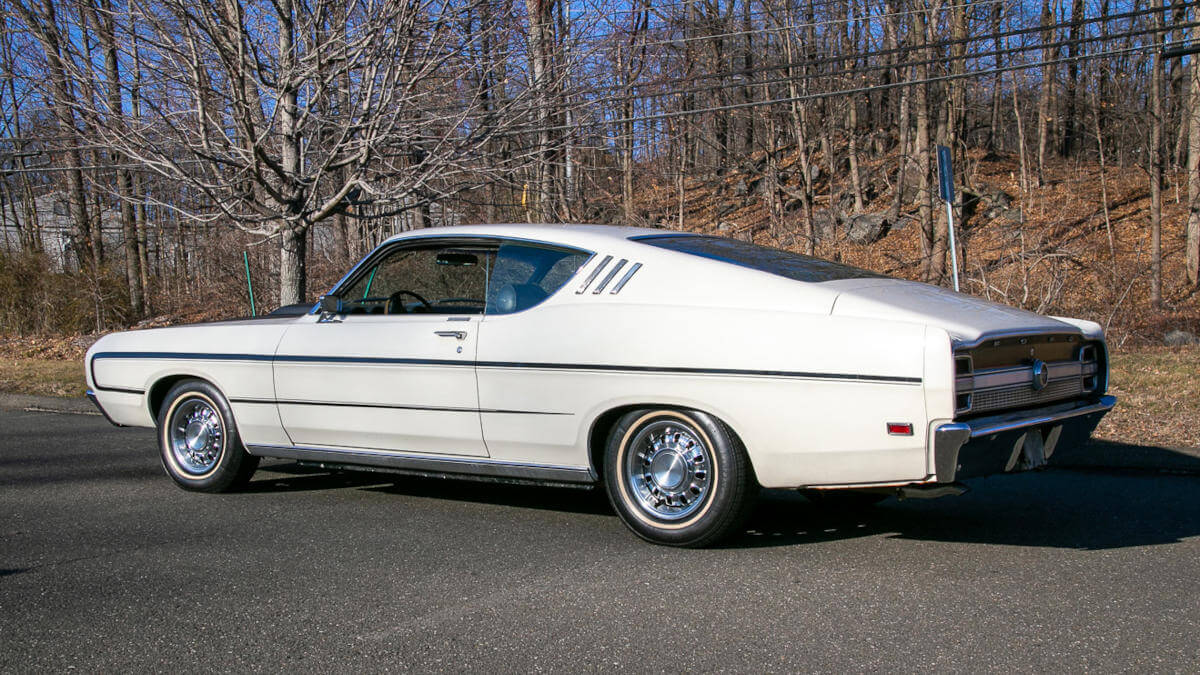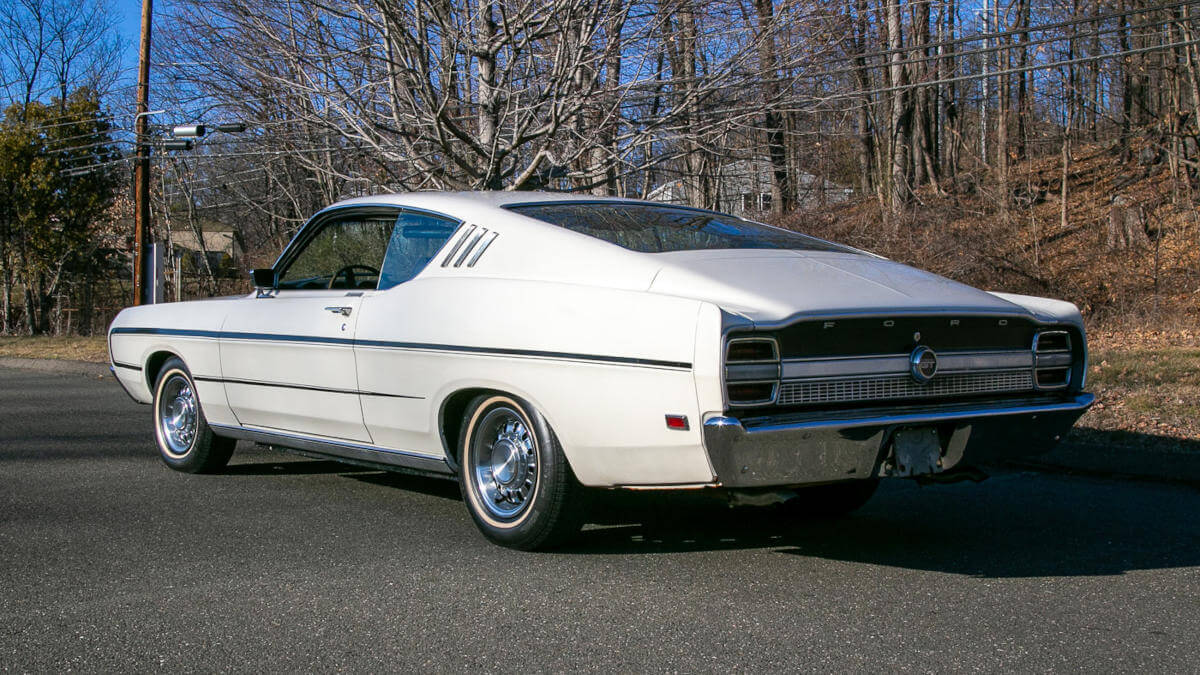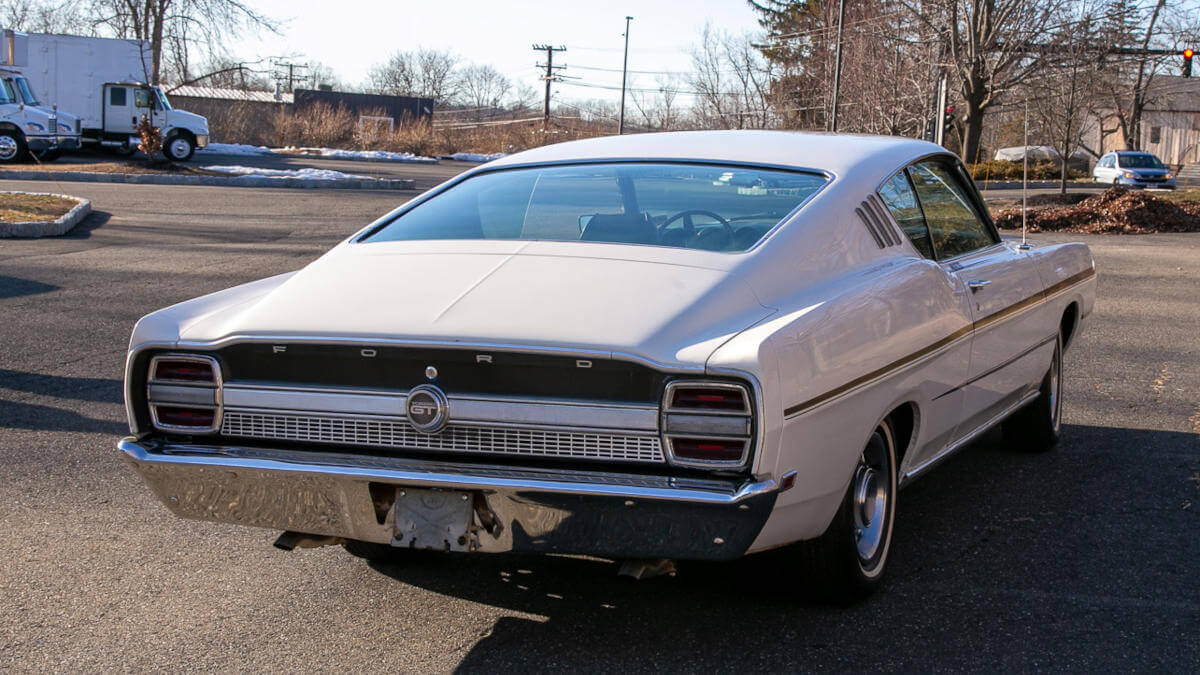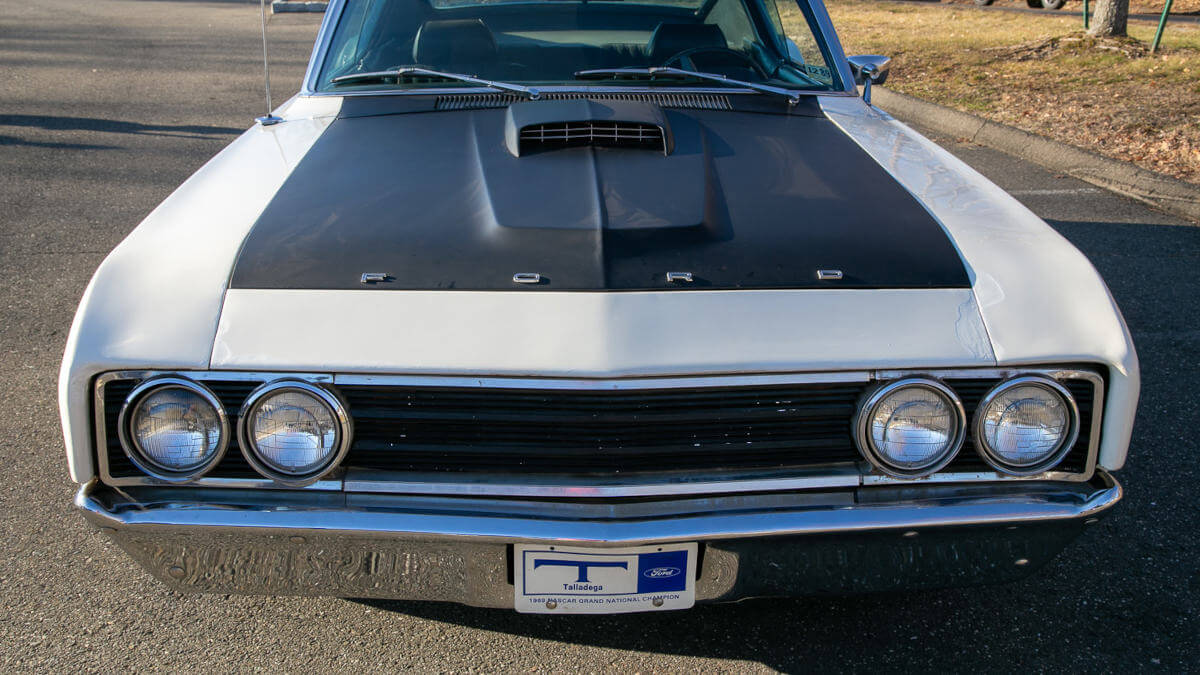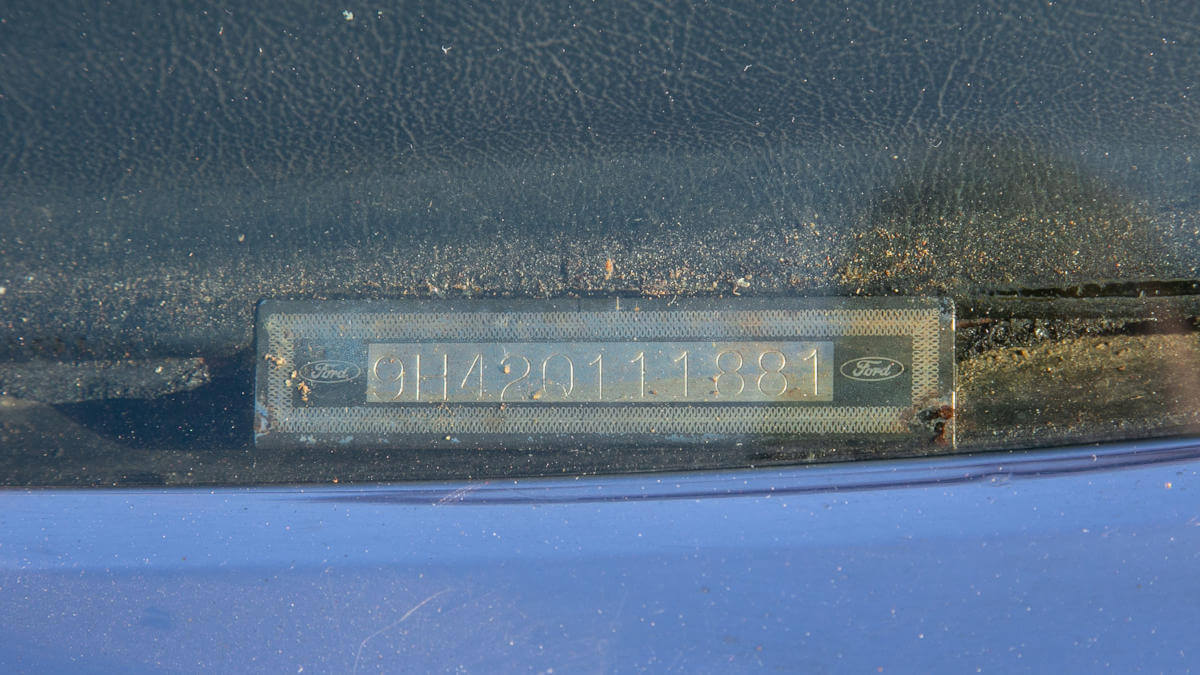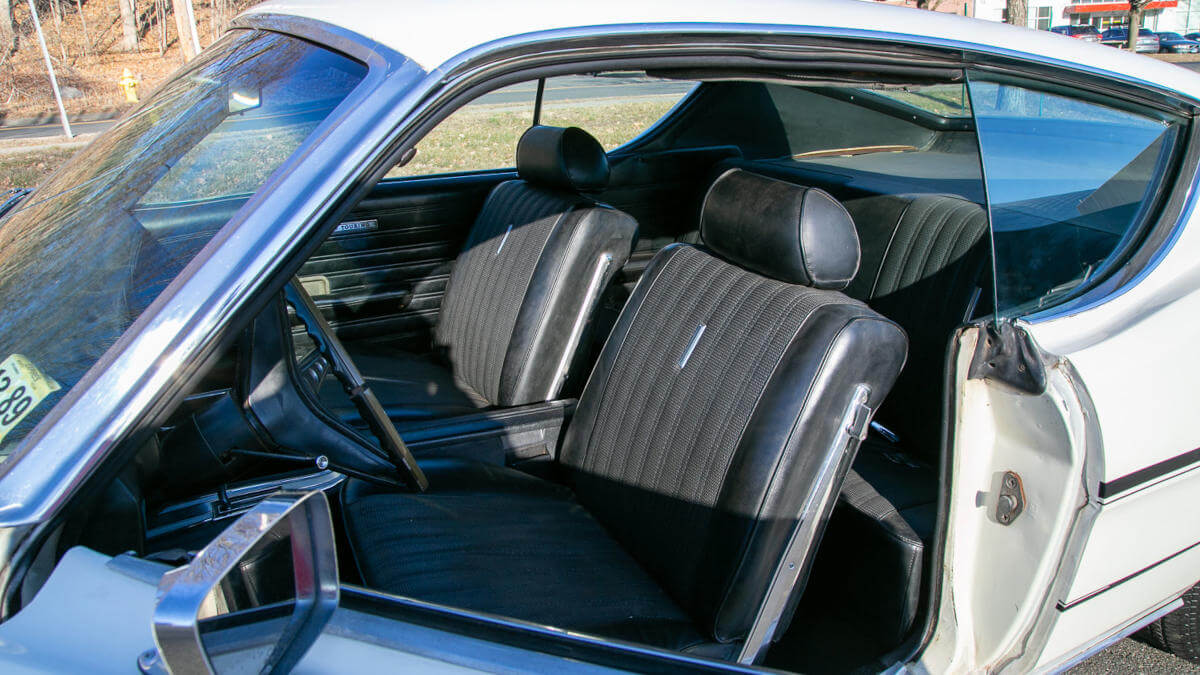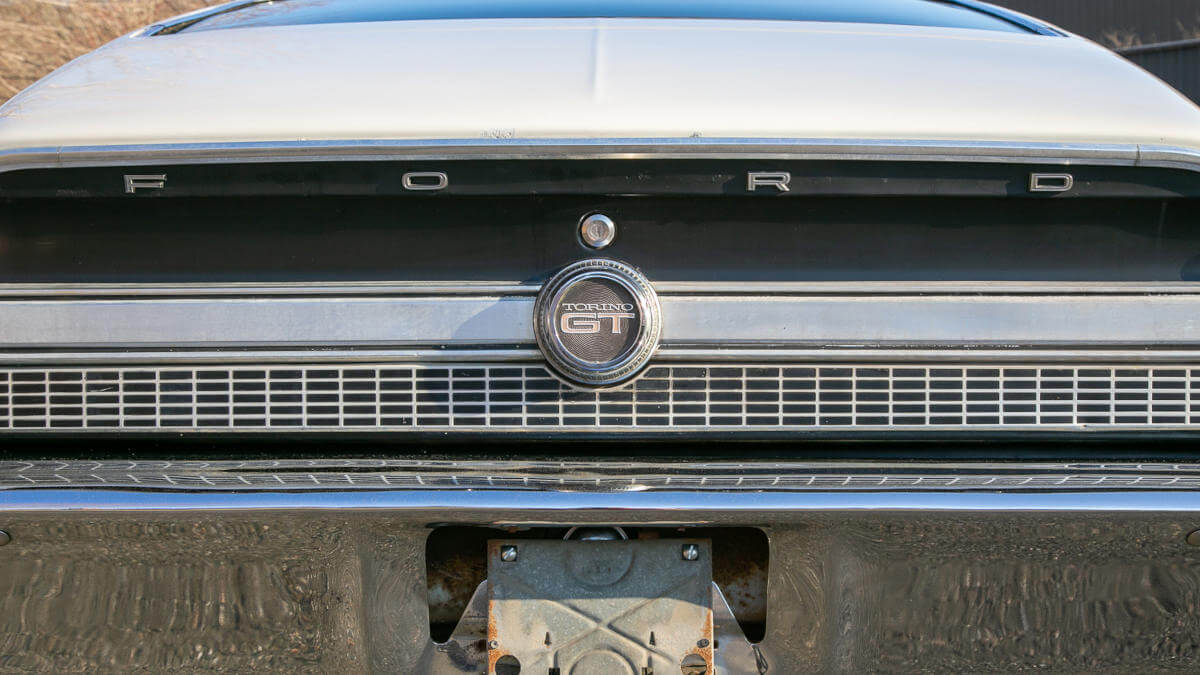 Thanks to the fine work of the development engineers, a sporty coupé with a good chassis was created. Ford quickly gave the green light for production. The first cars rolled off the production line in time for the third race of the 1969 NASCAR season. Thanks to mass production, about 750 units were produced between January 21 and February 28. This exceeded the 500 copies required for race homologation. This allowed Ford to race the Torino Talladega officially. Under the hood was a 335 hp V8 engine, which transferred its power to the rear wheels via a manual four-speed transmission. The sprint to 60 mph took only 5.8 seconds, the topspeed was 130 mph. With this, Ford was virtually building a pistol for the knife fight going on in NASCAR at that time.
Former press car at RM Sotheby's
Both prototypes remained in Ford's possession until 1971. The vehicle with the chassis number 9H42Q111881 served as a test car for interested journalists. Thus pictures of this Ford Torino Talladega appeared in various car magazines. In 1971 Edwin 'Banjo' Matthews bought both cars. Matthews was a legendary chassis developer, constructor and racing driver who was included into the NASCAR Hall of Fame. He left the prototypes in his workshop in North Carolina almost untouched for two and a half decades. After his death in 1996, the former press test vehicle became the property of Jason Thompson. Now RM Sotheby's offers the Ford through the Private Sales section of its website. The car comes with the original title, Bill of Sales, all registration documents and the original invoice from the Ford Special Vehicles Office to Edwin 'Banjo' Matthews. Also included are various workshop invoices and a certificate from the Talladega Registry. The called up sales price if US$ 75,000.

Images: RM Sotheby's