Automotive
Ford Shelby Cobra Concept
In 2003, Ford was working on a modernized new edition of what is probably the best-known racing sports car from the USA. We are talking about the legendary Cobra, which Carroll Shelby had invented in the 1960s based on a compact English roadster combined with a powerful Ford V8 engine. Now the former chicken farmer from Texas again played a significant role, as he was allowed to advise the responsible engineers at Ford directly. The internal project name "Daisy" was chosen for the new vehicle. It was presented the following year as the Ford Shelby Cobra Concept. But it was a long way until then. Since Ford initially planned a series implementation, this car wasn't to be a mere concept car, but a fully functional prototype. For this purpose, Technosports first created a spaceframe chassis made of welded and bonded aluminium elements. Some of these came from the then current Ford GT. The body was made of glassfiber with carbon add-on parts.
New Shelby Cobra was to succeed the Ford GT
At the same time, Ford Advanced Powertrain developed a 6.4-liter V10 engine with dry sump lubrication. According to official data, only four complete units of this 451 kW/613 hp and 679 Nm strong engine were produced. One of them was also used in the 2004 Ford Shelby GR-1 Concept, which made its debut at Pebble Beach. In the Shelby Cobra Concept, the manual six-speed transmission from Ricardo was mounted in transaxle design at the rear axle for a 50:50 weight distribution. This component also came from the 2005 Ford GT, which at the time of Project Daisy was entering its final development phase before the start of production. The new Shelby Cobra was to inherit the GT from the end of 2006 and continue to use the purpose-built factory. This also explains the use of suspension parts and steering from the GT. For the brakes, Ford relied on drilled and ventilated discs from Brembo.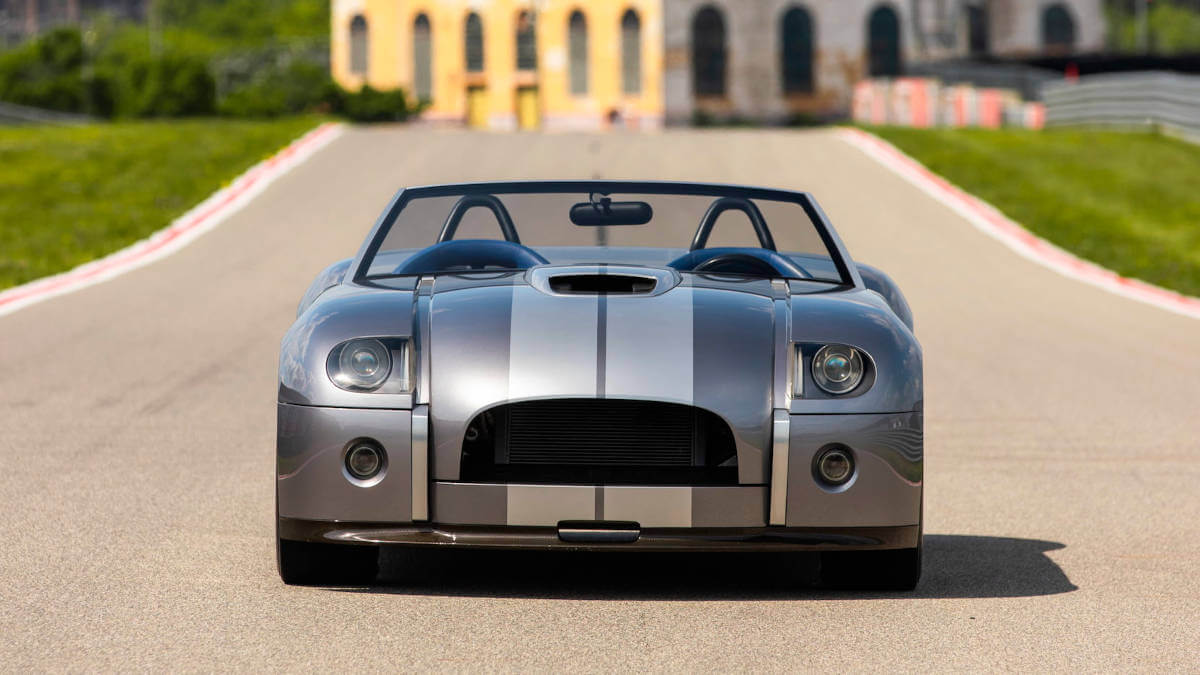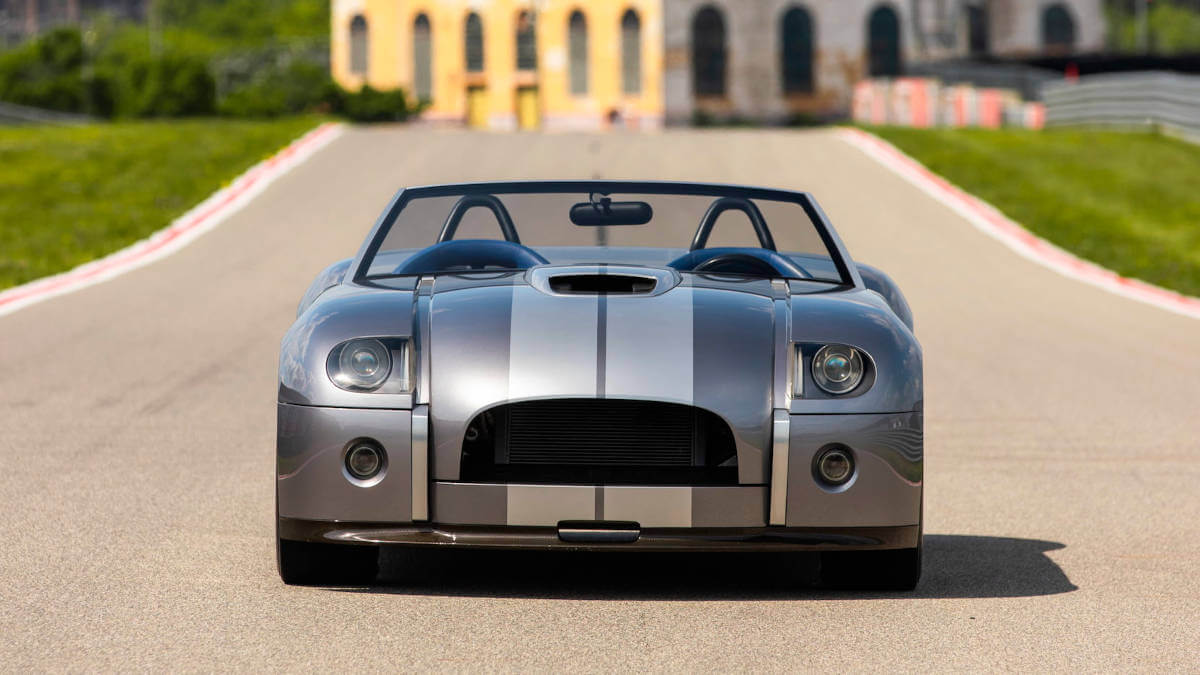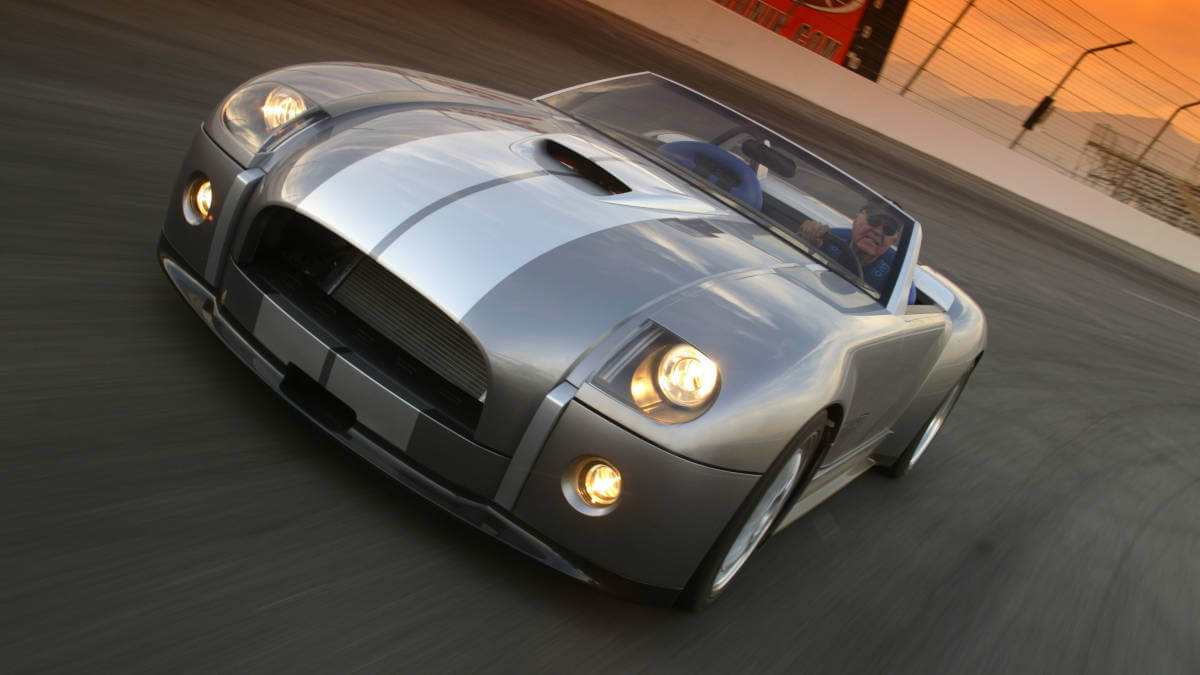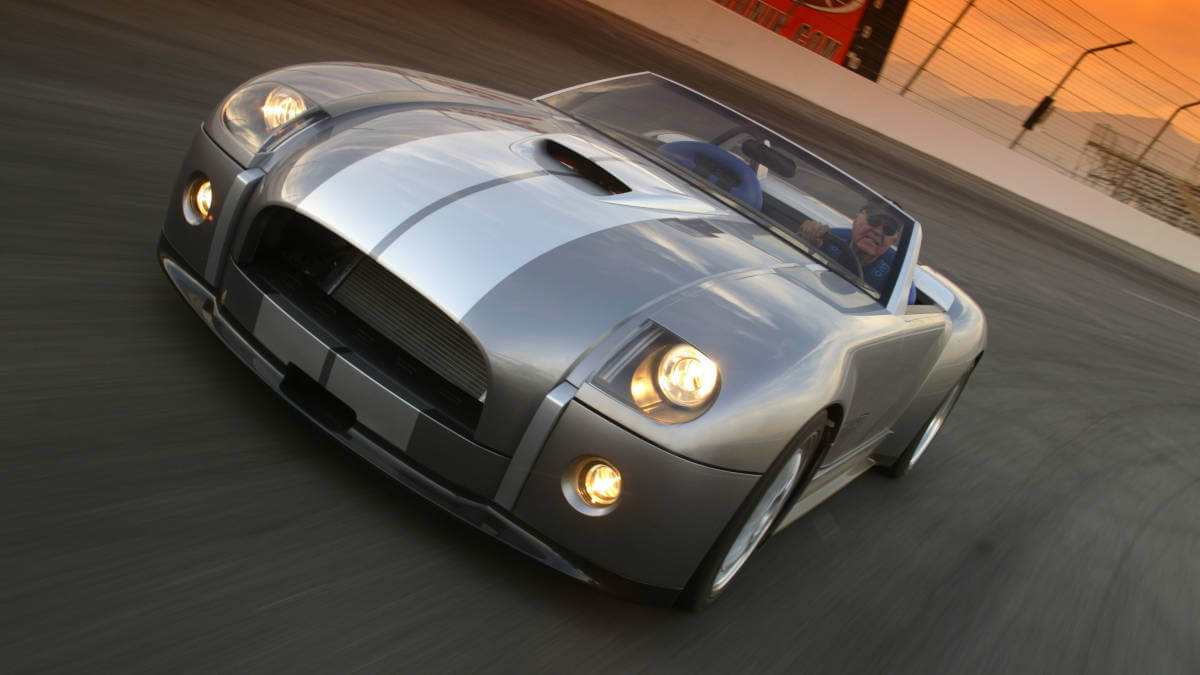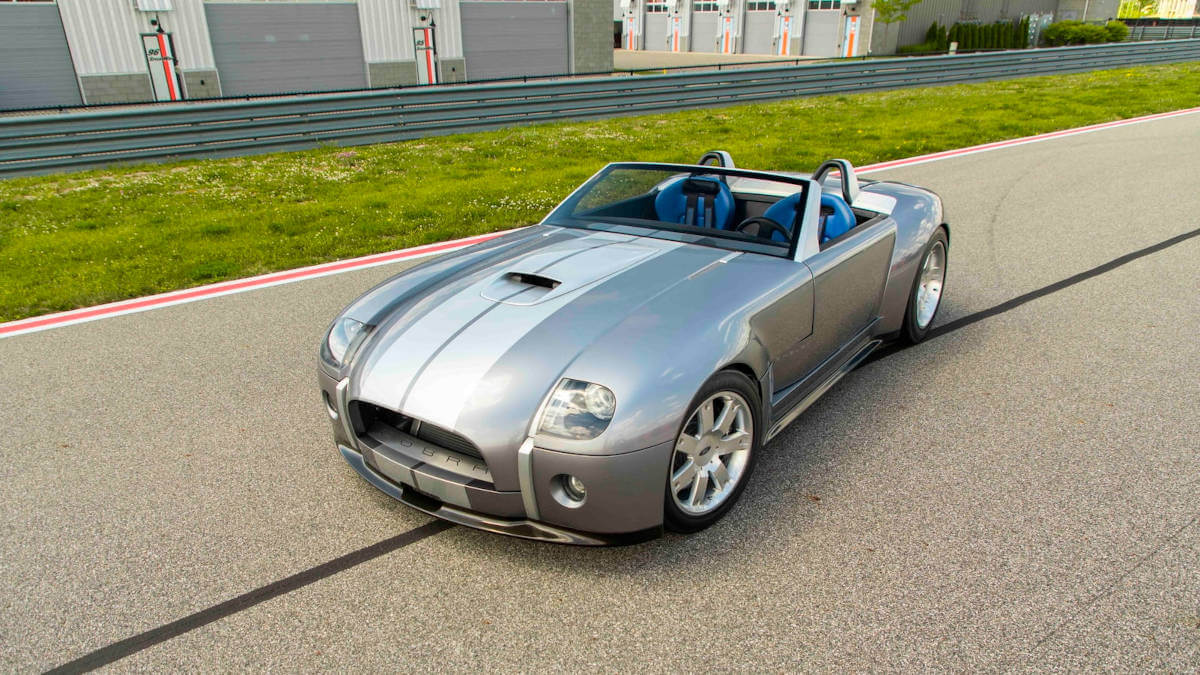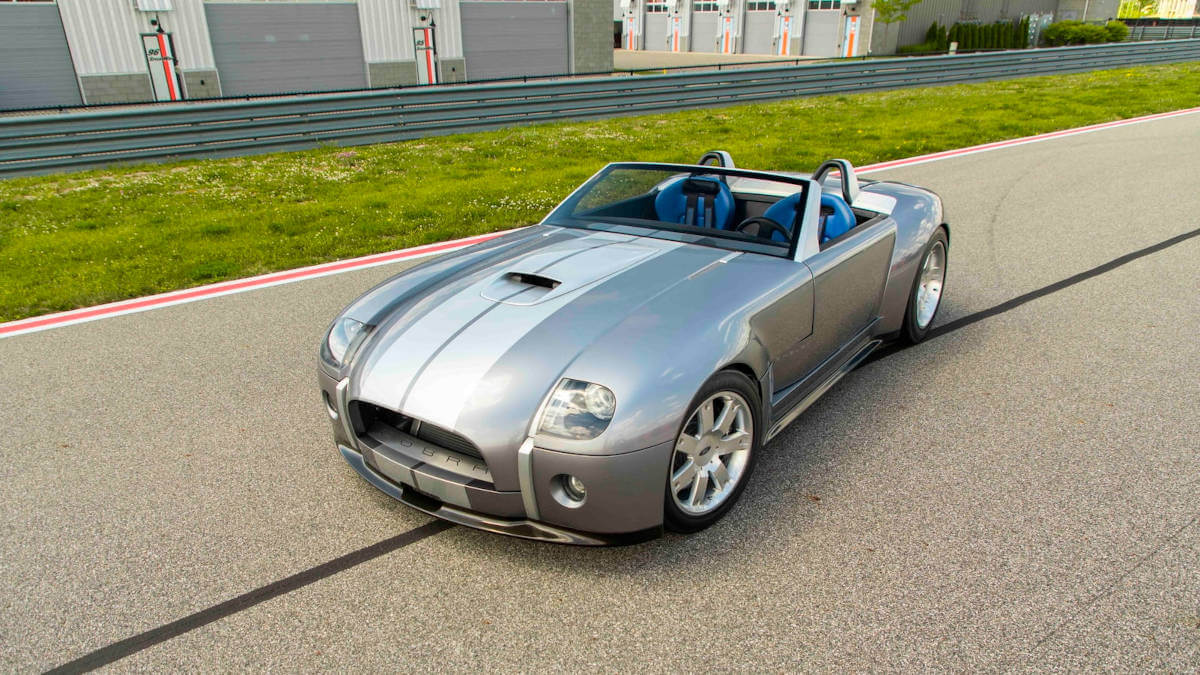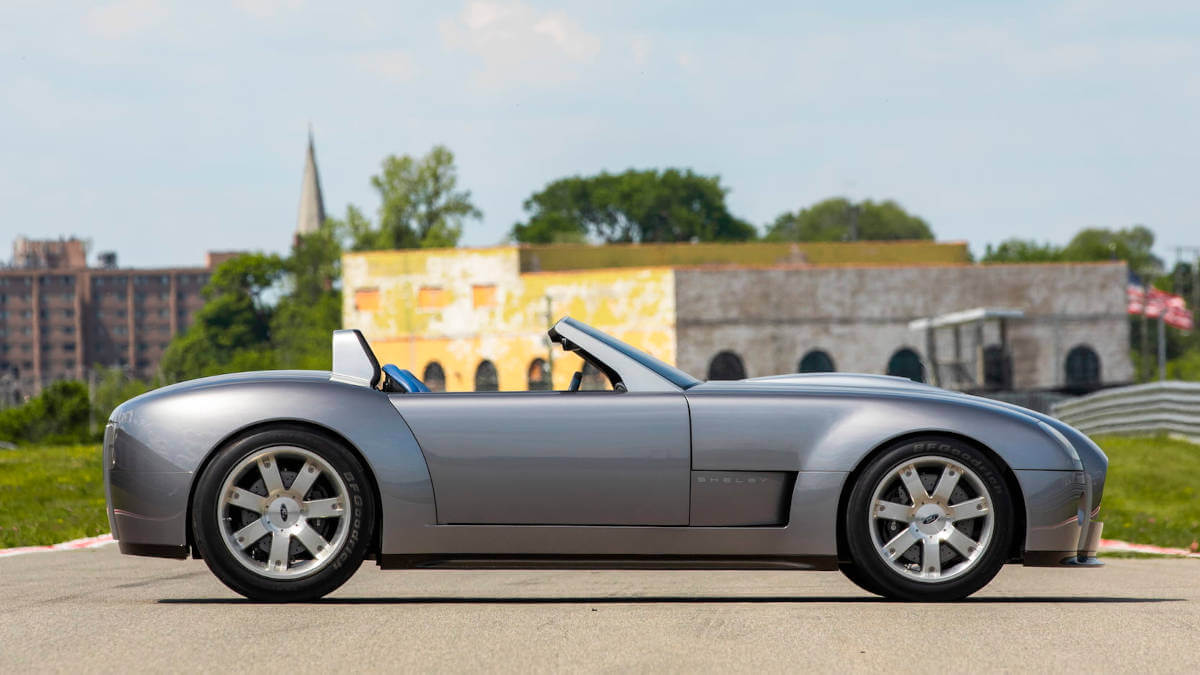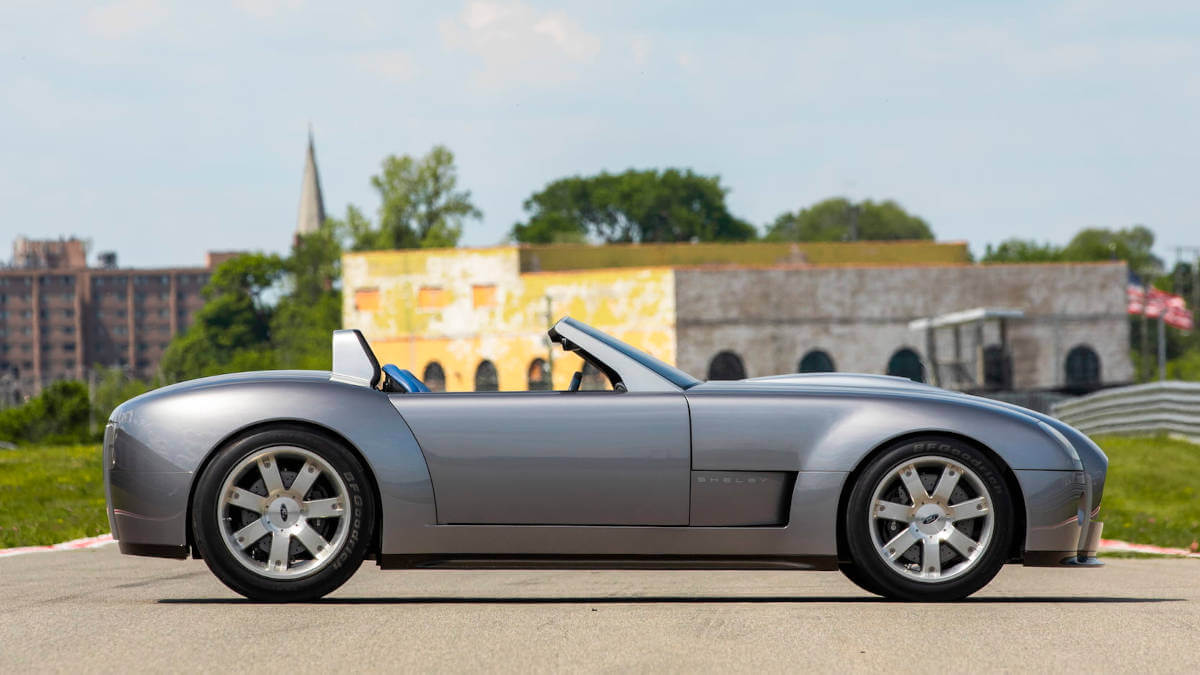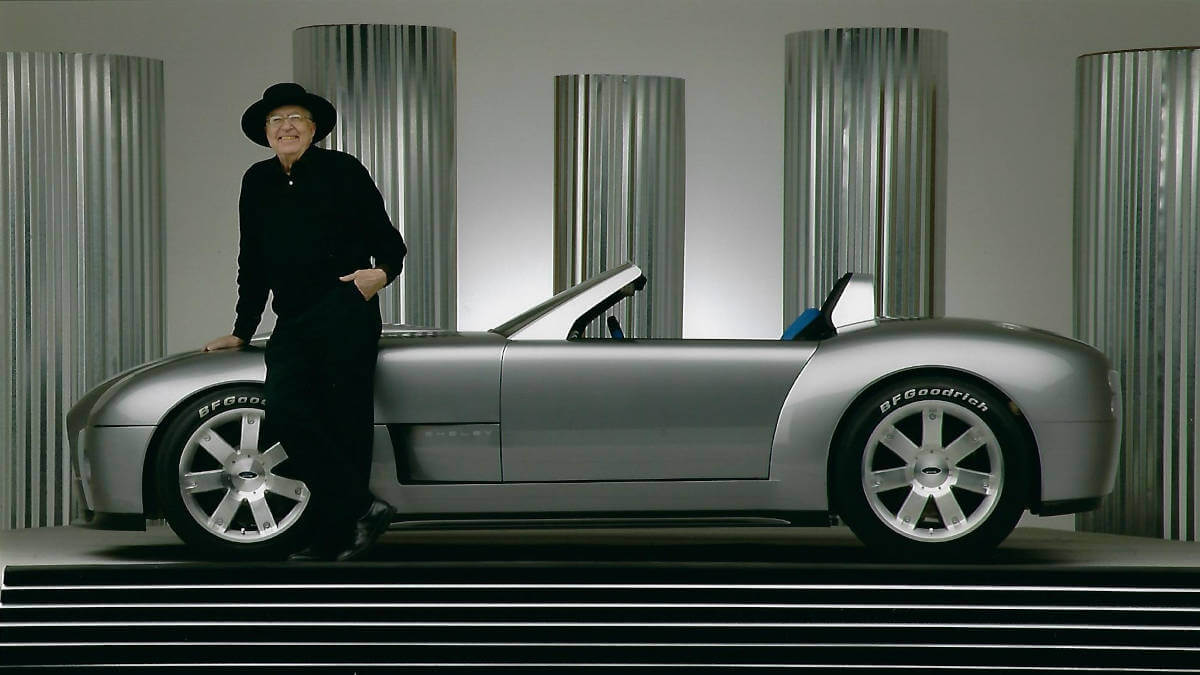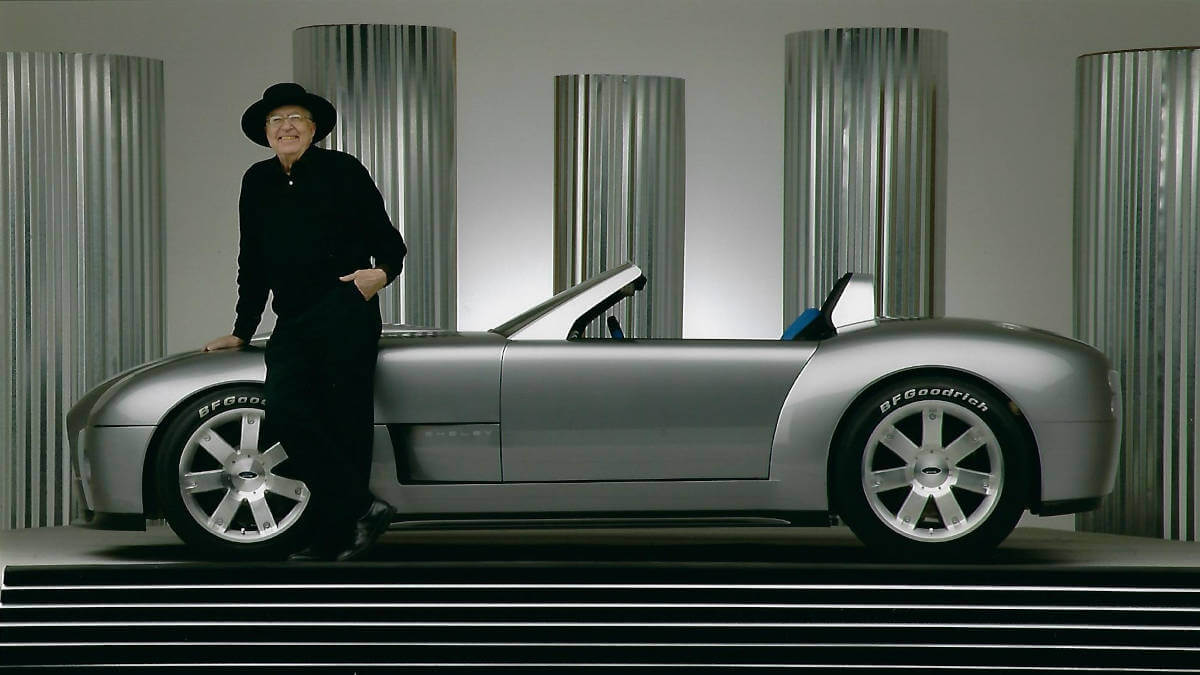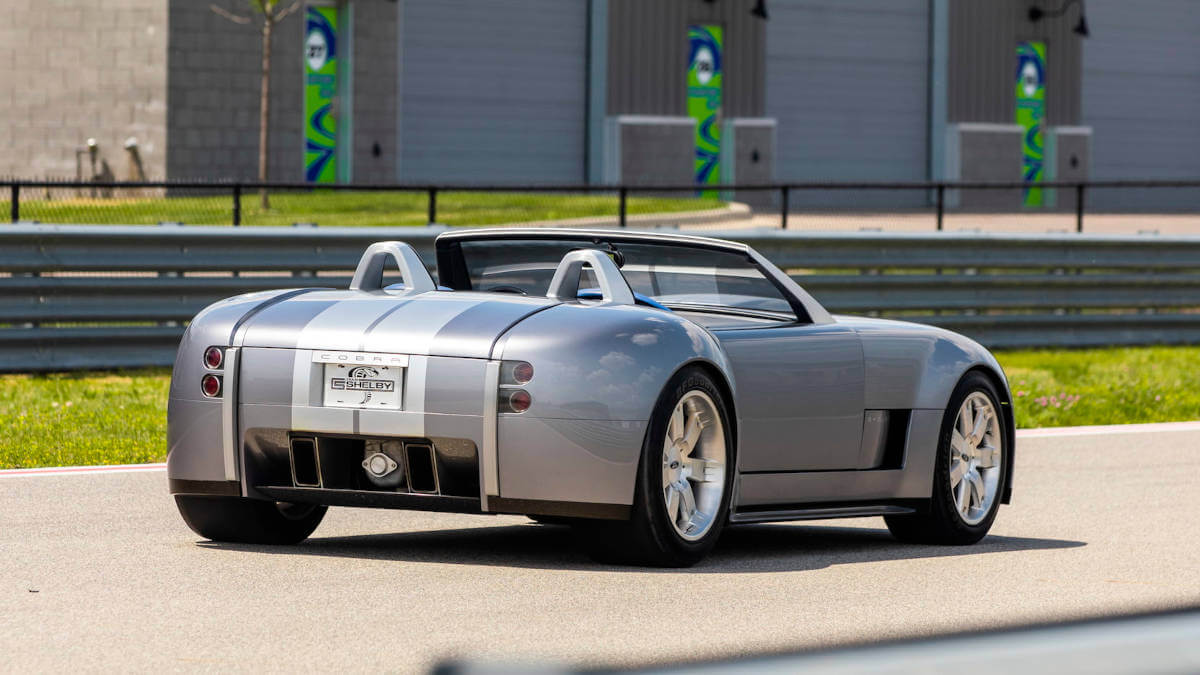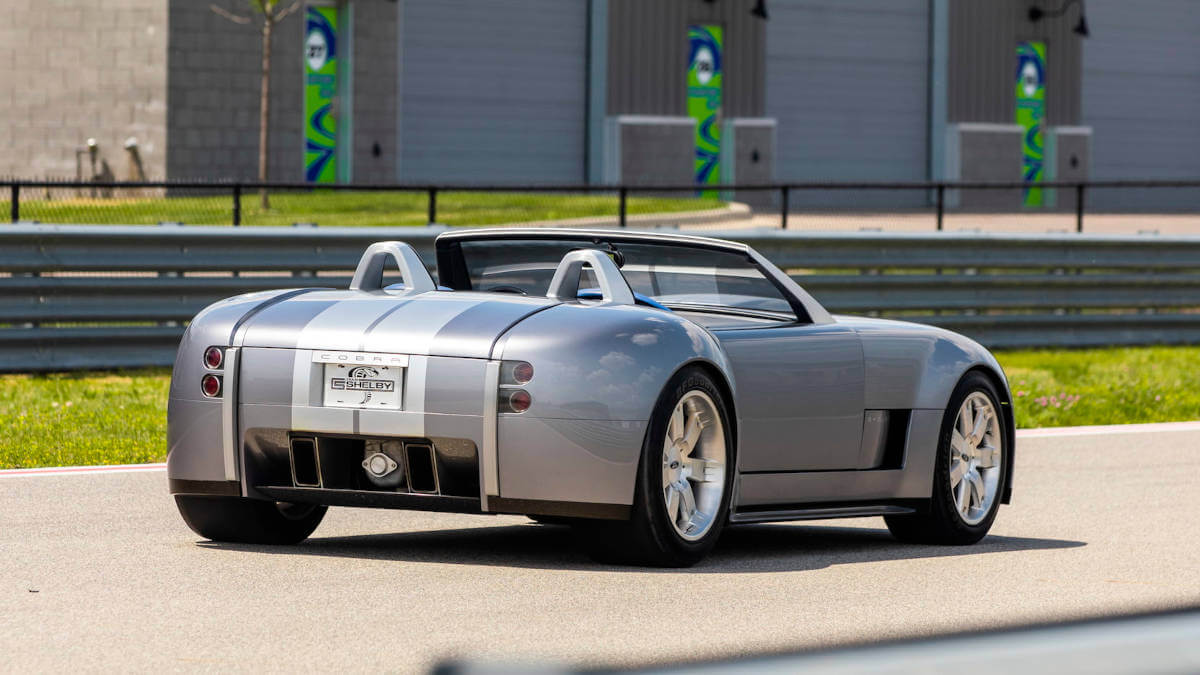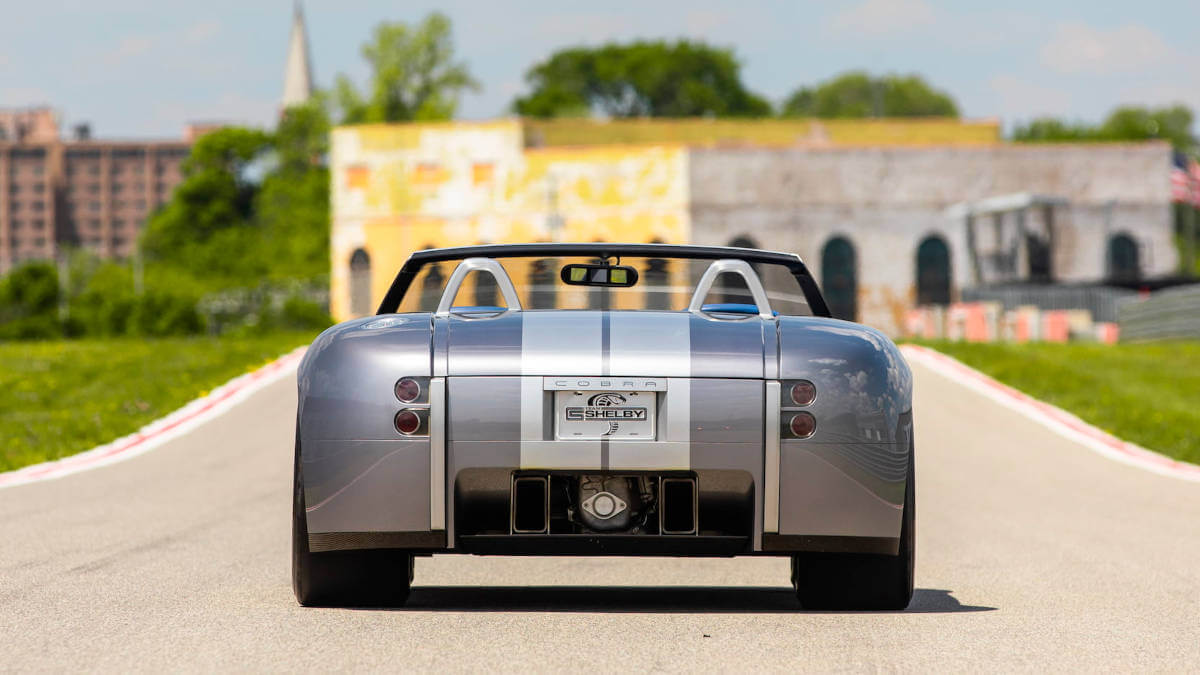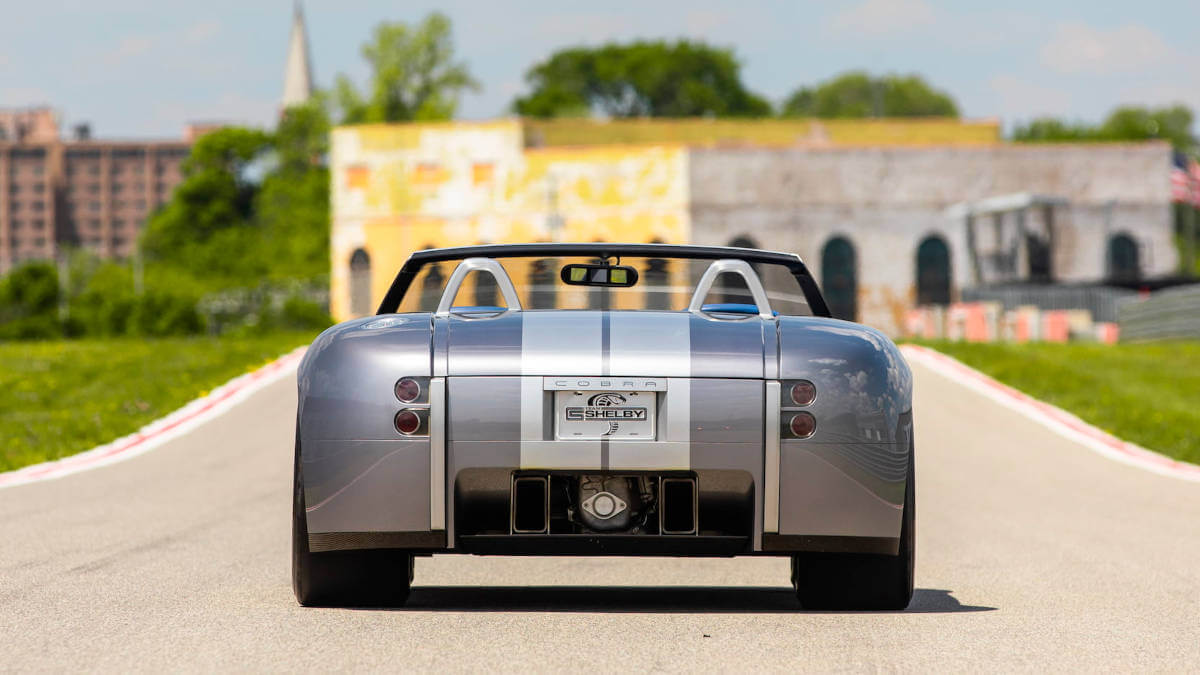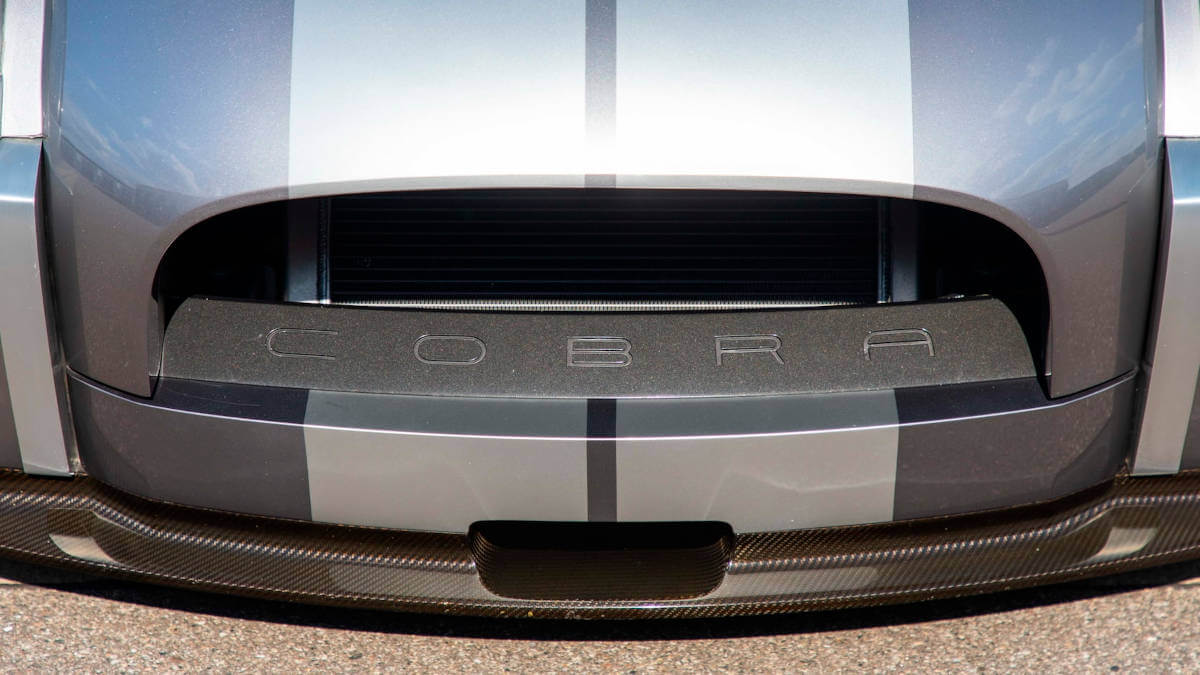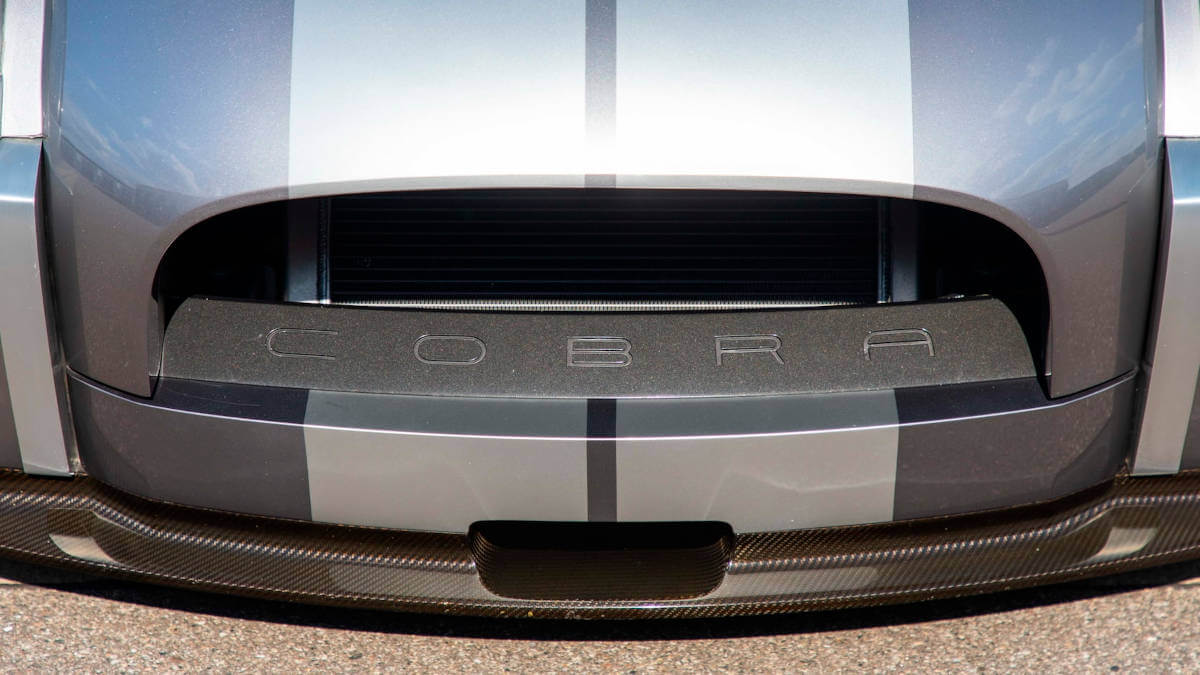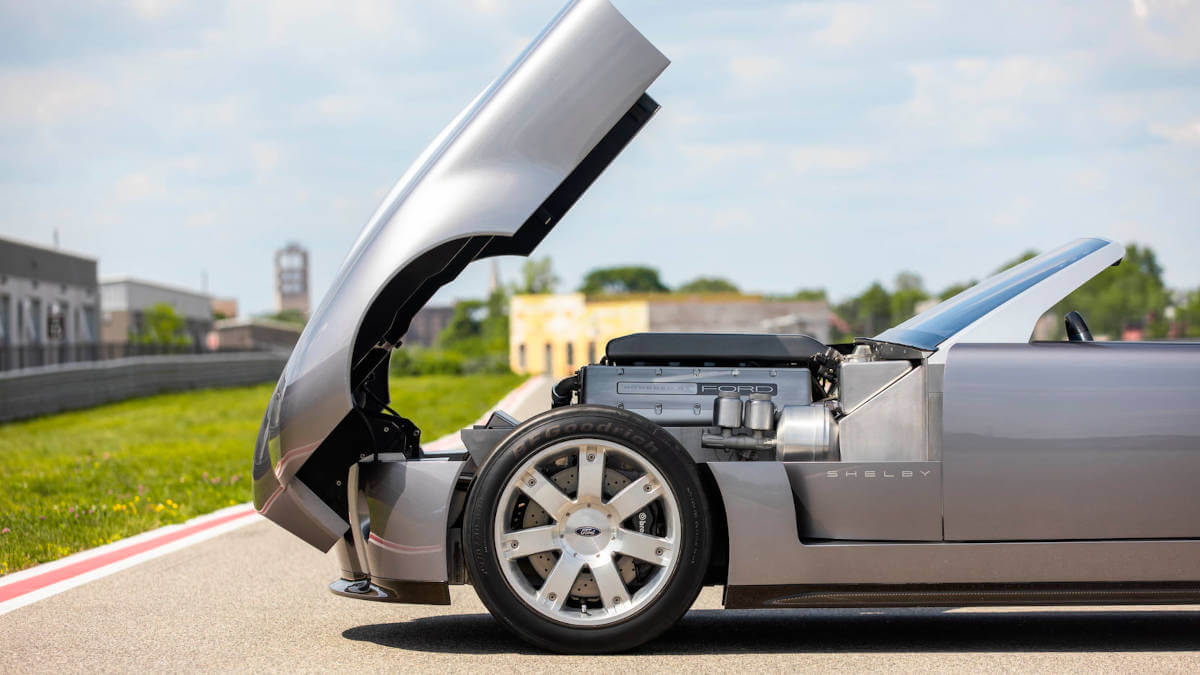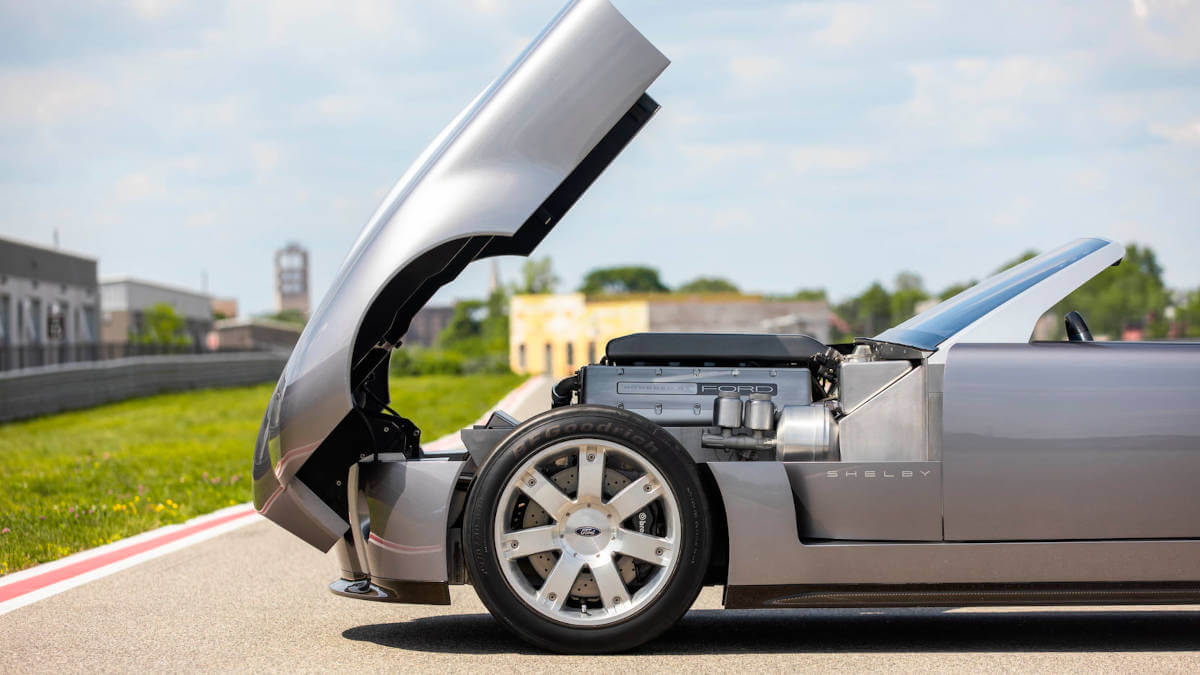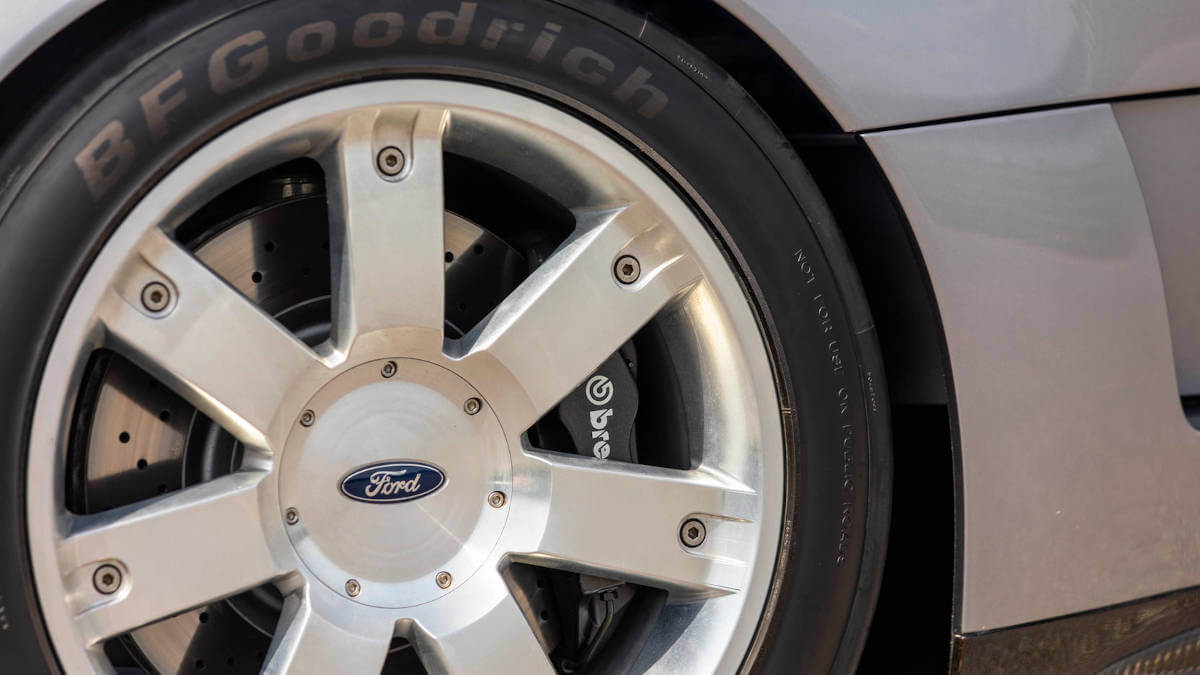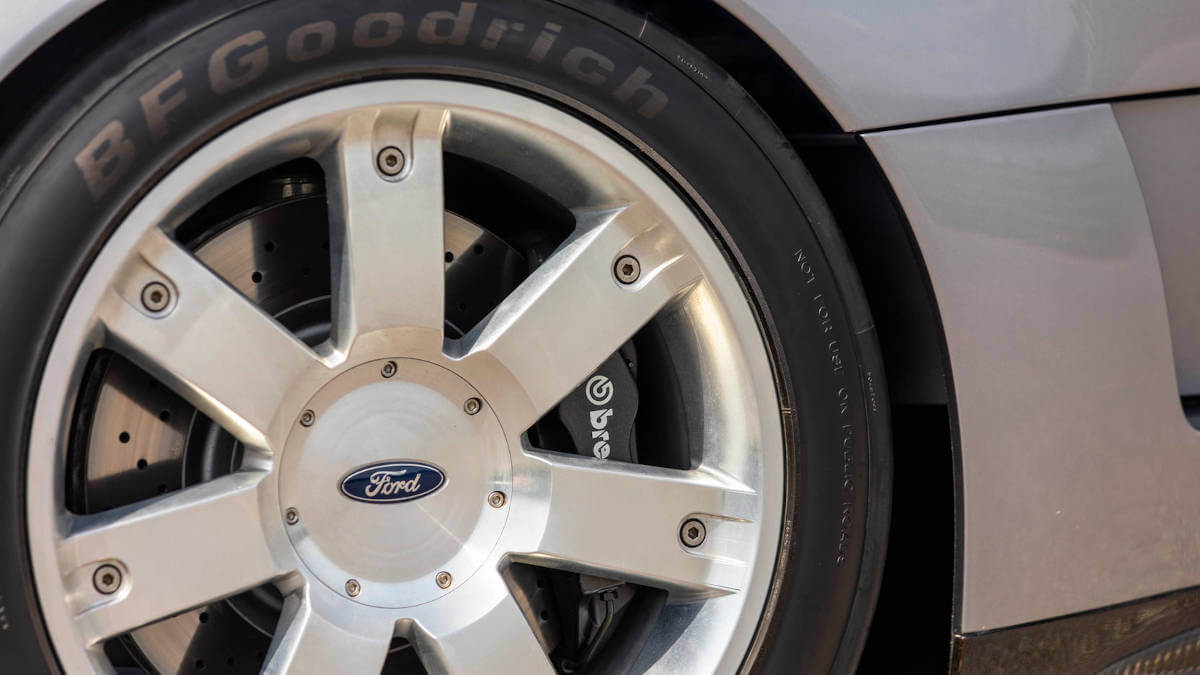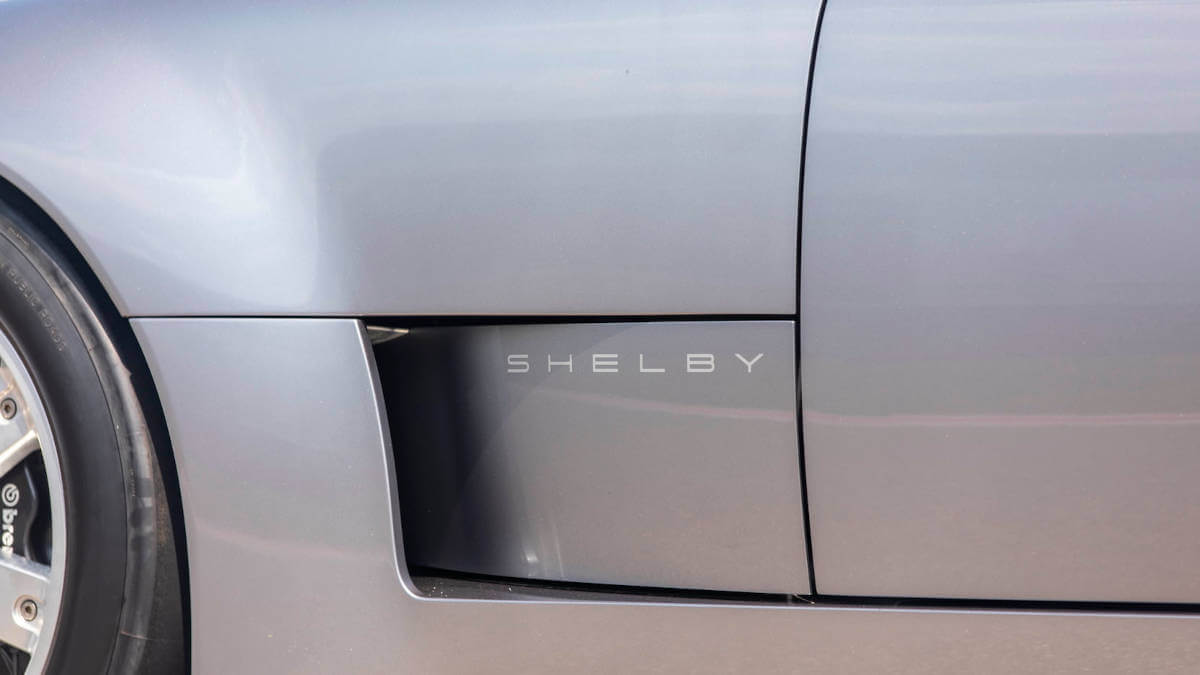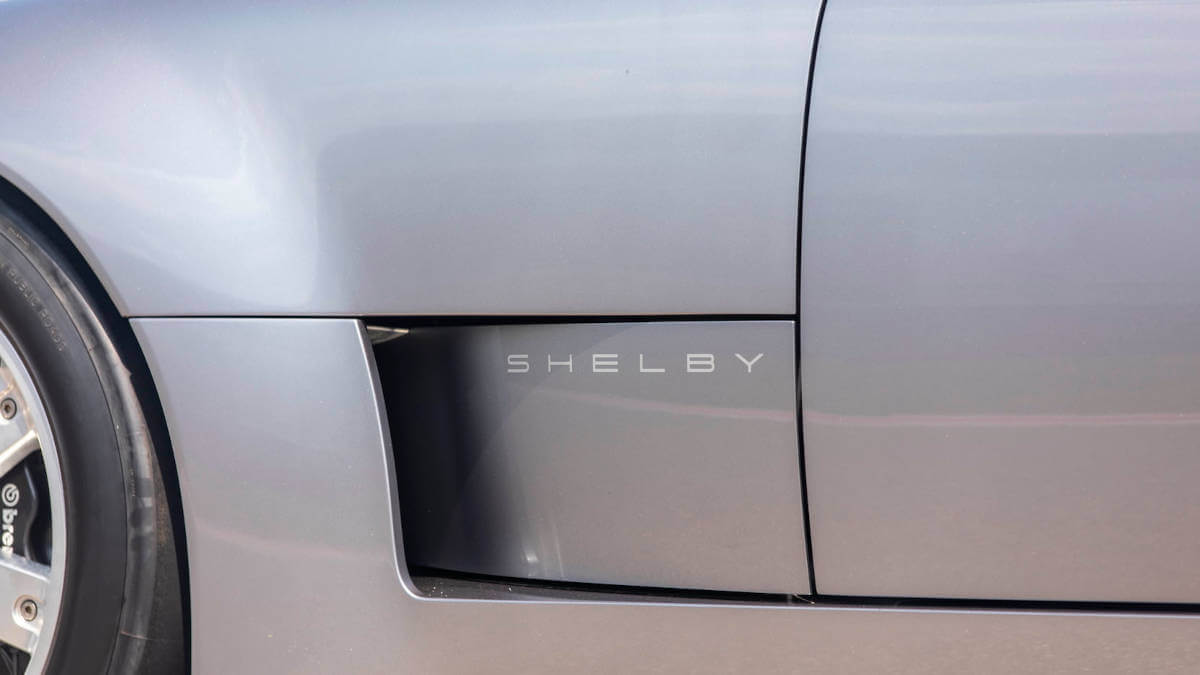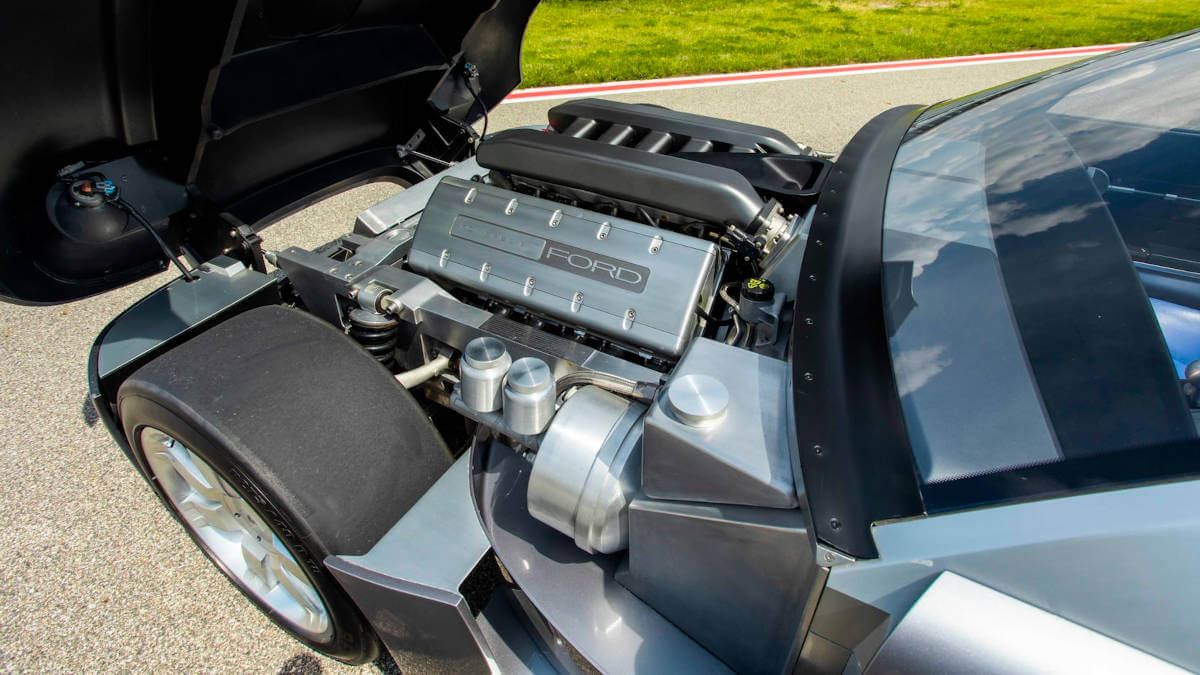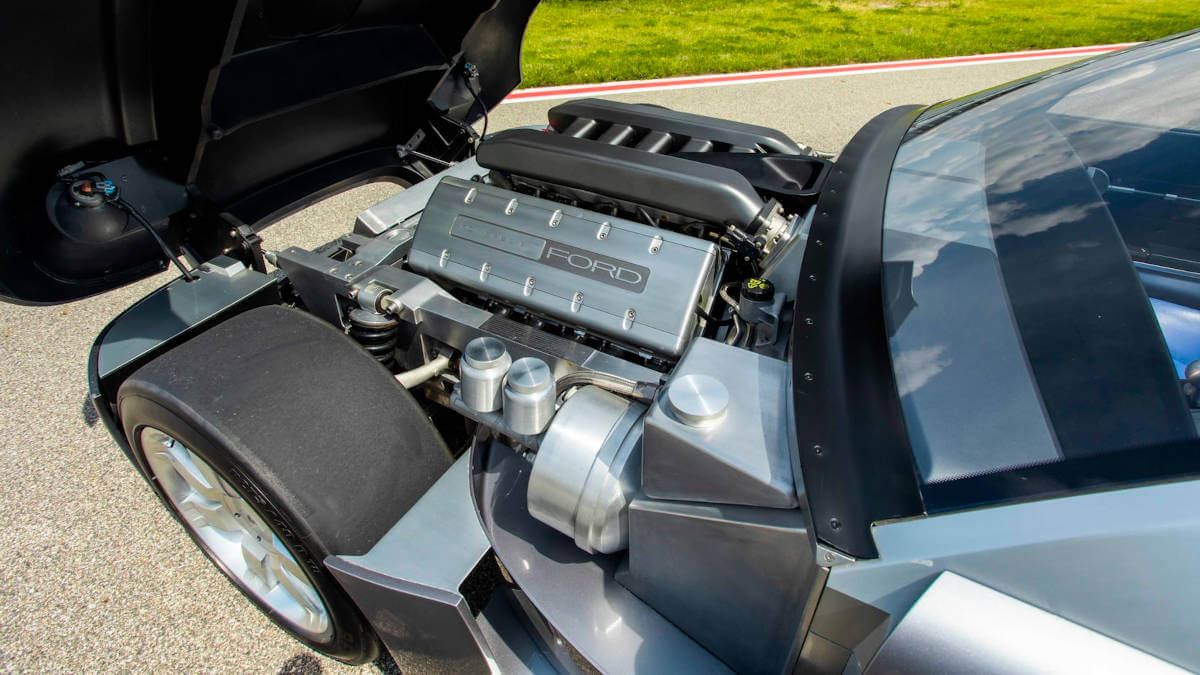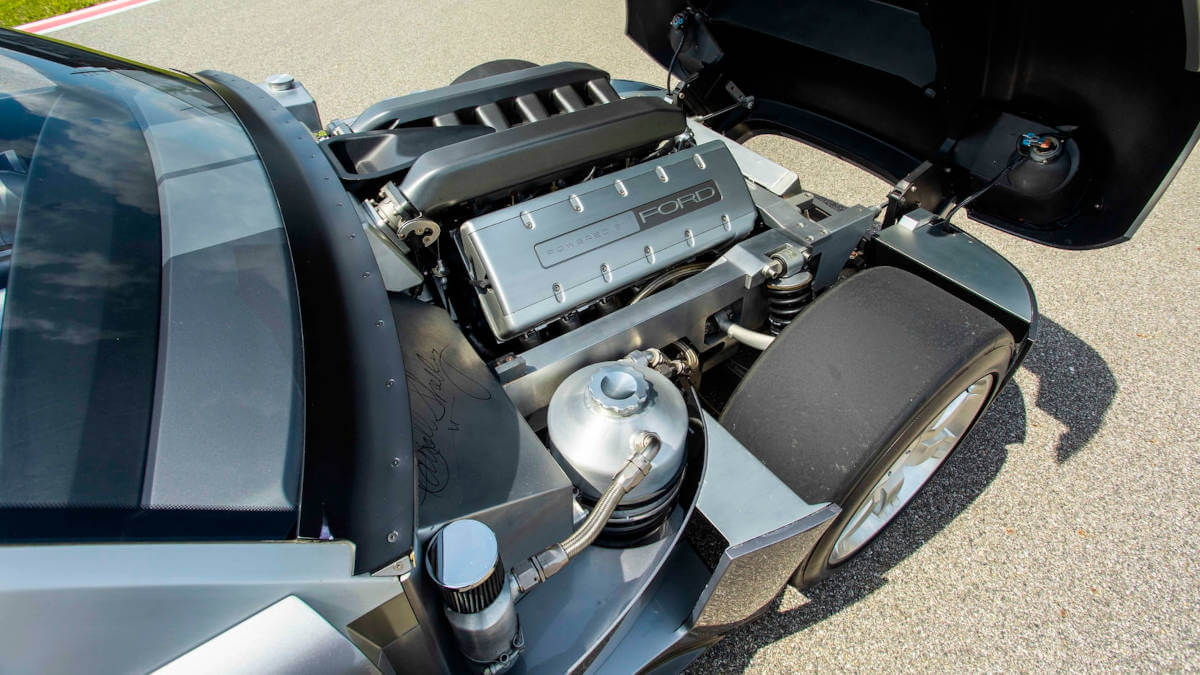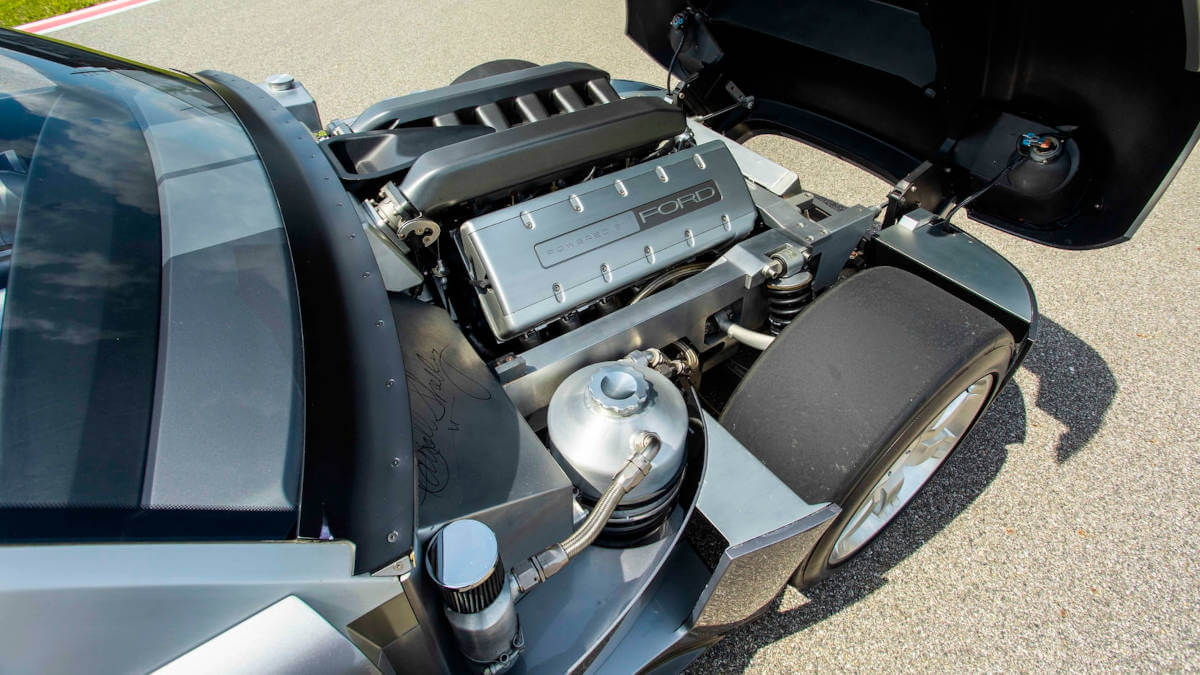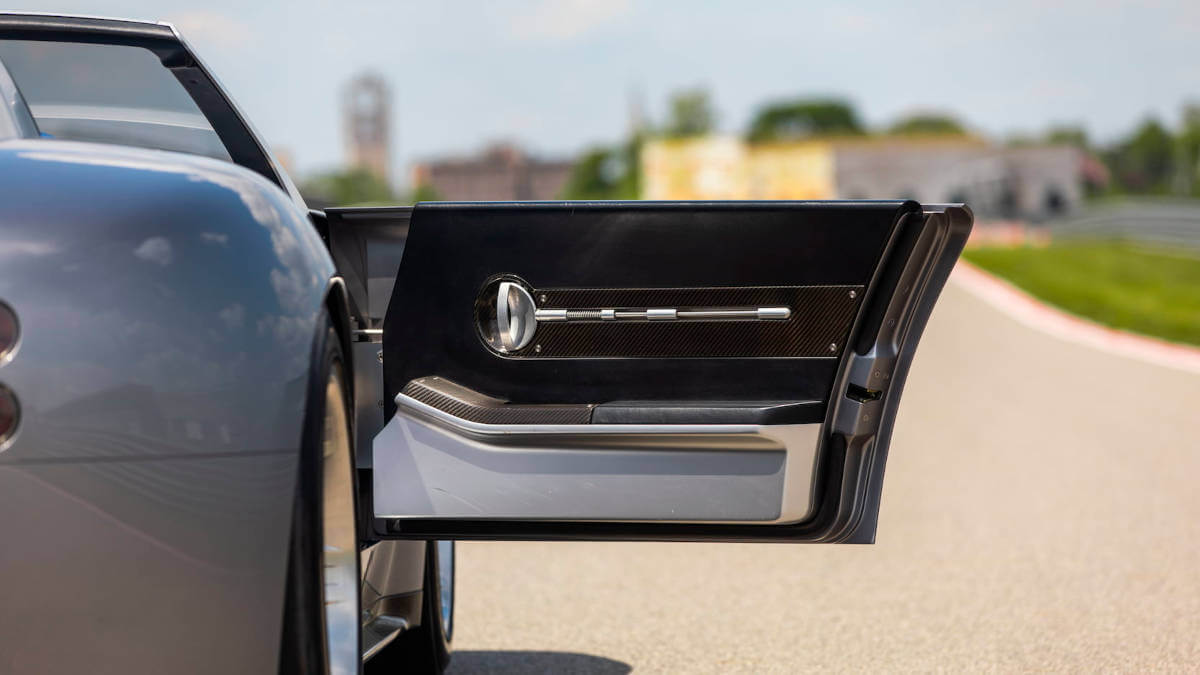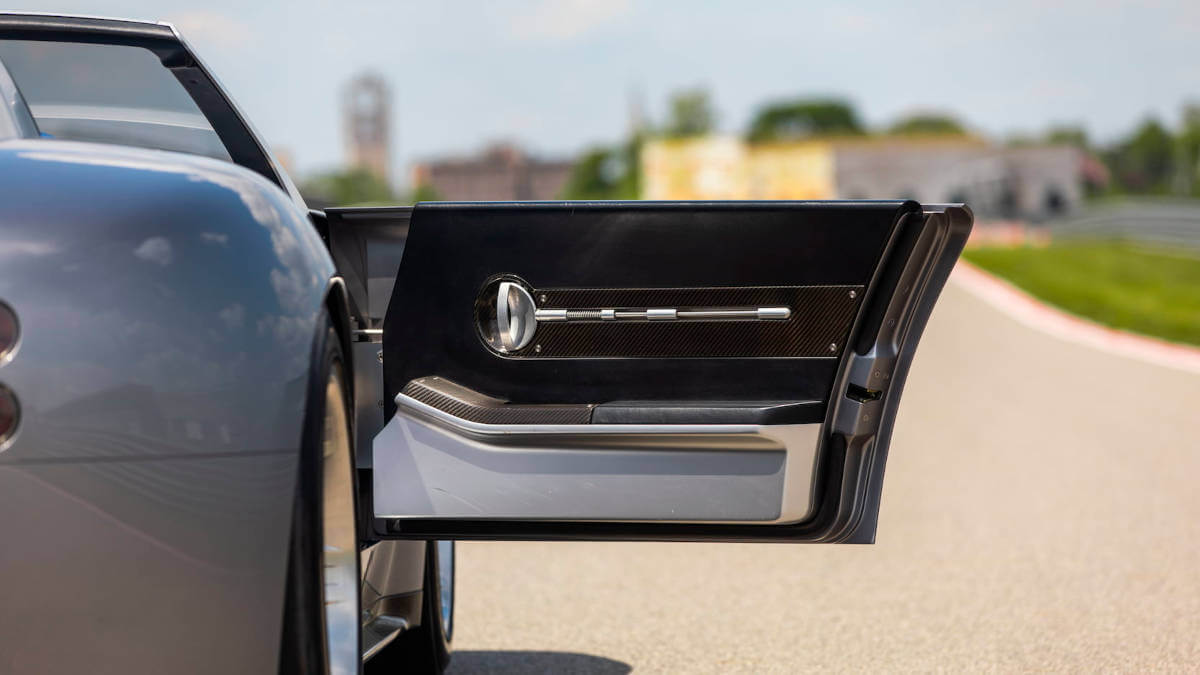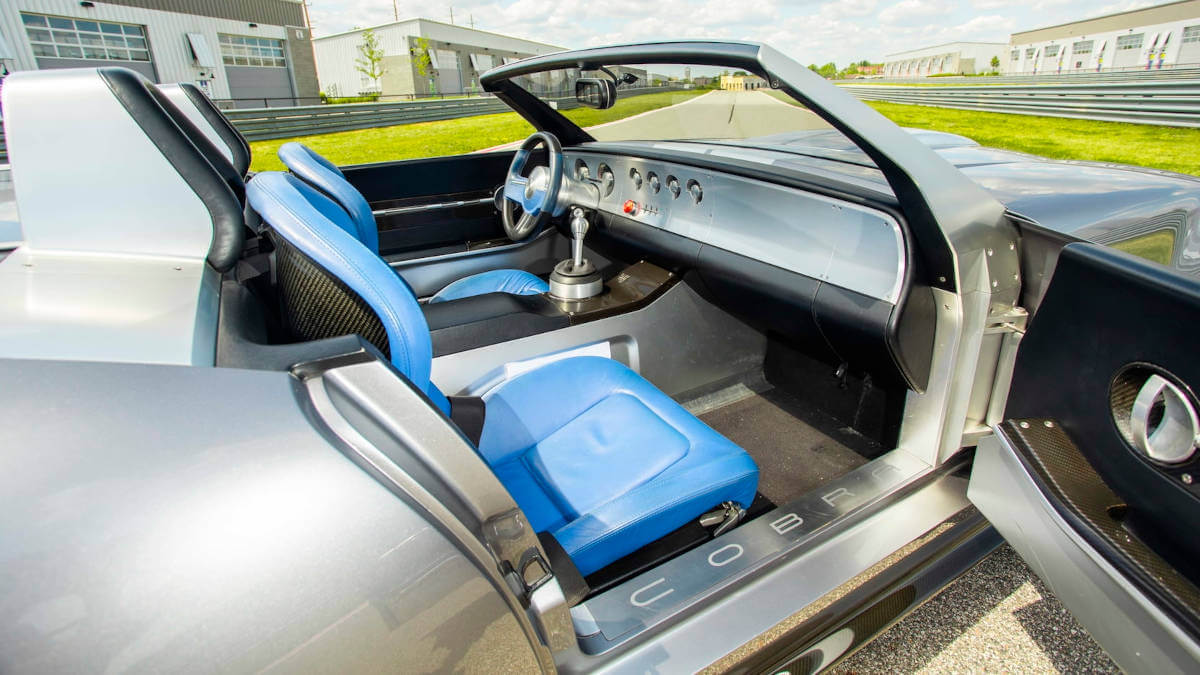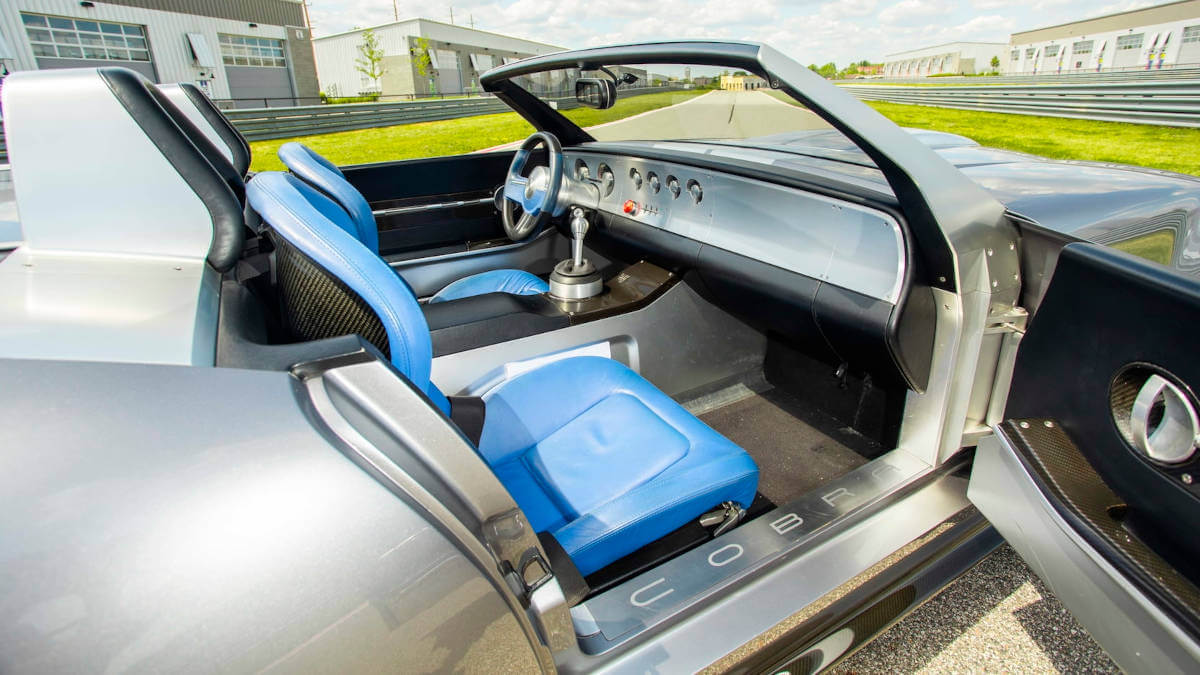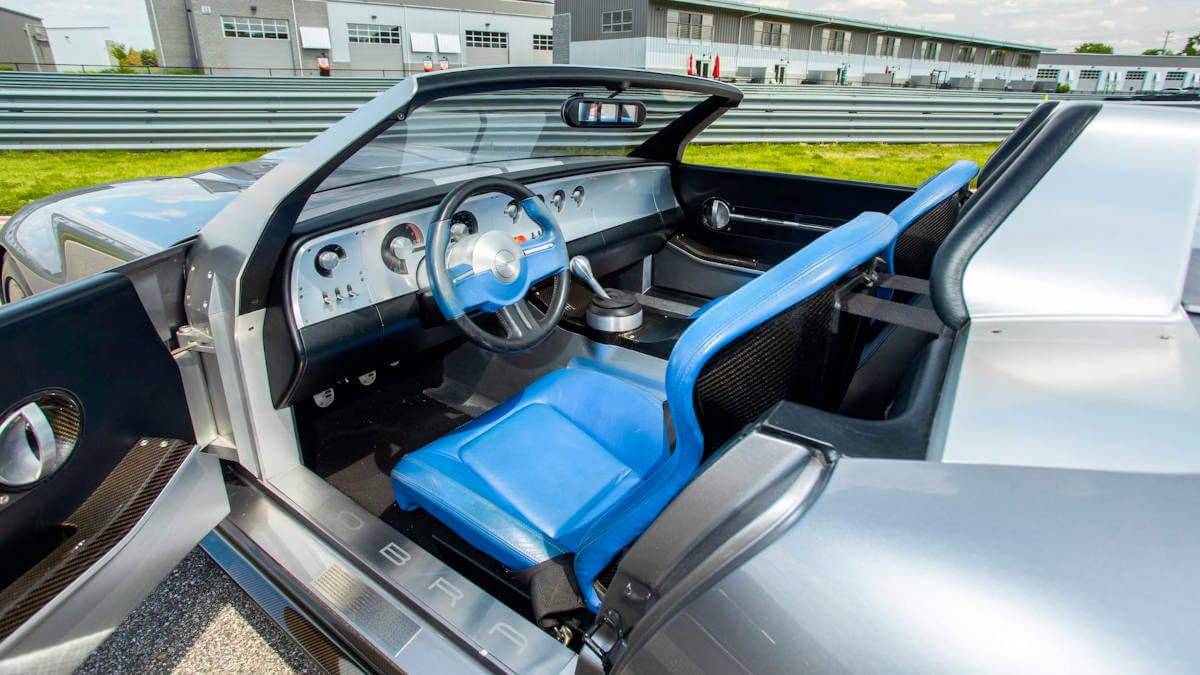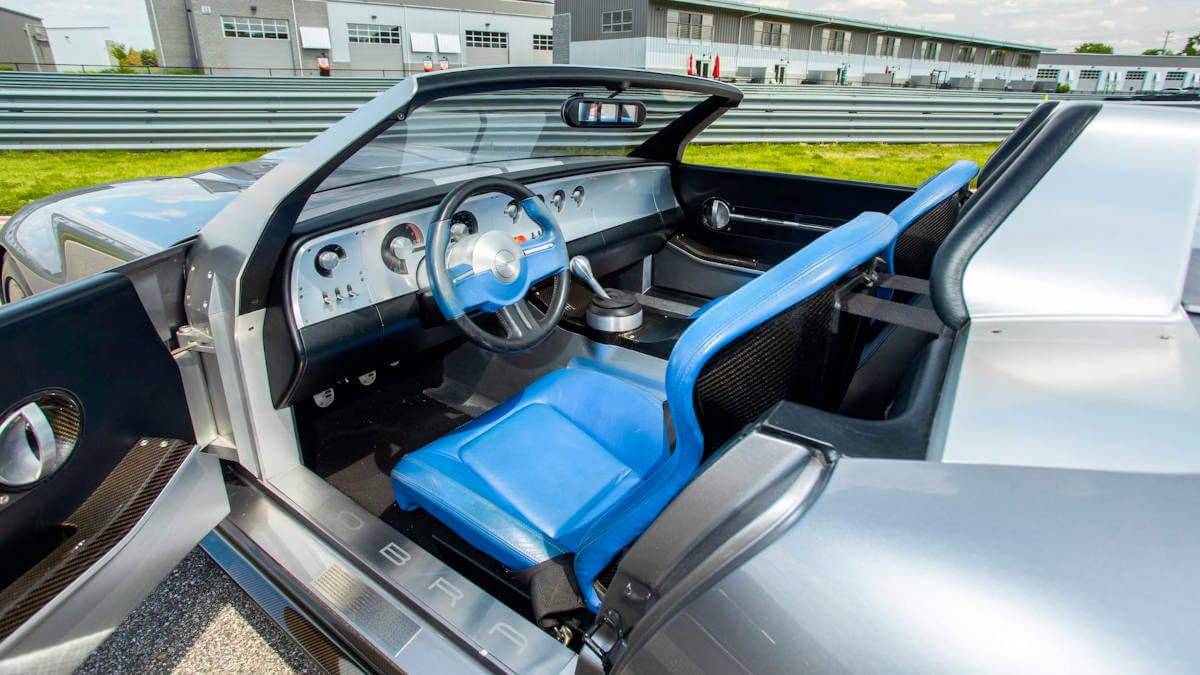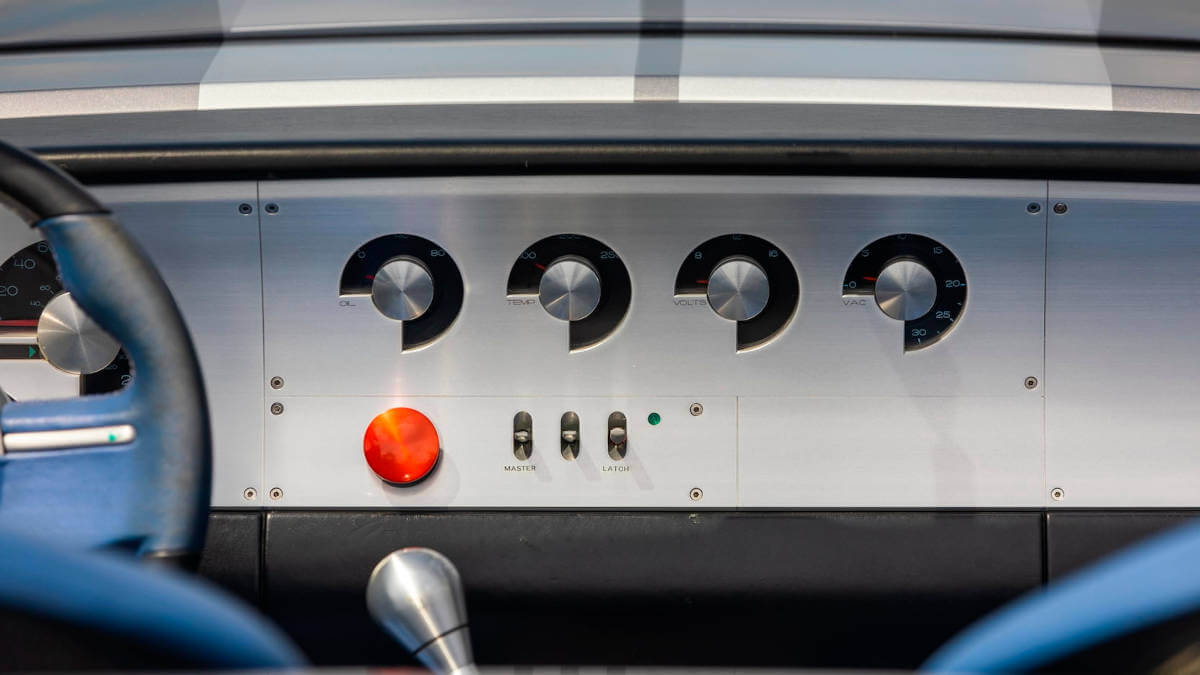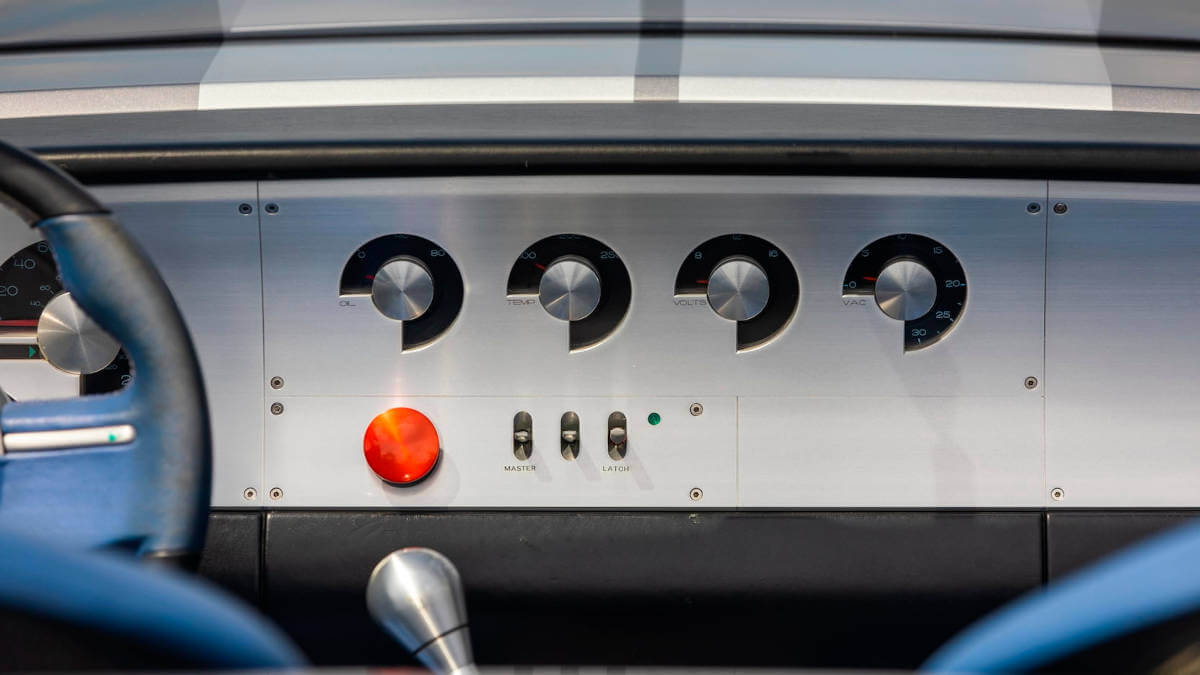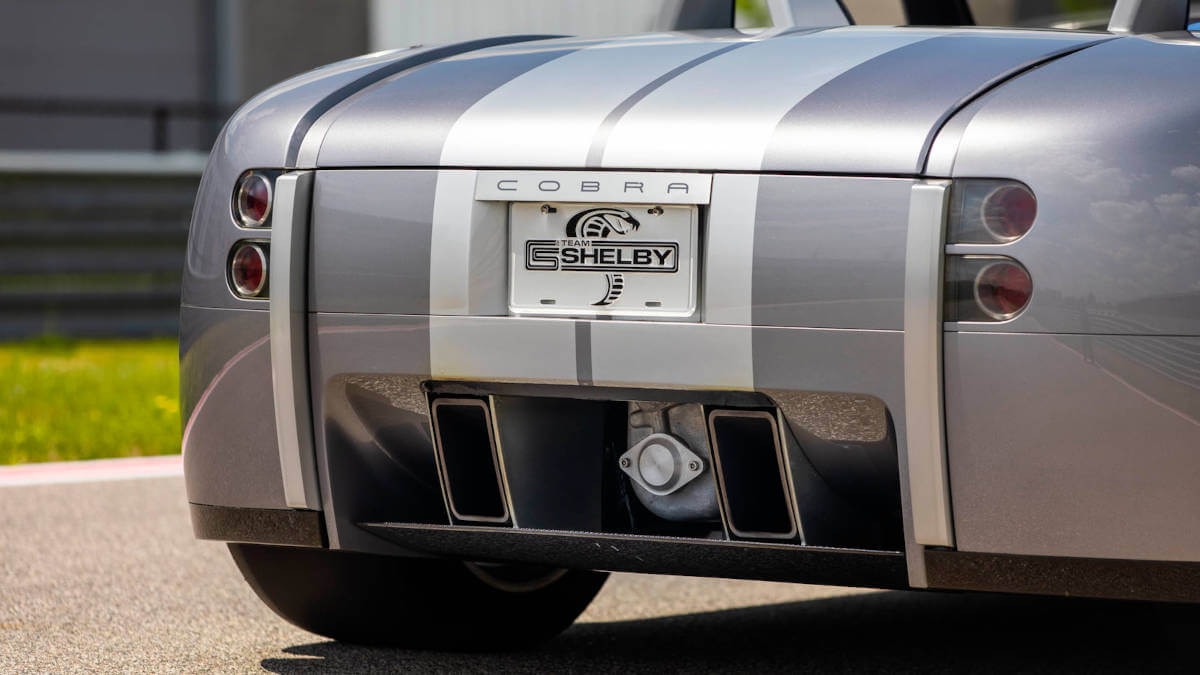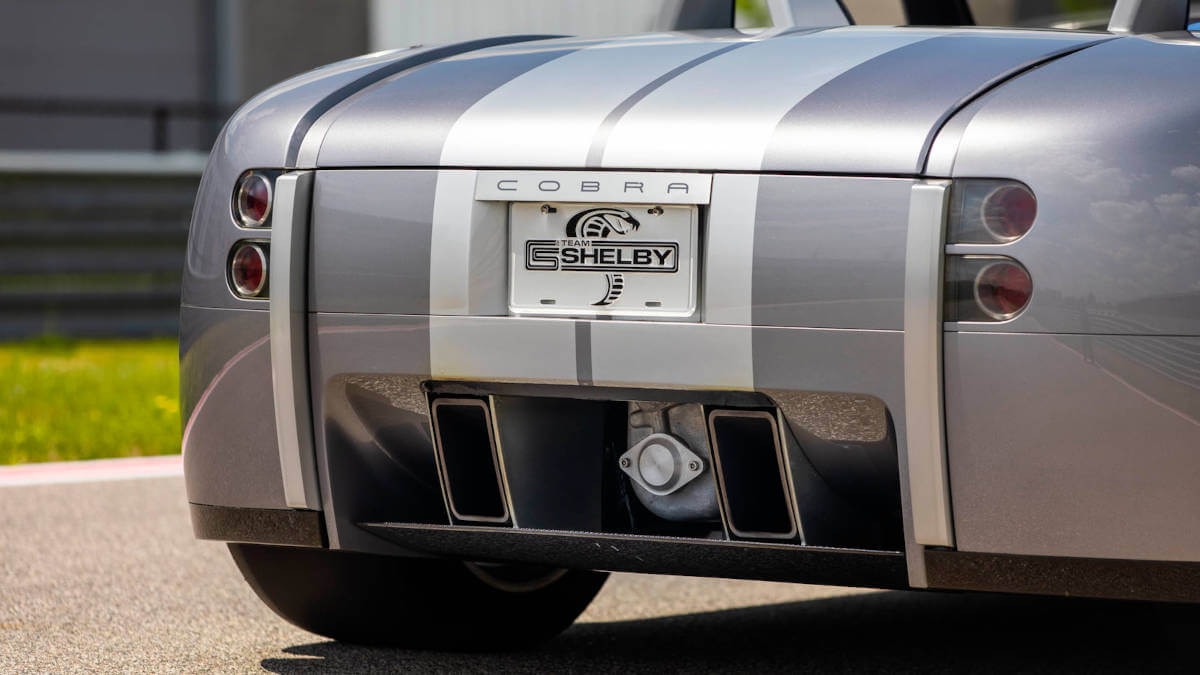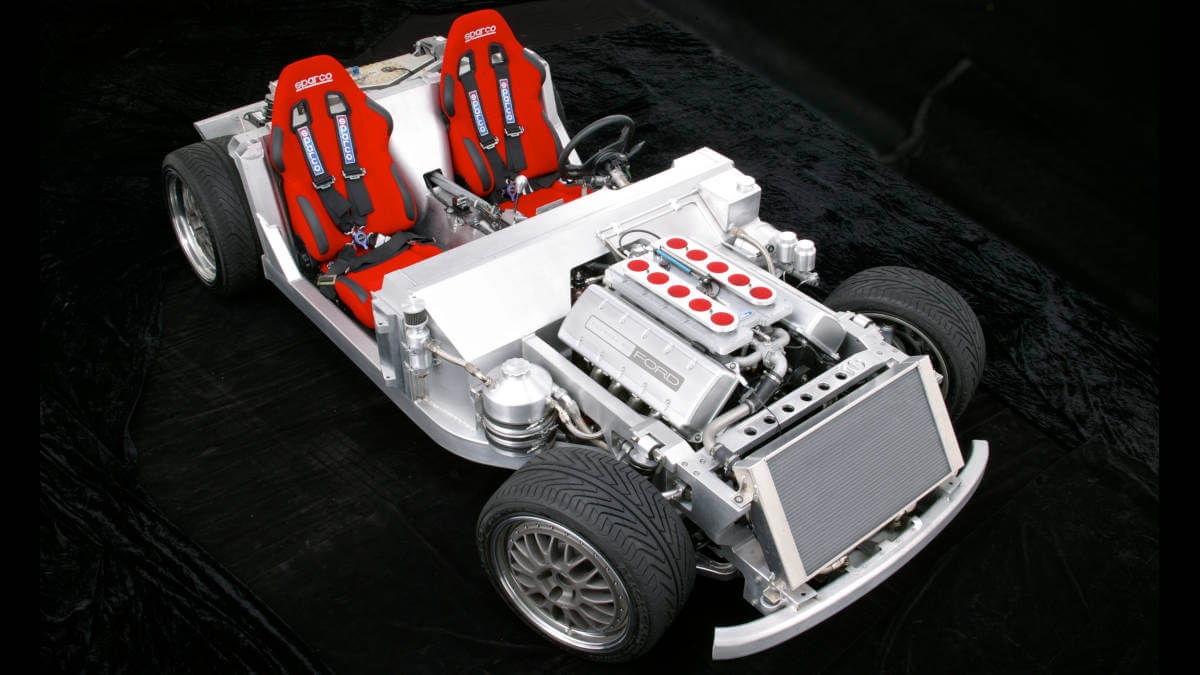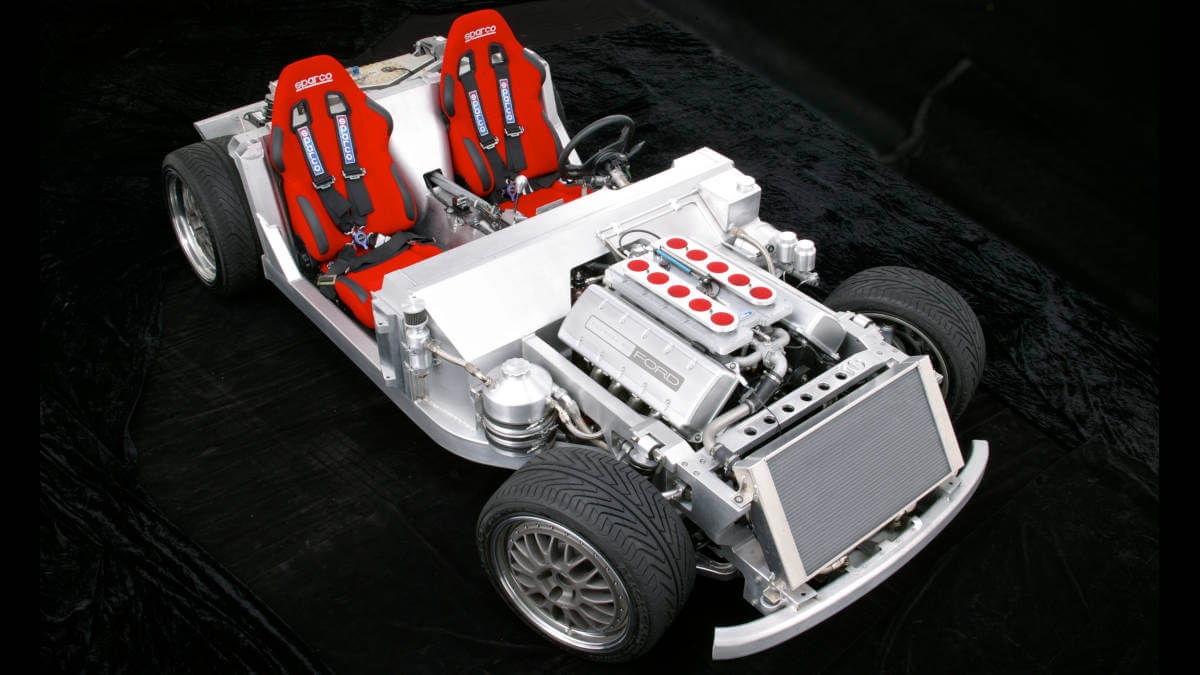 Two-day test drives in California
For photos and presentation at the North American International Auto Show (NAIAS) in Detroit, the prototype received specially designed seven-spoke BBS wheels with slick tires from BFGoodrich. Back in December 2003, Carroll Shelby was given the opportunity to test the one-off car intensively for two days at Irwingdale Speedway in California. High-speed runs on the oval, donuts in the infield and taxi rides with journalists in the passenger seat added up to more than 150 miles. Along the way, the unique interior could be enjoyed. In addition to the fact that there was more legroom than in a Ford Crown Victoria despite the large engine and compact dimensions, the instruments set in aluminium caught the eye. Together with Sparco, leathered carbon sport seats with four-point harnesses were created. Carroll Shelby, already 81 years old at the time, was more than satisfied with the vehicle. He showed this with his autograph in the engine bay.
From movie car to collector's item
In the period after NAIAS 2004, "Daisy" toured various motor shows and finally served Ice Cube as a hero car in "xXx: State of Union". Due to the impending "Great Recession", Ford ended all development work on the Shelby Cobra. The one-off didn't remain in Ford's possession, but was sold at a charity auction. The highest bidder was the former vice president of the brand, Chris Theodore, who subsequently wrote the book "The Last Shelby Cobra" about the genesis of this car. He also had the one-off car restored to running condition at Technosports after Ford retired the car prior to the auction. In 2018, the prototype showed up at the Amelia Island and Plymouth/Michigan Concours d'Elegance events. Jay Leno showed it also in 2020 on his YouTube channel. Now the last Cobra will go under the hammer at Mecum in Monterey. Between 1.5 and 2 million US dollars are expected.

Images: Mecum Auctions, Ford