Automotive
Ford GT40 Mk II
Looking back, the 1960s were wild in places. There were the cultural and the sexual revolution, which in some ways also influenced our core theme, automobiles. But even so, there were some changes in the car world, including various small wars. One of them can be regarded as 'David against Goliath', although in the end little David only scored a small points victory and was then ironed out by Goliath on the racetrack. We are talking about the big Ford Motor Company, which tried in vain in 1963 to buy the small Italian sports car manufacturer Ferrari. Many of our readers might know this story; in short summary it can be said that the Ford Group wanted to gain a part of the sports car segment and Ferrari in those days could have needed a cash injection. But ultimately the corporate patron Enzo Ferrari decided against the acquisition from Detroit.

However, this clear Italian 'no' sparked a certain anger on the other side of the Atlantic on the boardroom of Ford – especially Henry Ford II was anything but pleased. He gave his engineers a simple, but not so easy to implement task: We defeat Ferrari on the track! This led to the development of a legendary race car, that has been reinterpreted as a modern road sports car twice: The Ford GT40. For this, Ford was looking for and found partner companies with a lot of experience worldwide. For example they cooparated with Lola and acquired their rights for the Lola GT, developed by Eric Broadley. This mid-engined sports car became the base for the new GT40, which took shape at their new division Ford Advanced Vehicles in Slough/UK. In 1964 it started at its first race in its original form, but was far from race-ready and failed in Le Mans within the first hours.

It was not until 1965, after they made Carroll Shelby the responsible managerof the racing program, that the story finally gained some momentum. Although Shelby wasn't able to report any huge successes in his first year in the team, he did underline the strengths of the GT40 concept with new lap records on various race tracks.However, the seven-liter V8 in the rear of the car was so powerful that gearbox damages became a regular affair. Also in Le Mans, where Ferrari could win again with a 250 LM. The mood of Henry Ford II reached bottomless grounds. Before the next 24-hour race came along in 1966, he gave one of his famous blue business cards to Ford Division President Don Frey with handwritten remark: "You better win. Henry" – he couldn't be more precise.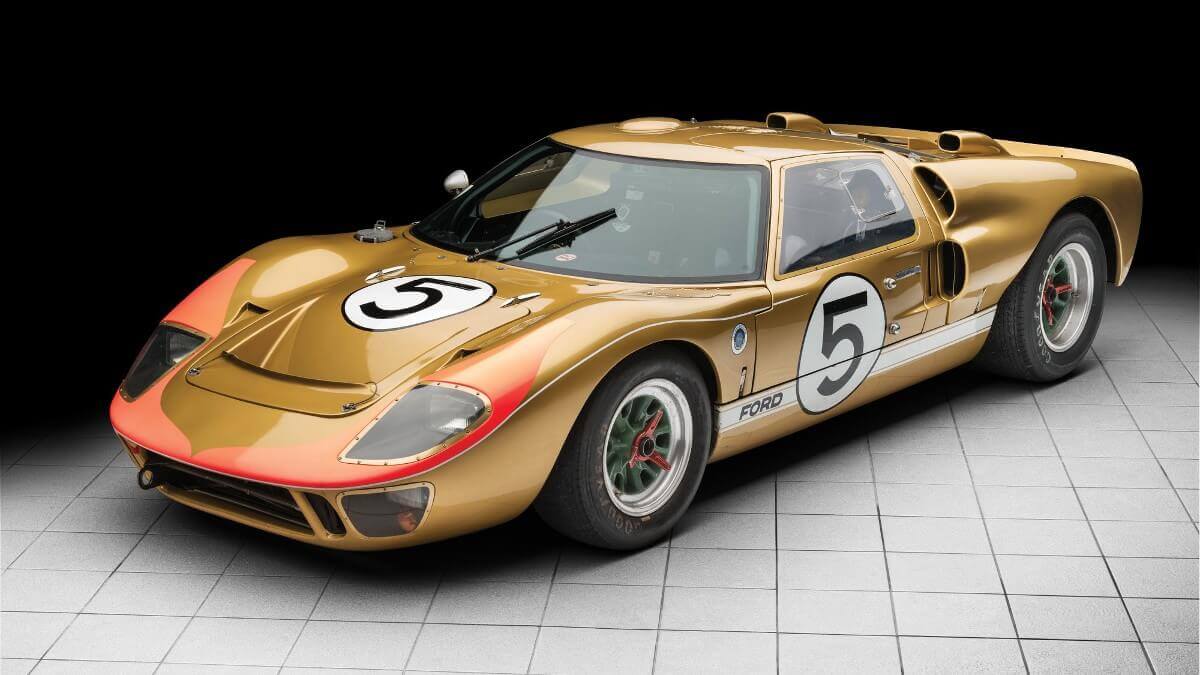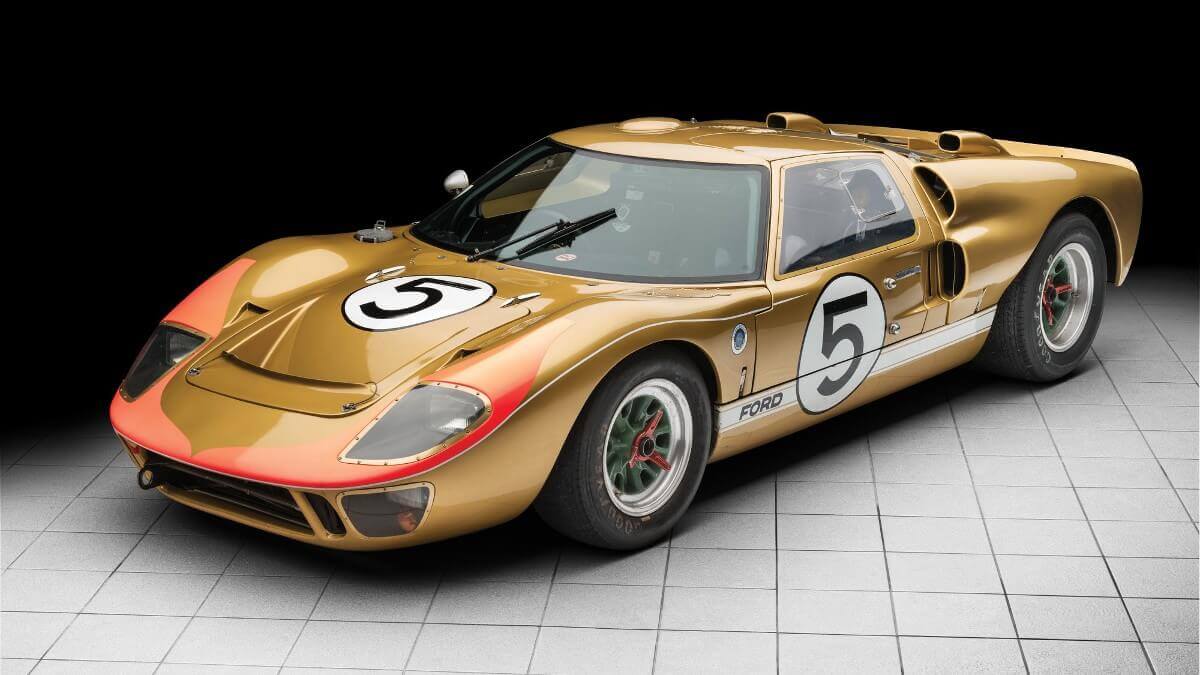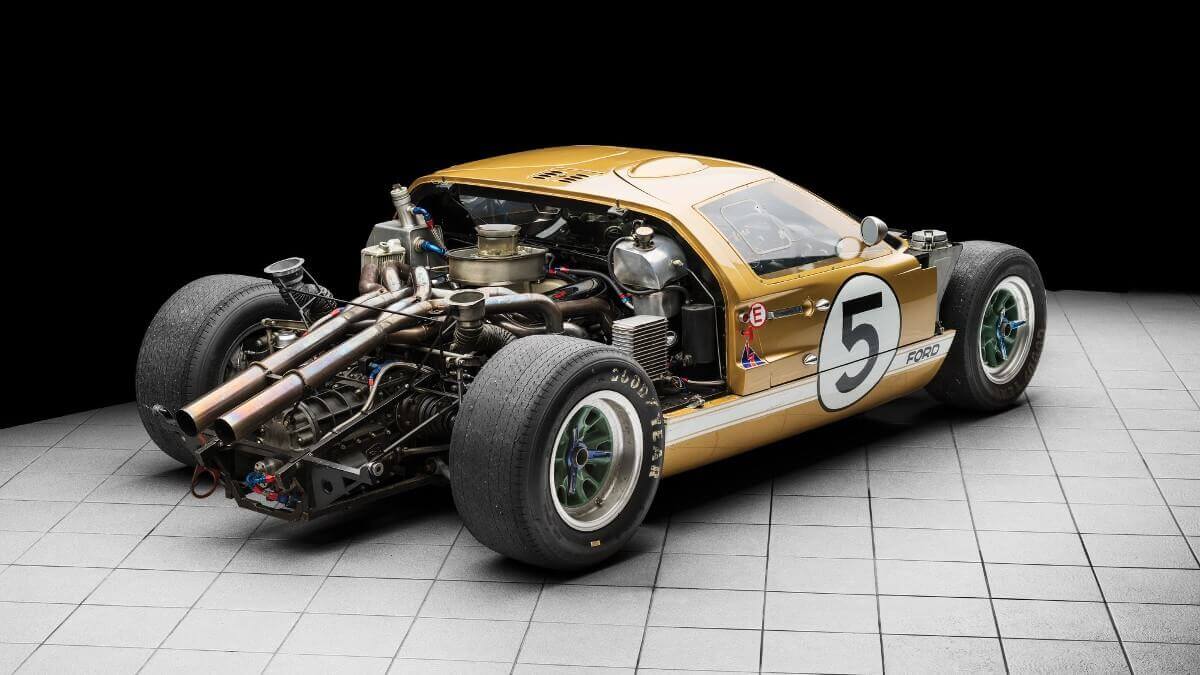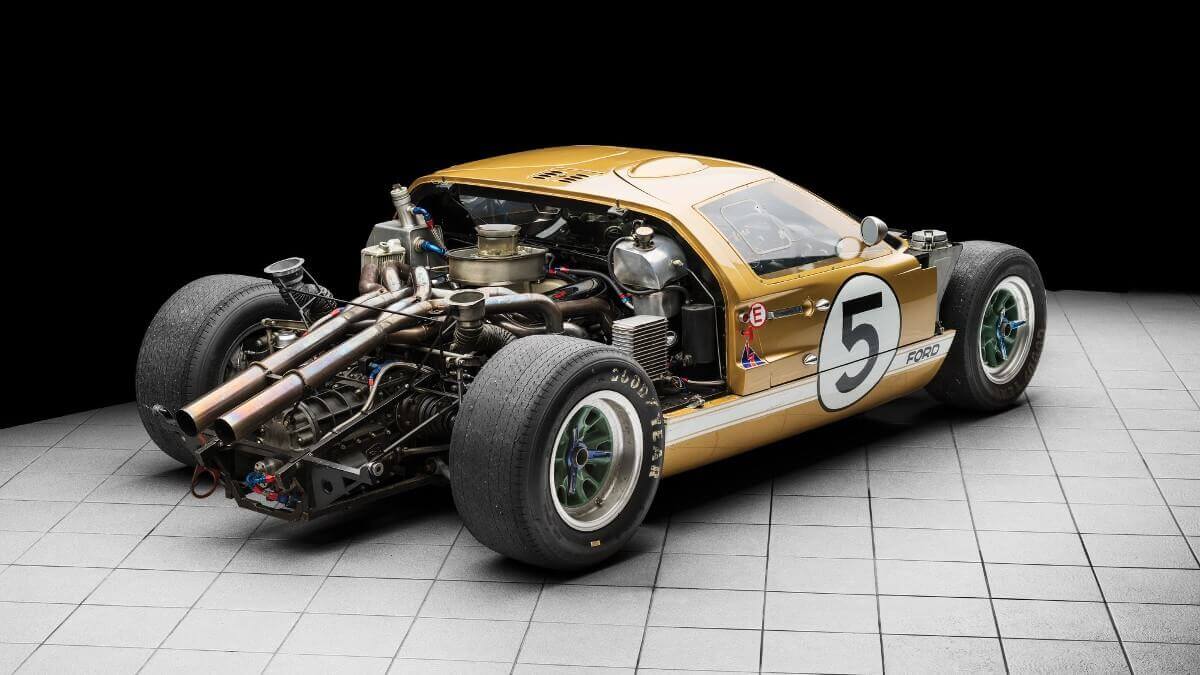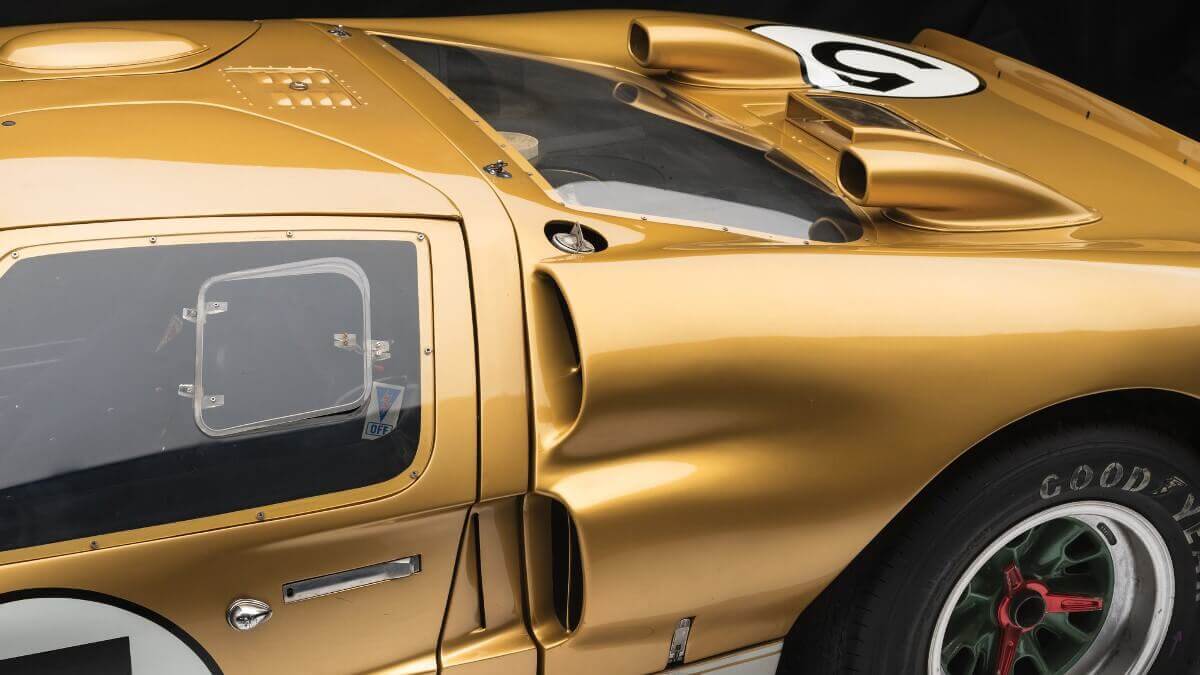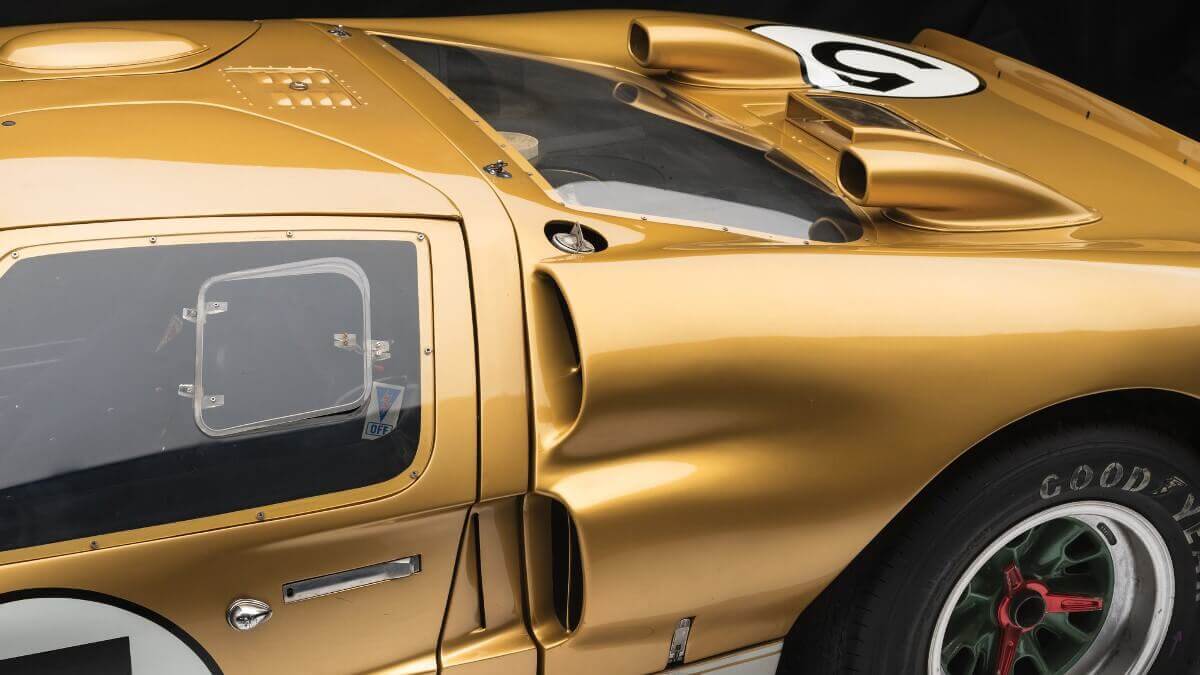 At the beginning of 1966, Frey had almost been given carte blanche to win Le Mans, whatever the cost. So he'd put the Shelby American team of Carroll Shelby back on the level of a factory-backed team and instead turned to Holman-Moody, another private racing team from Charlotte/North Carolina, otherwise known from Nascar. He gave them three new GT40s in the latest Mk II specifications from Kar Kraft in the United States. These modifications compared to the original car included a stiffer chassis with tighter engine mounts and better suspension with dual-adjustable Koni dampers, as well as thicker drive shafts and ventilated disc brakes from Kelsey-Hayes. The body was slightly wider and received additional ventilation openings for the engine and an adjustable rear spoiler. Under the bonnet stuck the 427 cubic inch (seven liters of displacement) V8 with about 450 hp, which Holman-Moody already knew well from Nascar. Overall only eight copies of the GT40 Mk II have been built.

One of these eight cars was chassis number P/1016, which was originally tested for the first time in January 1966 in the typical white with matt black hood in Sebring by the British racing driver Ken Miles and Californian guy Ronnie Bucknum. Then it was handed over to the Holman-Moody team and prepared intensively in their workshop for the 24 Hours of Daytona, for example by the installation of another suspension including adjustable anti-roll bars as well as a special torsion bar on the right side, which reduced the lateral inclination in the banked corners of Daytona – a development from Nascar. In addition they drove the car in Daytona with an experimental two-speed automatic transmission, which ultimately led to failure after 13 hours. For the 12 Hours of Sebring about a month later, the car received a new paint finish in 'Kandy Gold' and reached twelfth rank with the automatic gearbox and drivers Ronnie Bucknum/A.J. Foyt.

In addition to the change of the gearbox, the car received a modified front end and a driver's door with the famous bulge for the driver's helmet for Le Mans 1966. Next to the three Holman-Moody GT40s there were another three from Shelby American and another two from Alan Mann Racing entered into the endurance race against Ferrari. In order to be able to recognize P/1016 better from the pit wall, it got some accents in 'Day-Glo Pink'. After qualifying it was in ninth place, after one hour into the race it was third, but then due to brake problems it lost many places until it was listed in tenth position after ten hours and a long repair stop in the pits. But now the problem had been eliminated and so the GT40 only moved forward. In the seventeenth hour of the race, pretty much at the same time when the final Ferrari P3 retired, they took third place again behind two Shelby GT40s. This order remained until the finish line. After the race the car was sent on a promotional tour through US Ford dealerships for six months. Then the car became a test mule for Holman-Moody's development of a Mk IIB specification for 1967. After a few more races and the pre-tests in Le Mans it was brought back to the headquarters of Holman-Moody and refreshed for display purposes.

In 1970 the team donated the car to the William Harrah Automobile Collection in Reno/Las Vegas, but mistakingly provided it with the chassis badge of sister car P/1015 – the second-place car from Shelby American in the Le Mans 1966 race. Since the teams wildly exchanged their cars back in those days, such a confusion may well occur. Thirteen years later the car went into private hands. It was first owned by Leslie Barth from New Haven/Connecticut, who repainted it into the lightblue color of the Shelby car, as he believed to really own P/1015. Later the car came into the possession of Nick Soprano and then the collector Peter Livano, who prepared the GT40 for use in historic motorsport. It appeared for the first time at the GT40 Reunion in Watkins Glen in 1989, where it was driven by Jacky Ickx. After three more owners in California, the car came into the collection of Ken Quintez in Columbus/Ohio in 1992. Only he was able to re-identify the vehicle as P/1016 and then to restore it back into the correct colors and the appropriate state of Le Mans 1966. However, some changes of the Mk IIB spec such as the rollcage, the aluminium dashboard and the fire extinguishing system remained on board. After a few appearances at classic car events, including winning the public rating at the Pebble Beach Concours d'Elegance 2003, the current owner bought it in 2004 and now offers it at the RM Sotheby's auction during the Monterey Car Week in August.

Images: RM Sotheby's