Automotive
Ferrari Portofino M
At the Geneva International Motor Show (GIMS) 2018, the Ferrari Portofino, an open 2+2-seater, made its debut as the successor model to the California and California T. Now, only two and a half years later, the sports car manufacturer from Maranello presents the Portofino M (Modificato). Why this early reworking was done remains a mystery. However, it concerns not only the appearance but also the technology of the entry-level model. Under the hood of the Portofino was a V8 biturbo engine with 3,855 cc, which produced 441 kW/600 hp and 760 newtonmeters of torque. Ferrari retained the same displacement and torque for the new Portofino M, but increased the horsepower to 620 (456 kW) by means of new cam profiles with more stroke and turbochargers rotating 5,000 rpm faster. In addition, the dual-clutch transmission now has eight forward gears instead of seven.
More power and new transmission
This enables the car to go from a standstill to 62 mph in 3.45 seconds and to 124 mph in 9.8 seconds. Ferrari continues to specify a topspeed of more than 198 mph. 390 millimeter brake discs at the front and 360 millimeter discs at the rear ensure the best possible deceleration. In front of them there are 20-inch wheels with 245/35 ZR 20 front and 285/35 ZR 20 rear tires. For the first time in this model category, Ferrari uses a Gasoline Particulate Filter (GPF) in the exhaust system to comply with the strict European Euro 6D emissions standard. To keep the soundtrack emotional, Ferrari removed the two rear silencers and installed oval instead of round bypass valves to reduce the exhaust back pressure. Of course, the Portofino M keeps the latest electrical systems on board and receives updates to the latest versions. The SSC (Side Slip Control) of the sixth generation, by combining eDiff, F1-TCS, SCM-E Frs and FDE, allows wide drift angles depending on the mode, before it catches the car again. The five modes 'Wet', 'Comfort', 'Sport', 'Race' and 'ESC-Off' can now be selected via the Manettino on the steering wheel.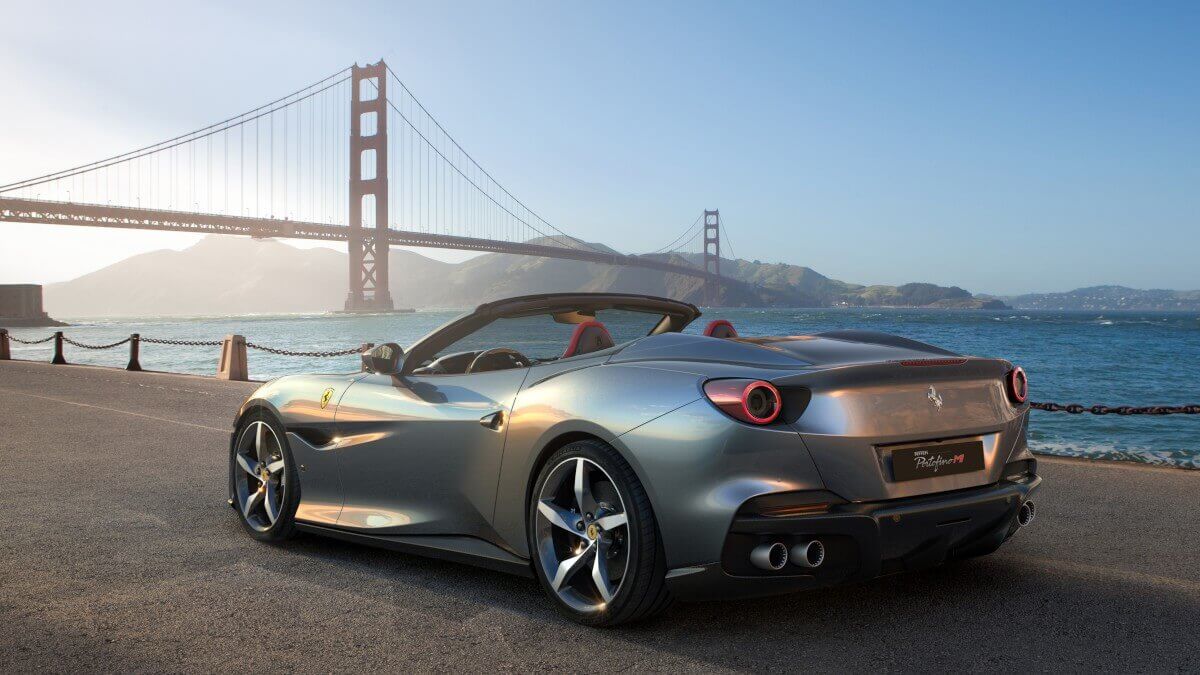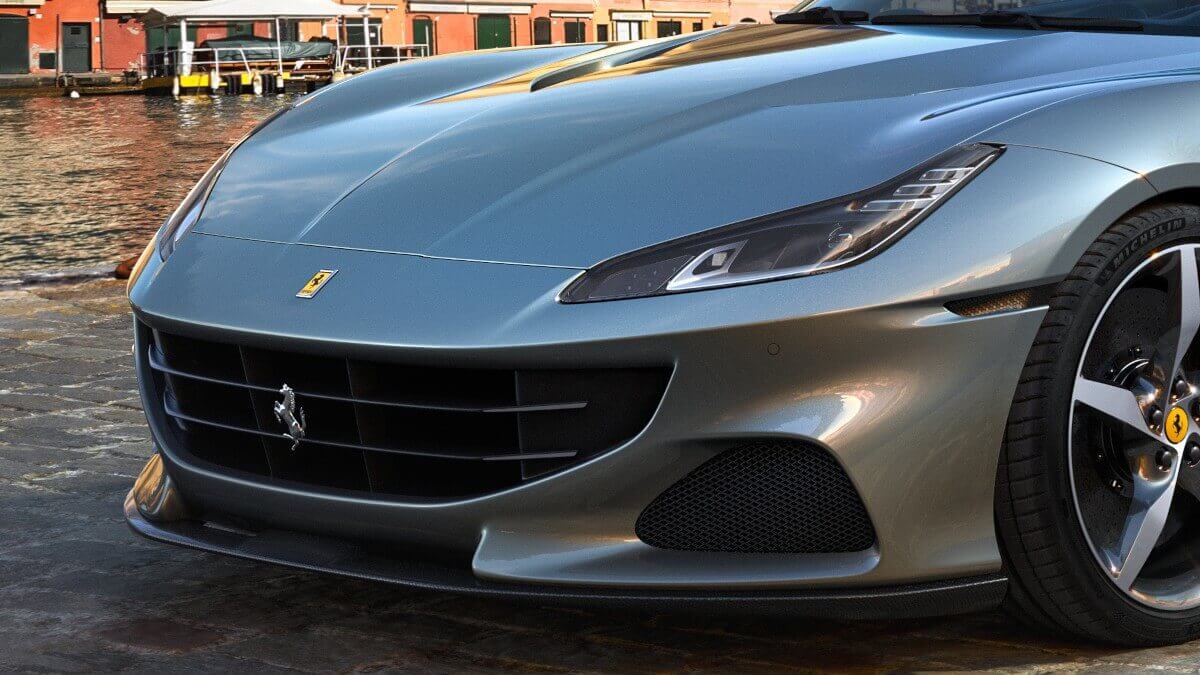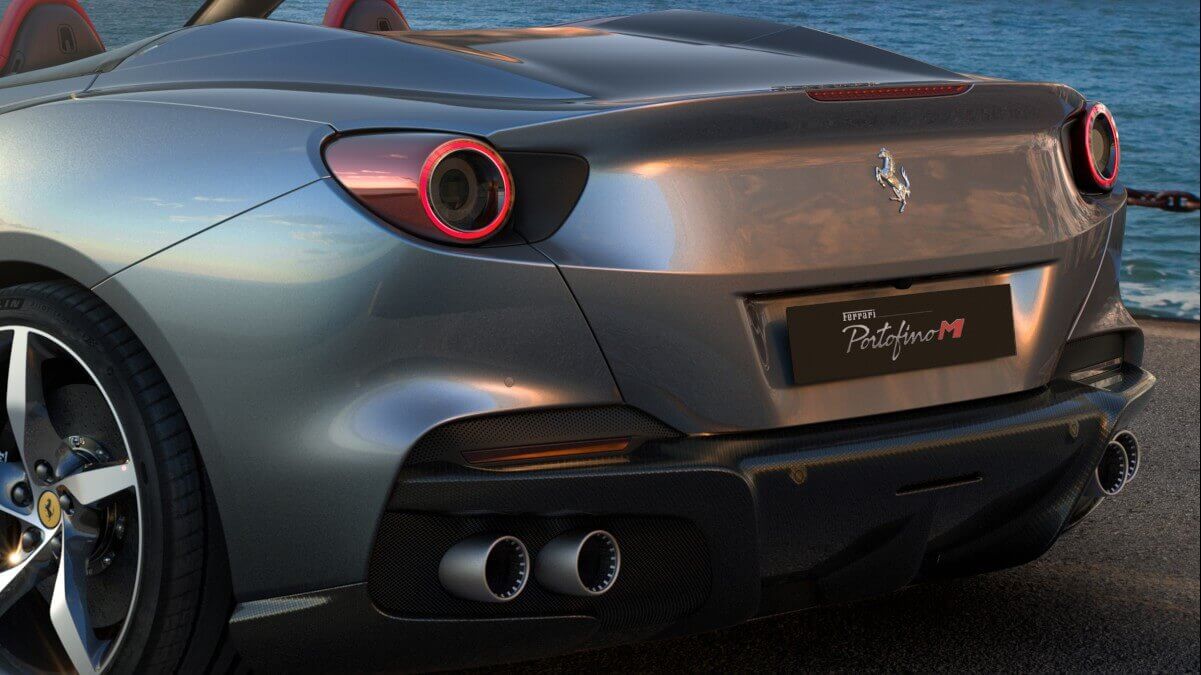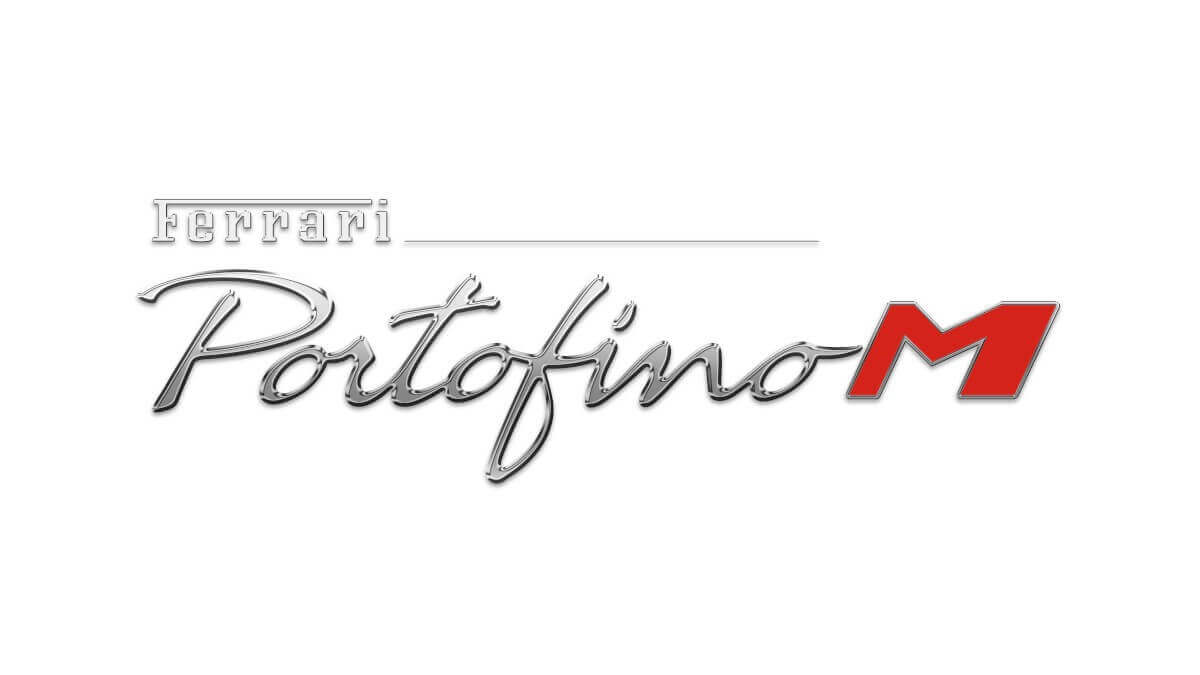 Ferrari was very careful in its modification of the Portofino M to keep the harmonious design. Actually, only two larger parts were replaced completely: the bumpers at the front and rear. In the front bumper there are now newly designed air intakes and additional air slits in front of the front wheels. The radiator grille received two aluminium rails with contrasting end pieces. At the rear, the appearance around the exhaust tailpipes could be made more compact and slimmer by eliminating the rear mufflers behind the bumper, which also made it possible to create a separate diffuser which is available in visible carbon on request. Diamond-cut light-alloy wheels in a unique design round off the exterior of the Portofino M. Ferrari made no changes to the Retractable Hard Top (RHT).
Re-arranged dashboard
The dashboard consists of a more pronounced upper half and a less noticeable lower half. This allows the rational arrangement of all on-board instruments in the driver's field of vision. A 10.25-inch touchscreen display for the infotainment system sits centrally below an aluminium strip, while the optional passenger display is integrated on the right-hand side above the same strip. New front seats with a magnesium core and upholstery arranged according to a special analysis provide rear passengers with more legroom. Seats and backrests of the front seats can be ventilated and heated in three stages. They also receive a neck warmer with a three-stage hot-air blower.

Images: Ferrari