Specials
Automotive Art 12 – Jaguar XK120
Jaguar's first post-war sports car was created as a rush job for the 1948 London Motor Show, with Sir William Lyons drawing timeless lines.
Welcome back to a new part of our monthly Automotive Art section with photographer and light artisan Bill Pack. He puts a special spotlight onto the design of classic and vintage cars and explains his interpretation of the styling ideas with some interesting pictures he took in his own style. For the end of 2019 we look back to the sports car that helped to establish Jaguar as a very nice brand.
Into The Mind Of The Designer – by Bill Pack
It is easy to learn lots of facts and information about any automotive designer. We learn what great shops they worked for, what model of cars they designed and the innovations they have brought to the industry. We know about them, but we do not know them. With my imagery I attempted to get into the soul and spirit of the designer. By concentrating on specific parts of the car and using my lighting technique, I attempt to highlight the emotional lines of the designer.
Jaguar XK120 – Designed by Sir William Lyons
When a person possess a passion and drive to create, regardless of tools, creativity always finds a way to emerge. This past year we have explored many different automotive designers and the different approaches they employed to take what is in their minds eye to the sculptured masterpieces we enjoy.

Sir William Lyons is no different in this regard, as we will discover. Lyons was born in 1901. His father was an Irish immigrant who owned a musical instrument shop in the seaside town of Blackpool, England. At an early age Lyons had a curiosity about machinery. With the help of his father, Lyons began an engineering apprenticeship at Crossley Motors in Manchester. It was here, that Lyons developed his interest in the automotive industry.

Working at a Sunbeam dealership, he became friends with William Walmsley. This friendship began a path starting with side cars for motorcycles to S.S. (Swallow Sidecars) Ltd Motor Company to what is now known as Jaguar Cars Ltd. Lyons had a vision and a drive that has lead to the creation of some of the worlds most beautiful automobiles. He didn't let the fact that he wasn't trained in the traditional methods of an automotive designer deter him.

Lyons creative genius was his ability to assemble a team of creatives and in directing them to bring his visions into reality. The team was his creative tool and clay was the medium of choice, where the ideas from his mind took form. It was a close hands on collaboration between Lyons and his team. Nothing escaped his eye.

The example below in the picture gallery is an aluminum bodied 1953 Jaguar XK 120 M. The passage of time and history has been retained, telling a rich visual story. You feel the many hands that have grasped the steering wheel, the many races, roads and miles it has had conquest over.

People who love automobiles know, a car is never just a car. It's a vessel for story. A sensememory of an era long past in leather and metal. It begins with a designer's vision, and continues as the vehicle is imprinted with the narrative of its owner and its passage through time and terrain.

Take time and enjoy this visual story that started with Sir William Lyons many years ago. It started as one man's vision, a creative team and block of English clay.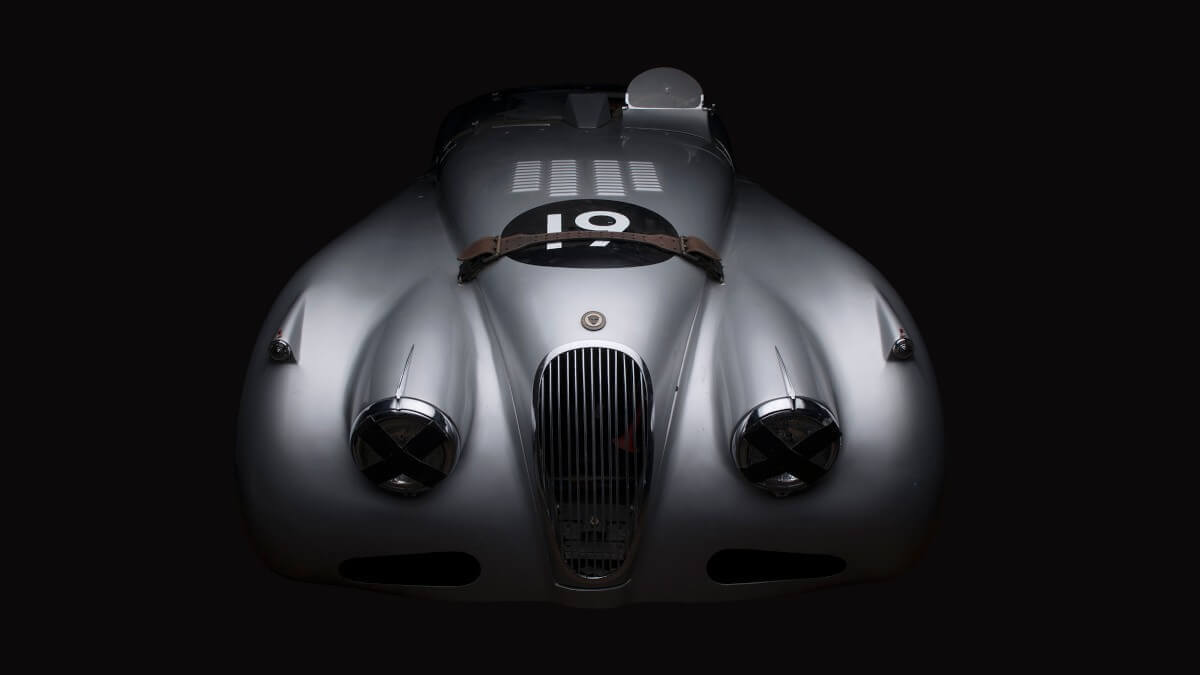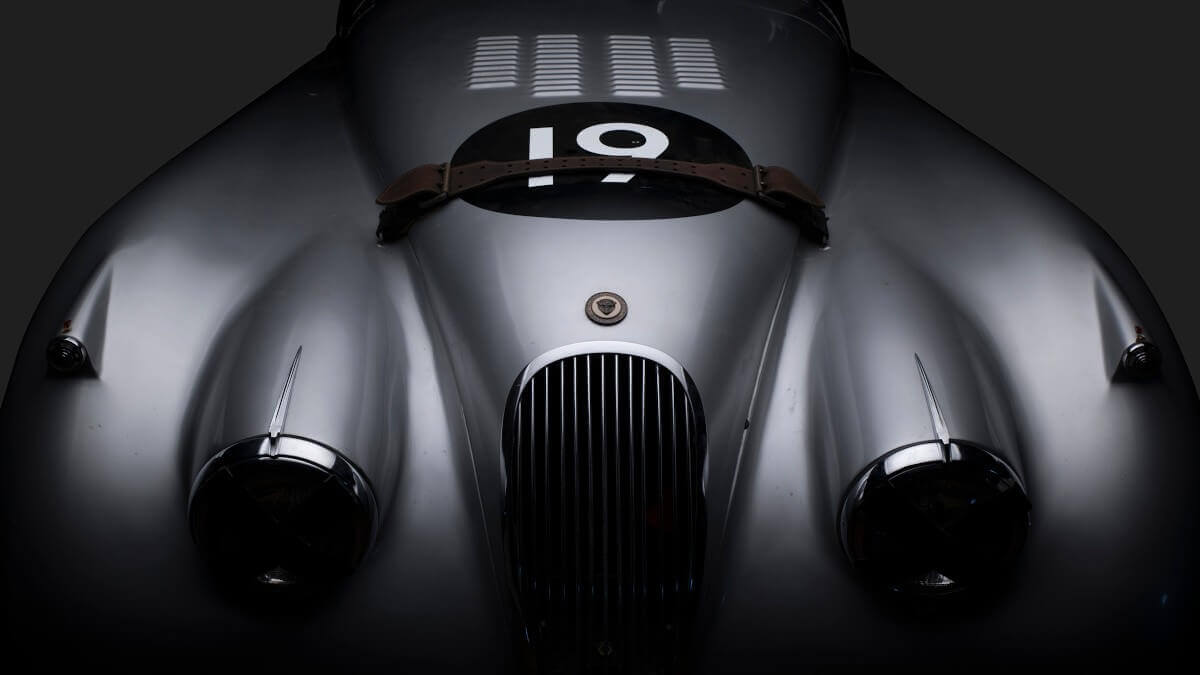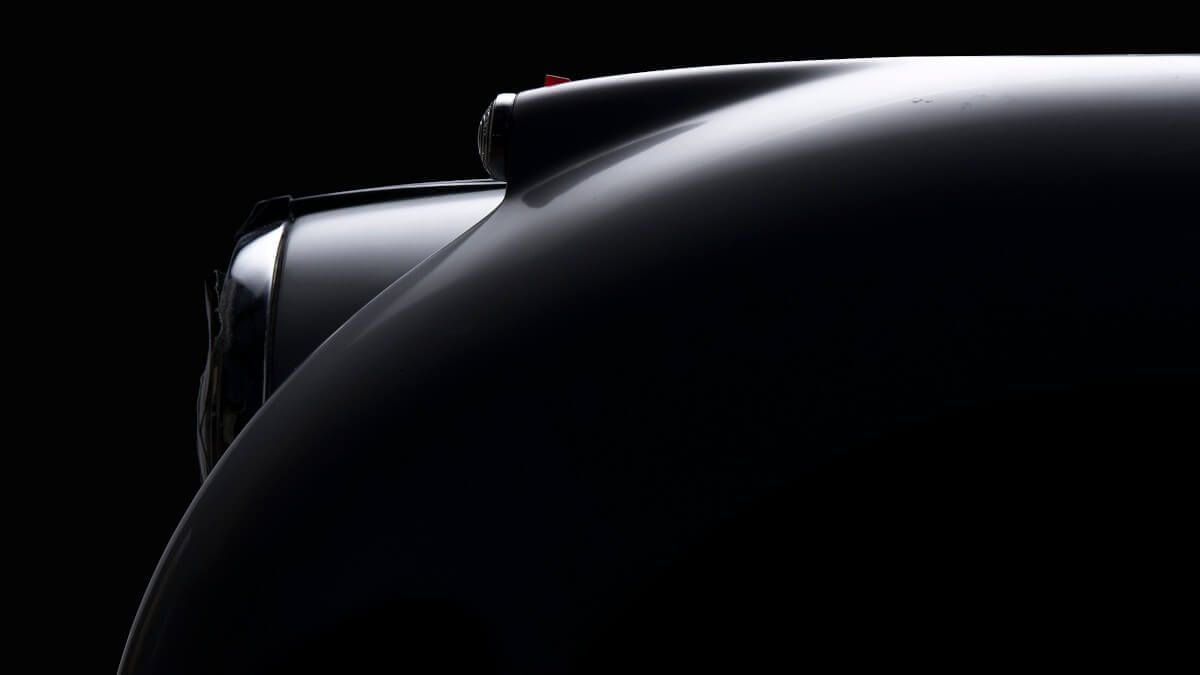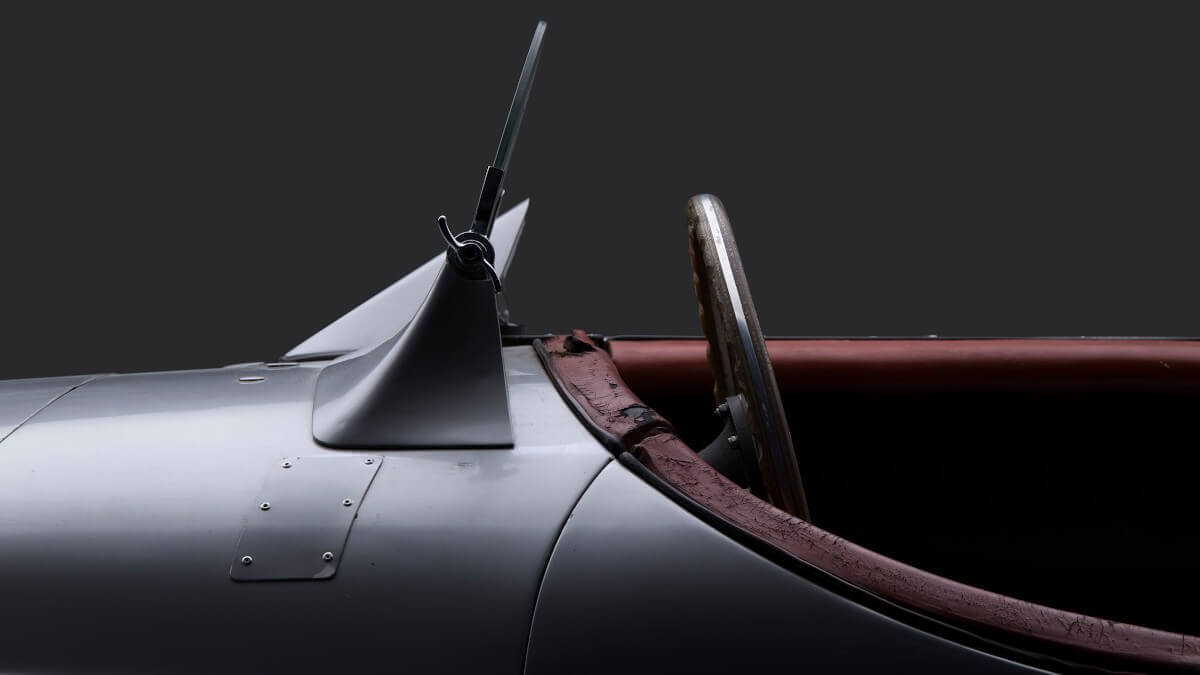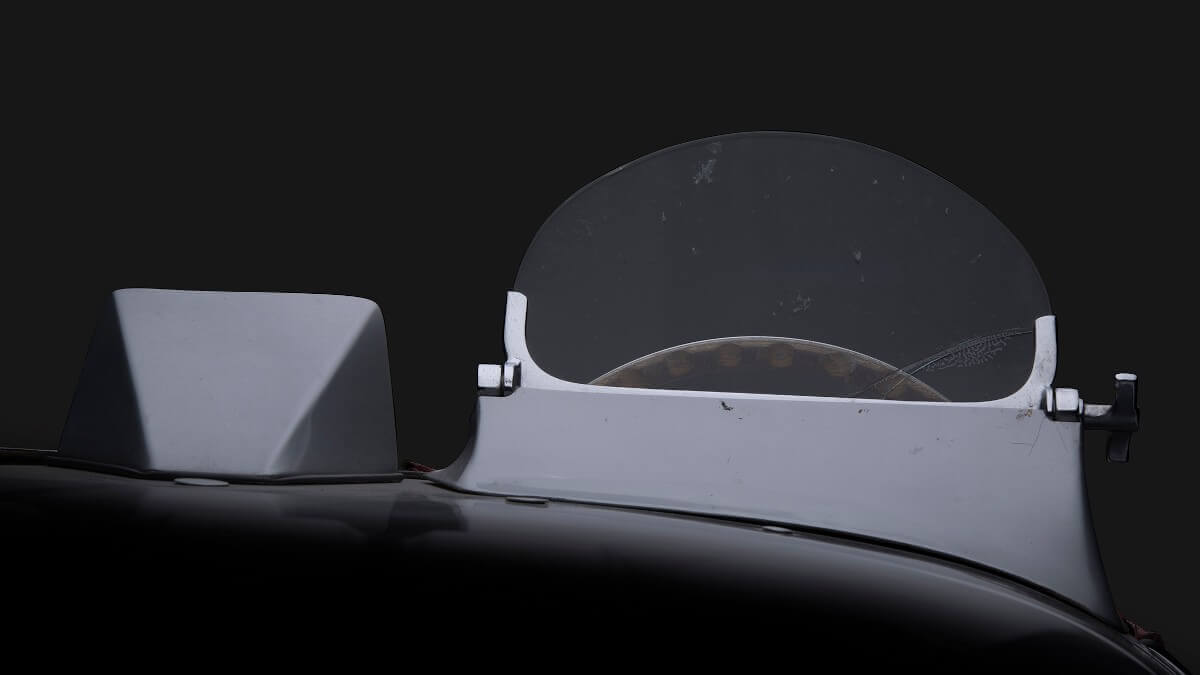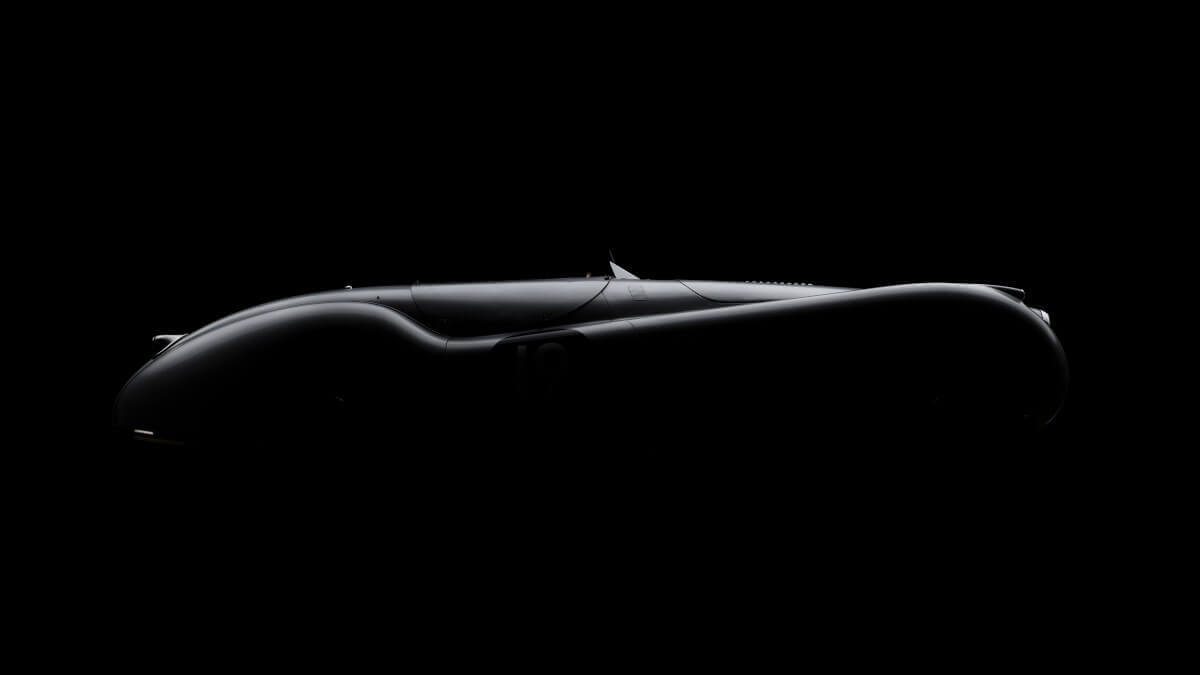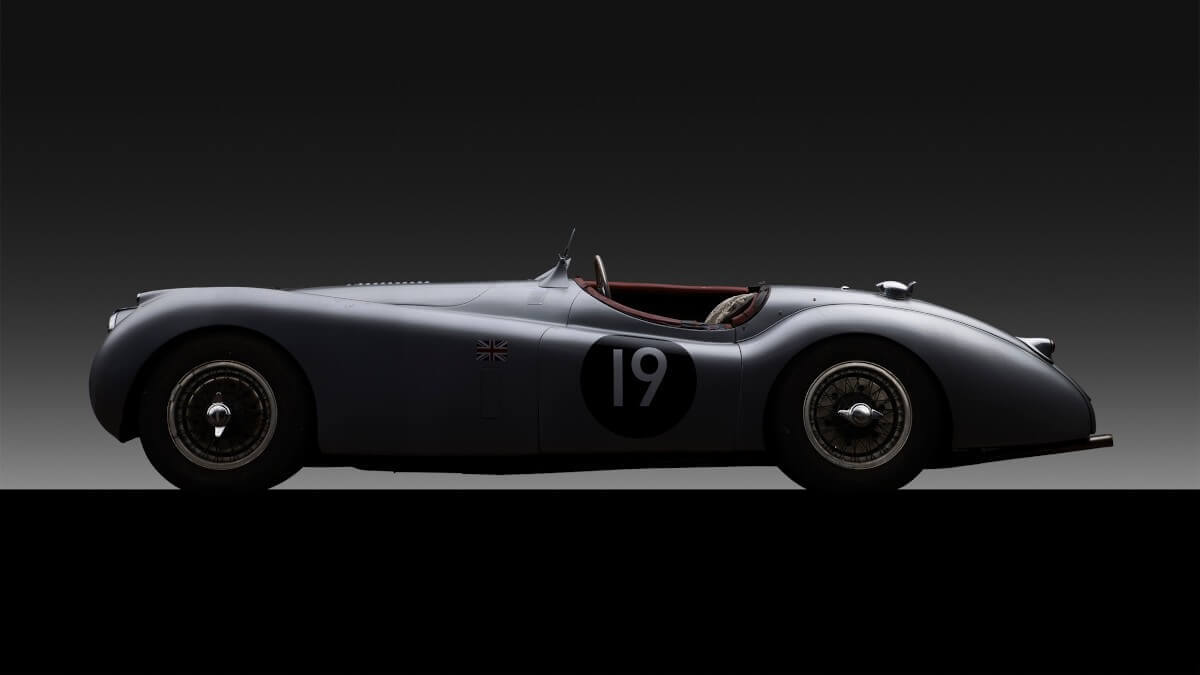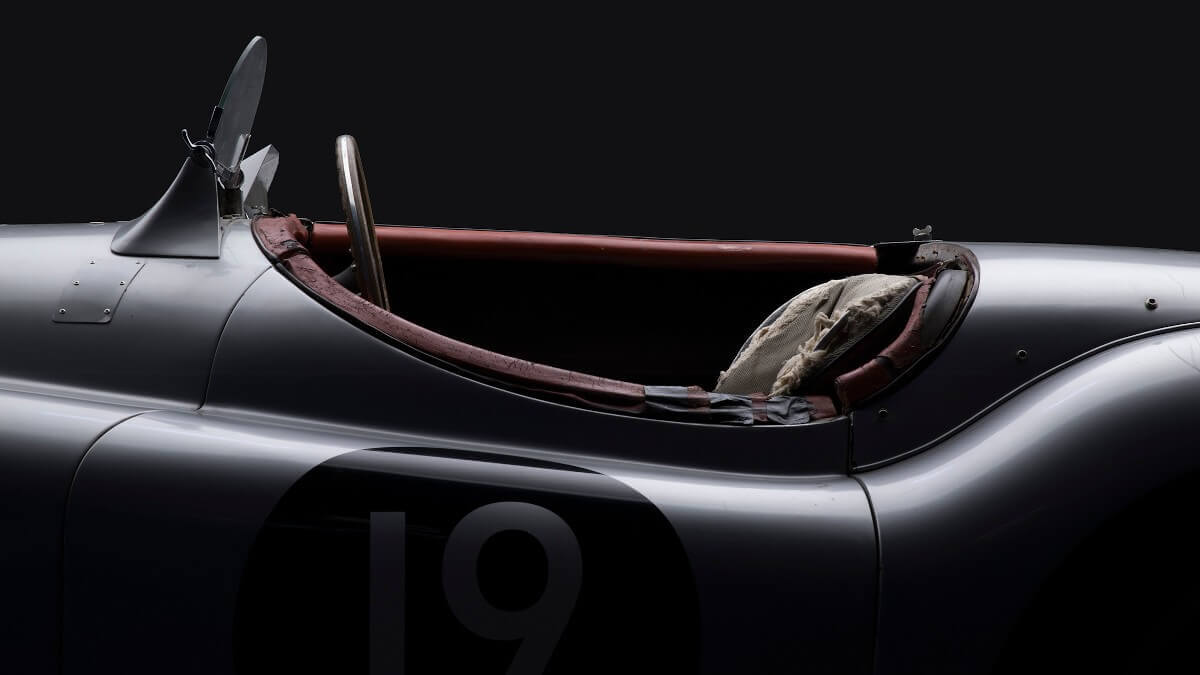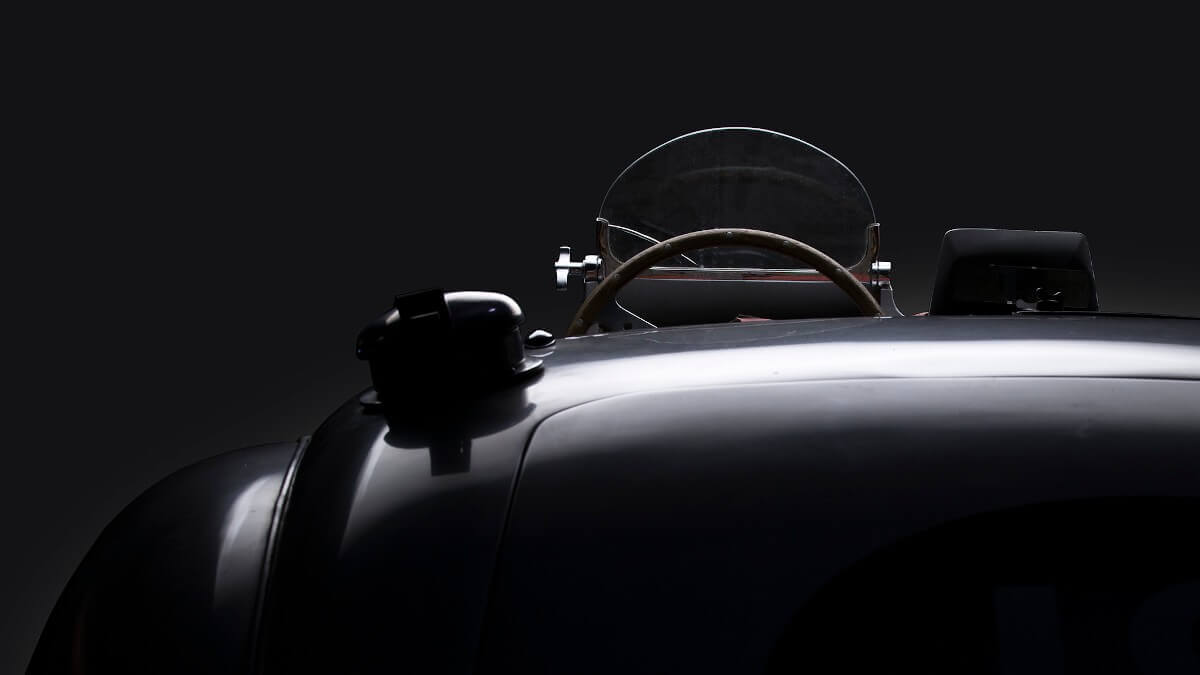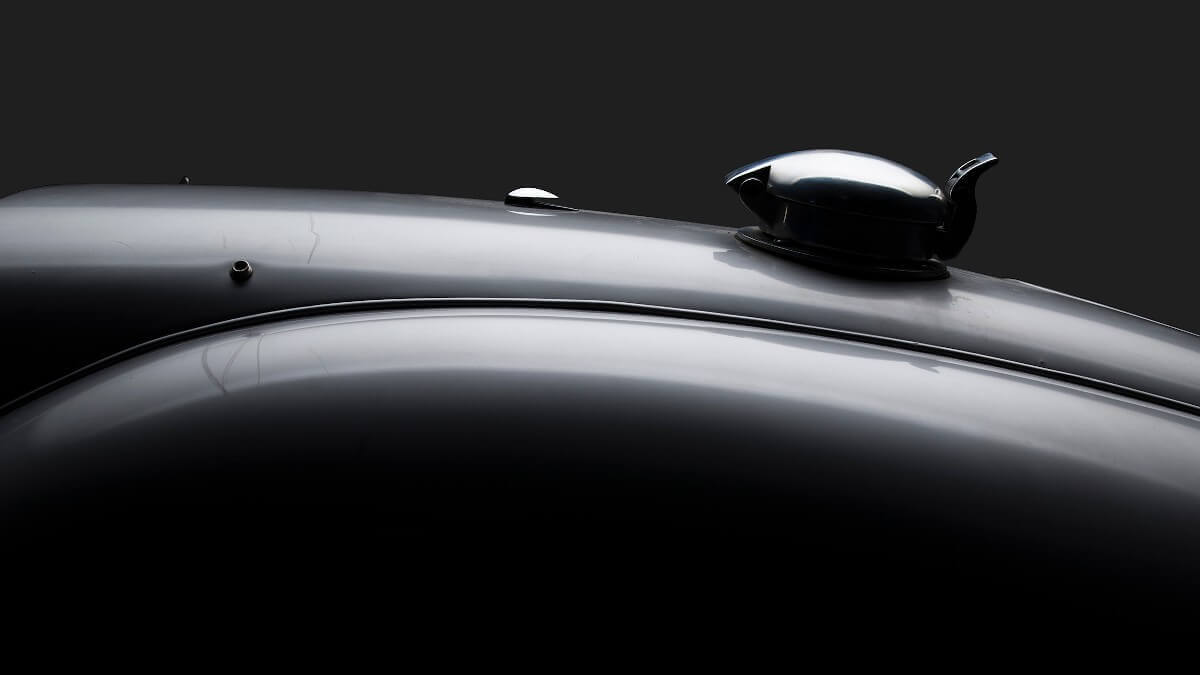 Jaguar XK120 – Details – by Matthias Kierse
With the XK120, Jaguar presented its first own sports car in 1948. The predecessor model still rolled off the production line as the S.S. 100, but this was a bit inappropriate after the recent World War 2. For the new car, the team of engineers under Sir William Lyons developed a 3.4-liter inline six-cylinder engine with two overhead camshafts and around 160 BHP, which, in conjunction with the standard four-speed gearbox, was to enable a topspeed of 120 mph. This was also included into the model designation with the number 120. This calculation was finally surpassed during test drives in Belgium in May 1949, when the second XK120 ever built reached 126.488 mph on a closed motorway. After that run the team removed the windshield, the roof and the side windows, installed a tonneau cover and a small wind deflector in front of the cockpit and the driver went on another run. These minor changes allowed a topspeed of 132.596 mph. In the following years, the XK120 set several long-distance records and took part in countless races.

Interestingly, the XK120 wasn't even part of the original program of the new Jaguar brand. Instead, a sporty and luxurious limousine was to be presented at the London Motor Show in 1948. Due to the lack of a separate metal press department at that time, the company had teamed up with Pressed Steel for the production of the bodyshells, where the preparatory work on this project took longer than expected. So Jaguar stood there with the completely developed drivetrain, but without an outer shell and therefore decided at short notice to put a racy two-seater Roadster on its wheels as a pure show car. During the days of the Motor Show, it was decided to offer a small-volume series of only 240 vehicles with an aluminium body nailed to an ash wood frame, due to the great popularity of the car. However, it quickly became clear to all people involved that this small production number wouldn't be sufficient and that a more cost-effective production method using welded steel components would therefore be necessary. So a similar designed second series of the car debuted in April 1950 with bodyshells from Pressed Steel, where the above-mentioned saloon was already in production as the Mark VII. Early aluminium models of the XK120 are now much sought after by car collectors.

From 1951 Jaguar also offered the FHC (Fixed Head Coupé) in addition to the two-seater Roadster. Due to the fixed roof and the cleverly chosen roof line a topspeed of 120.5 mph was possible. Parallel to the Roadster and FHC with the well-known engine, they now also offered the XK120 SE (Special Equipment) with a power increase to around 180 BHP, double-pipe exhaust, sports springs and spoked wheels. As a final variant, the XK120 DHC (Drop Head Coupé) followed in 1953 as a luxuriously equipped convertible with a lined soft top. Although the XK120 Roadster was already a successful vehicle in motorsport events, Jaguar developed this basis further and created the C-Type, which from 1951 was successful in sports car races around the world. 1954 saw the premiere of the successor model XK140, whose design represented an evolution of the XK120. Finally it was followed by the XK150 in 1957, but the fenders had lost a lot of momentum and the optional automatic transmission it became clear that many customers wanted a cruiser rather than a real sports car.

Images: © by Bill Pack