Almost exactly one year ago we reported about the work of Frank Kurtis from California. His love for automobiles broke through at the age of 14 when he began an apprenticeship with Don Lee Coachbuilders in Los Angeles. Later he successfully produced racing cars for the midget, sprint and Indy car series in his own company Kurtis-Kraft. Whether on the muddy bullring circuits or the paved oval, Kurtis racers collected one success after another. Besides, Frank built one-off cars for special customers and vehicles for Hollywood movies. After he had built a sports car in 1948 based on a 1941 Buick that had had an accident, he came up with the idea of making a small series out of it. For this purpose he revised the platform of the then current Studebaker Champion, into which he wanted to implement the newly developed Studebaker V8 engine. Above, he drew an independent, as simple and light as possible bodywork made of aluminium, steel and glass fibre reinforced plastic. As the engine was delayed in coming to market due to some development difficulties, Kurtis turned to Ford and purchased their flathead V8 instead. After only 15 units he lost interest in this project and sold the rights to Earl Muntz, whom many called just 'Madman'.

He had earned this reputation as a used car dealer by repeatedly running TV commercials in which he himself appeared. This turned his showrooms into tourist attractions, which at the same time generated good sales figures and thus profits. Muntz later proved his business sense and engineering spirit as a developer and salesman of consumer cars, stereo systems and TV sets. In the early 1950s, however, he wanted to draw attention to himself and his business with his own sports car. To this end, he had the wheelbase of the chassis extended by 33 centimeters (13 inches) by Frank Kurtis in order to install an additional rear seat. Meanwhile, a 5.4-liter V8 engine from Cadillac was installed under the hoof, with a Lincoln V8 also being offered as an alternative. Thus the Muntz Jet became one of the fastest American cars of its time. The pontoon-shaped body with covers in front of the rear wheels was semi-unitary.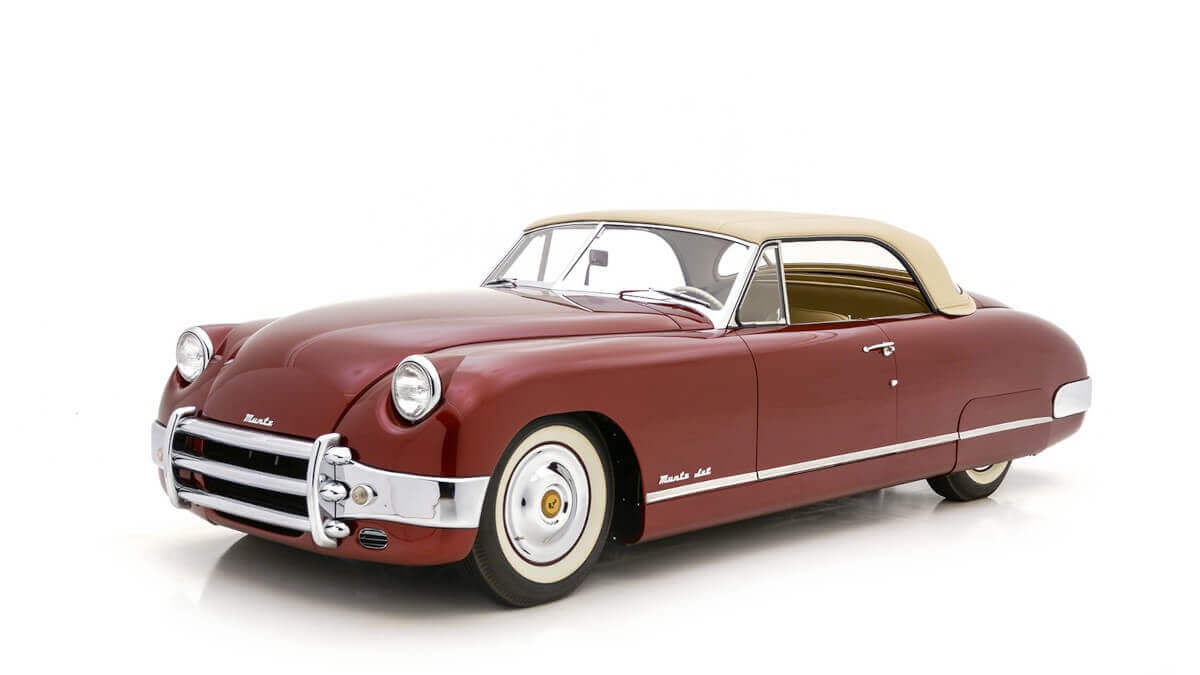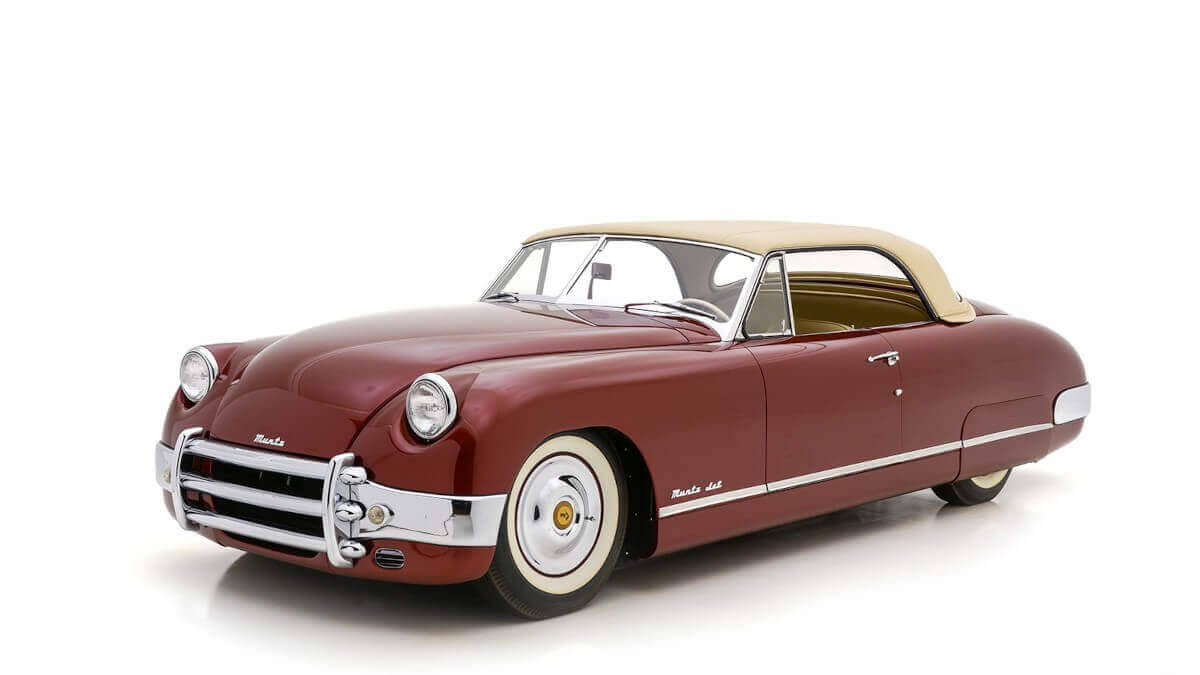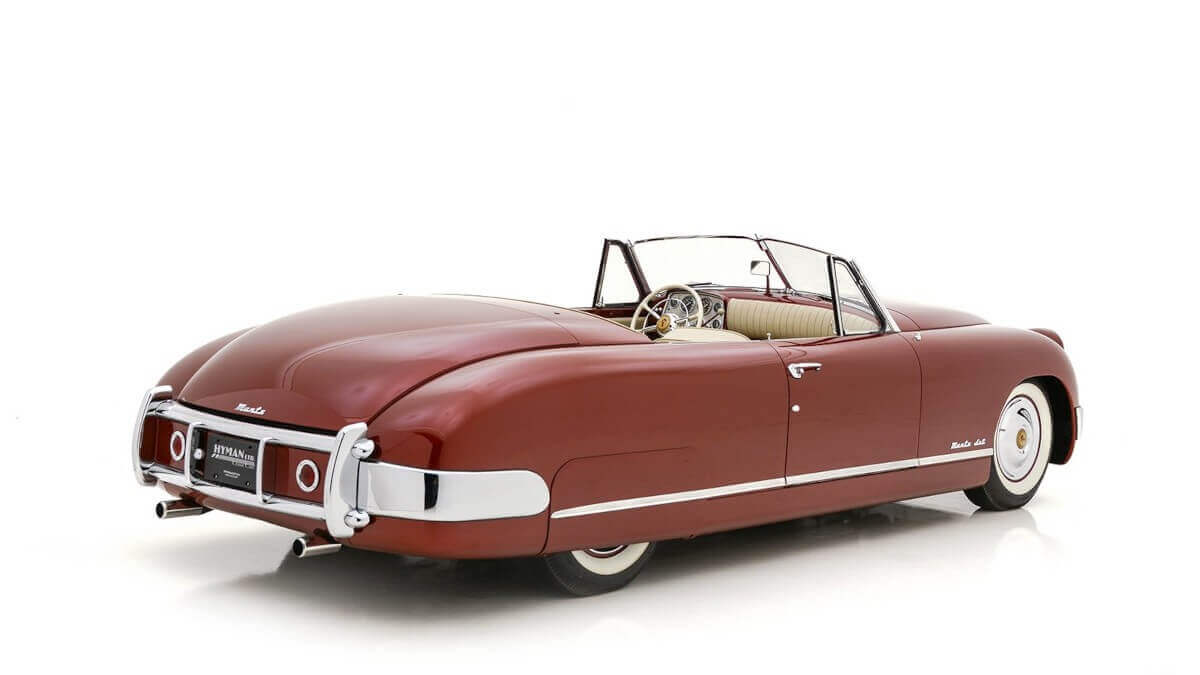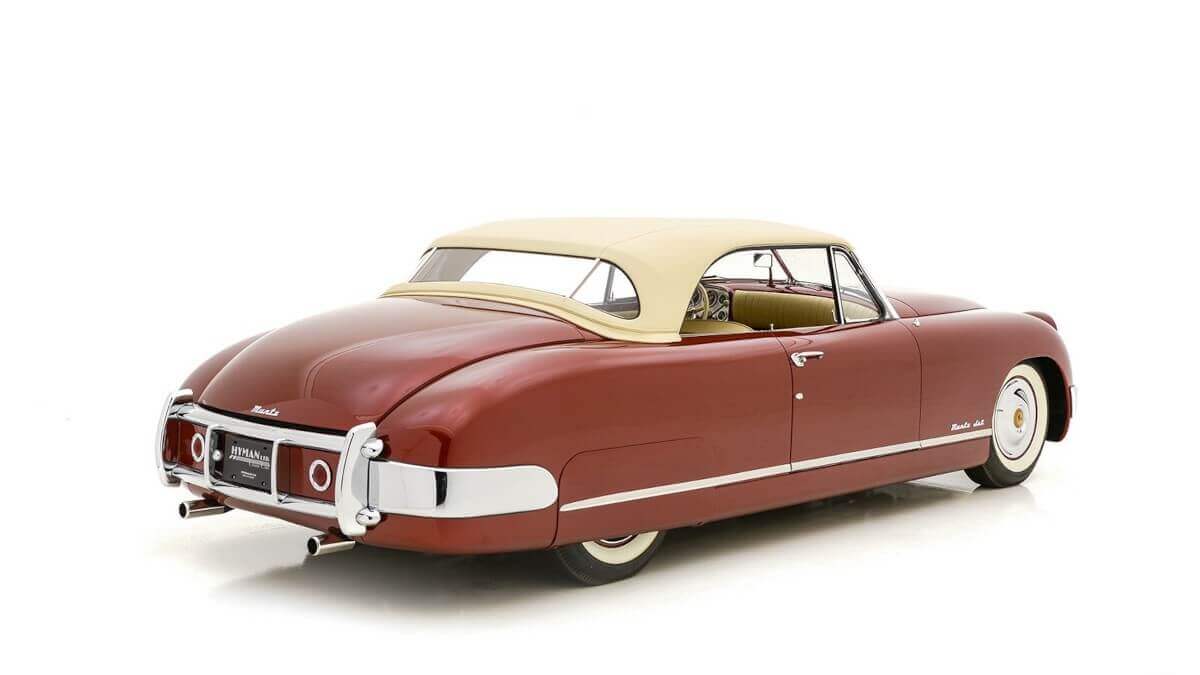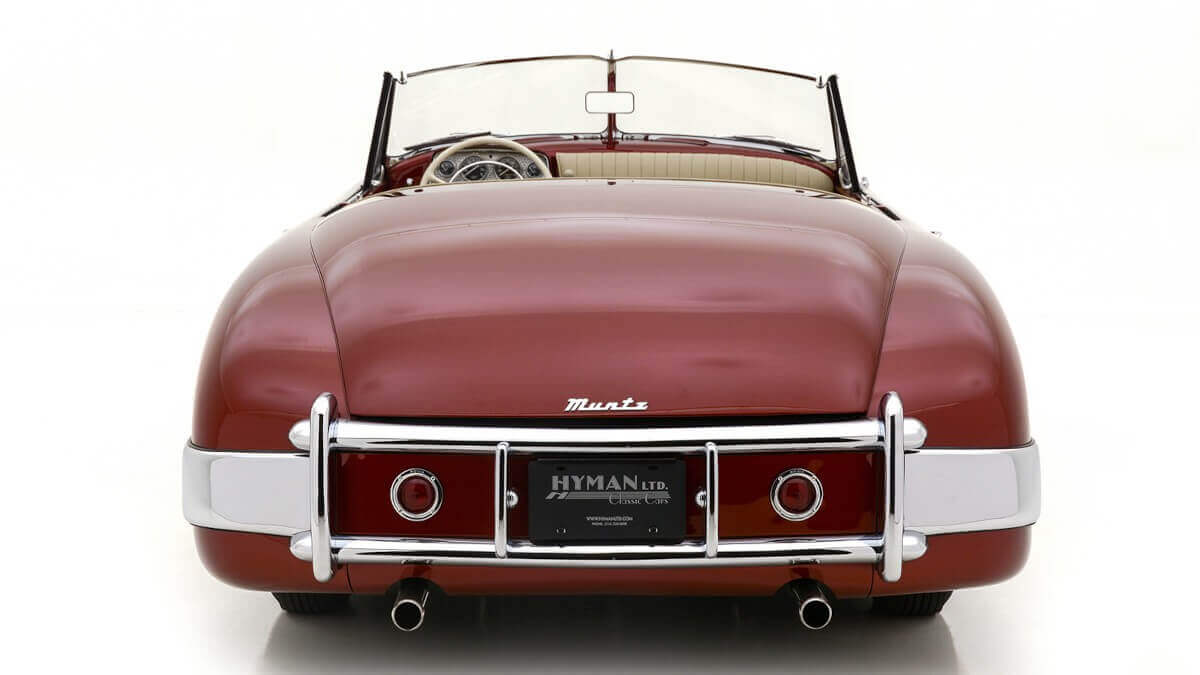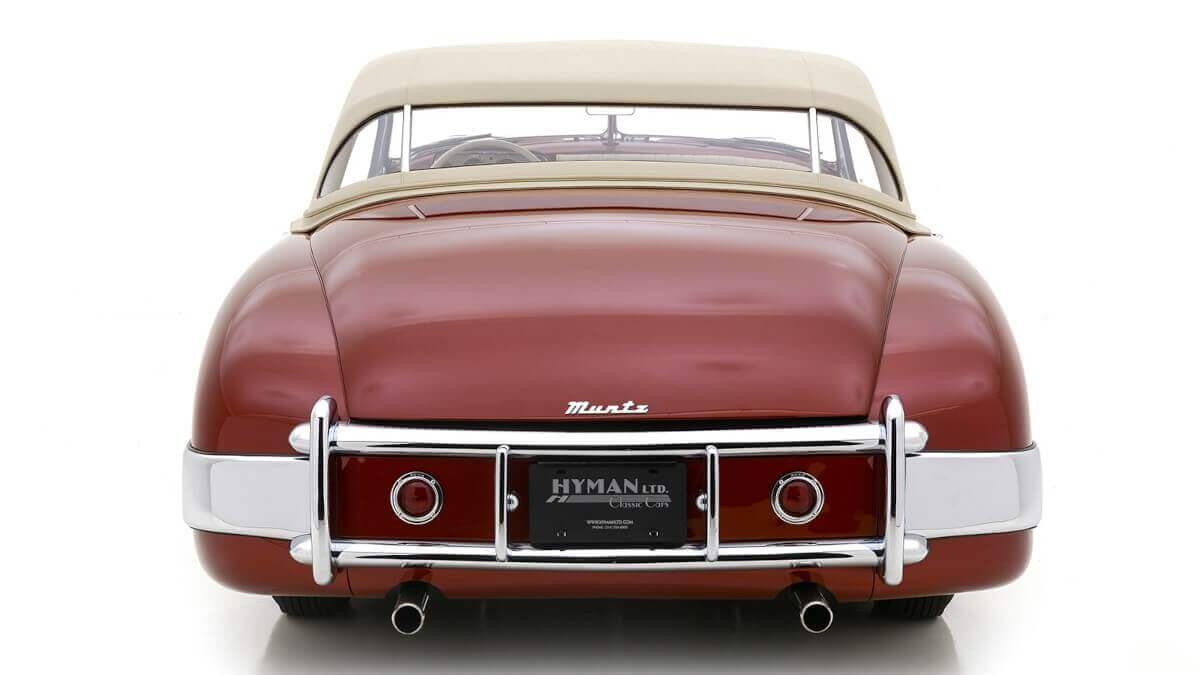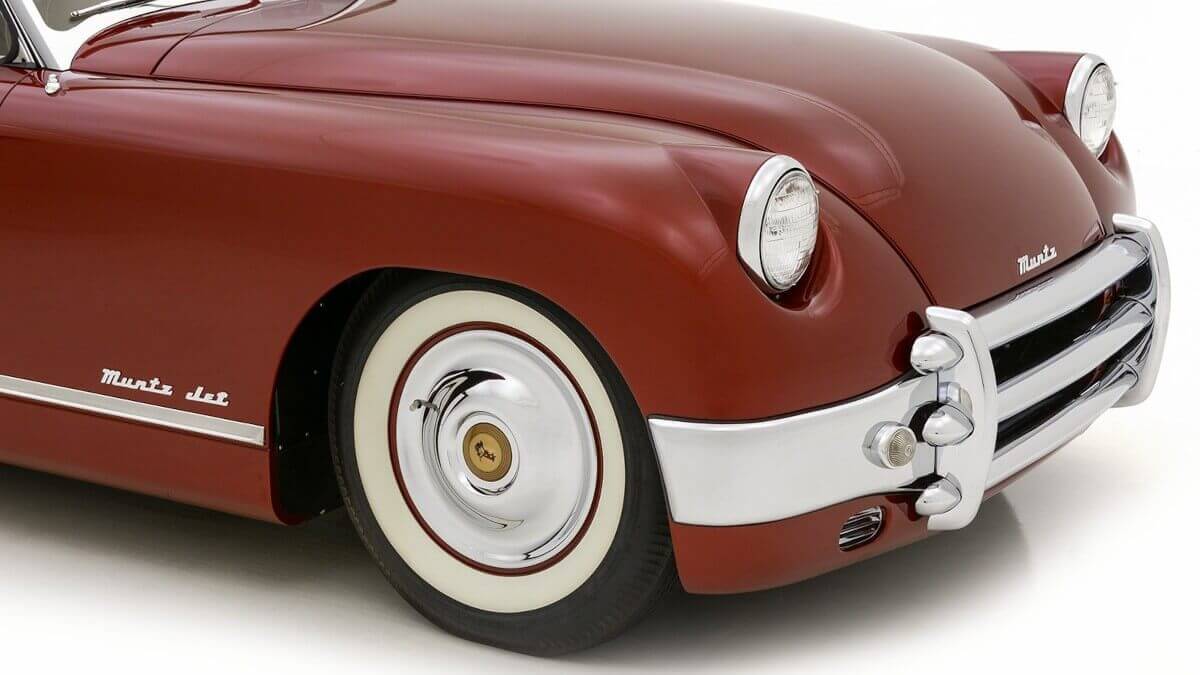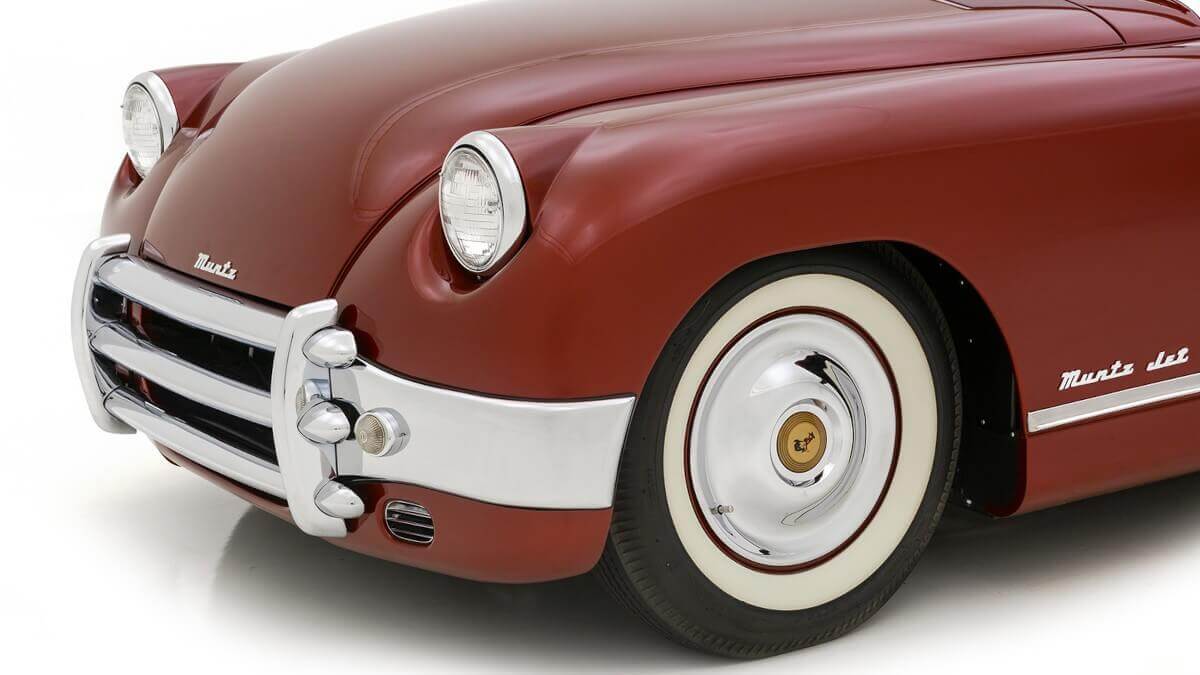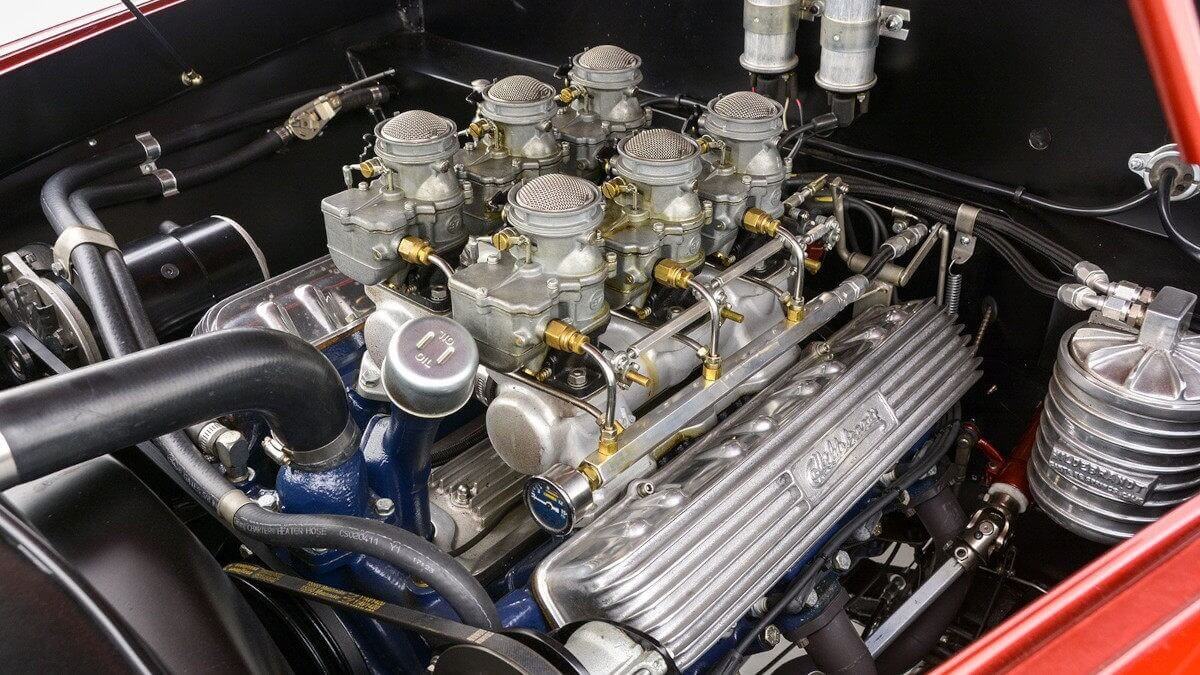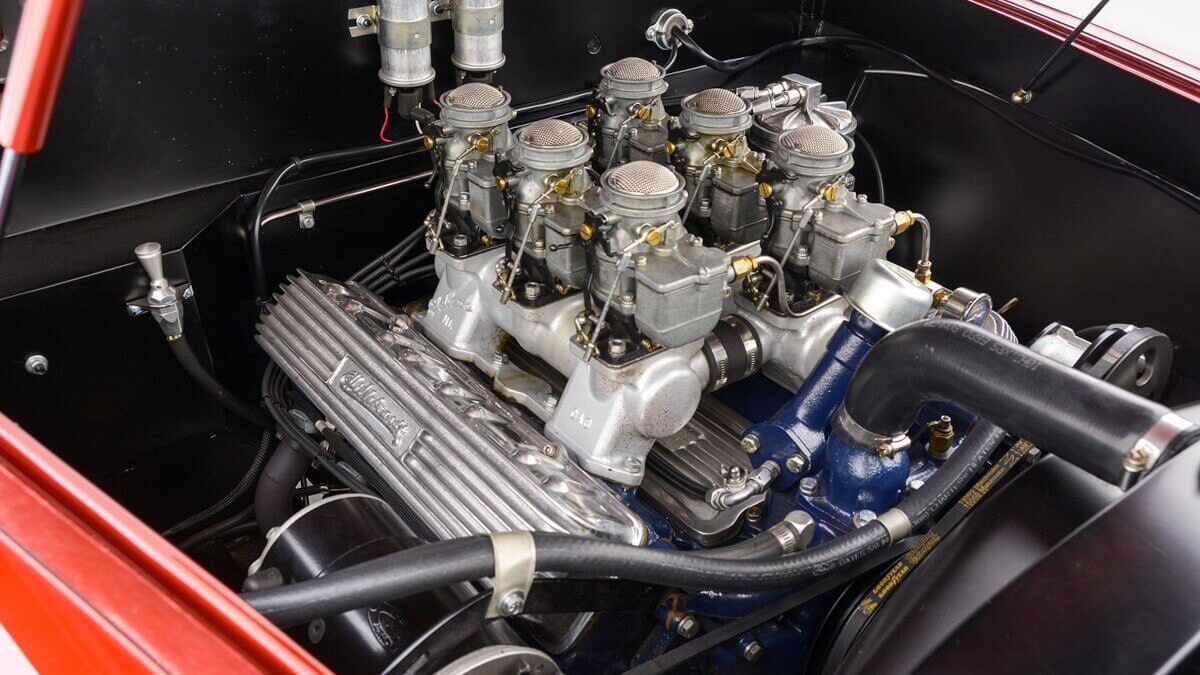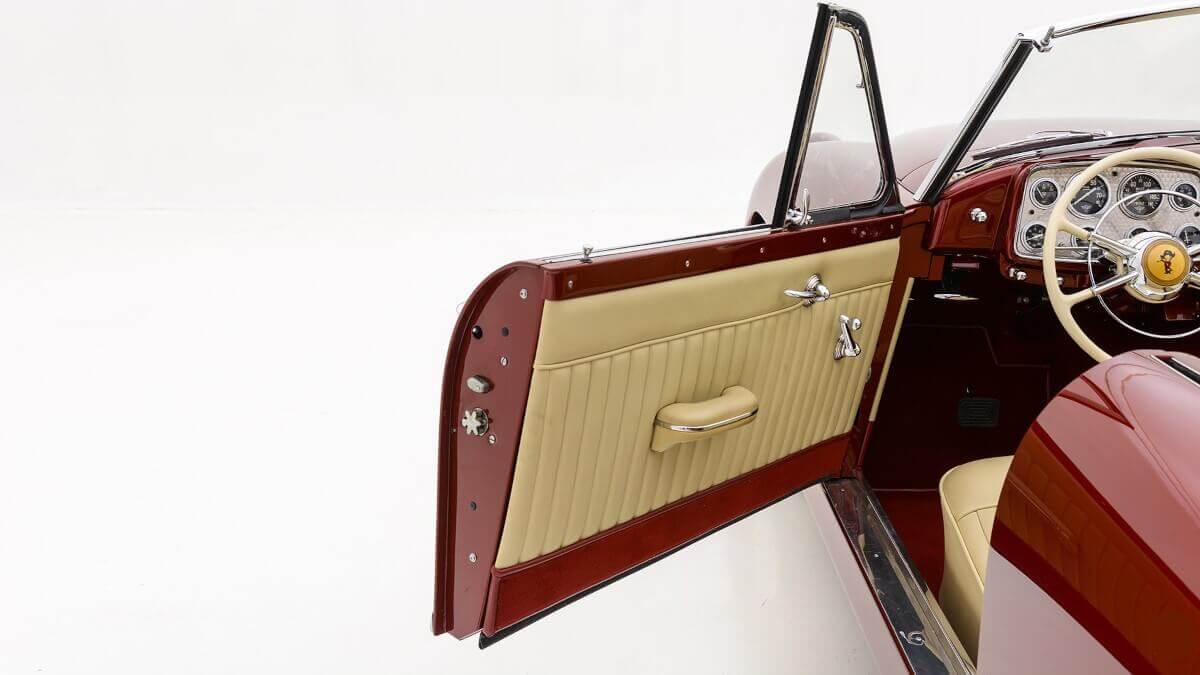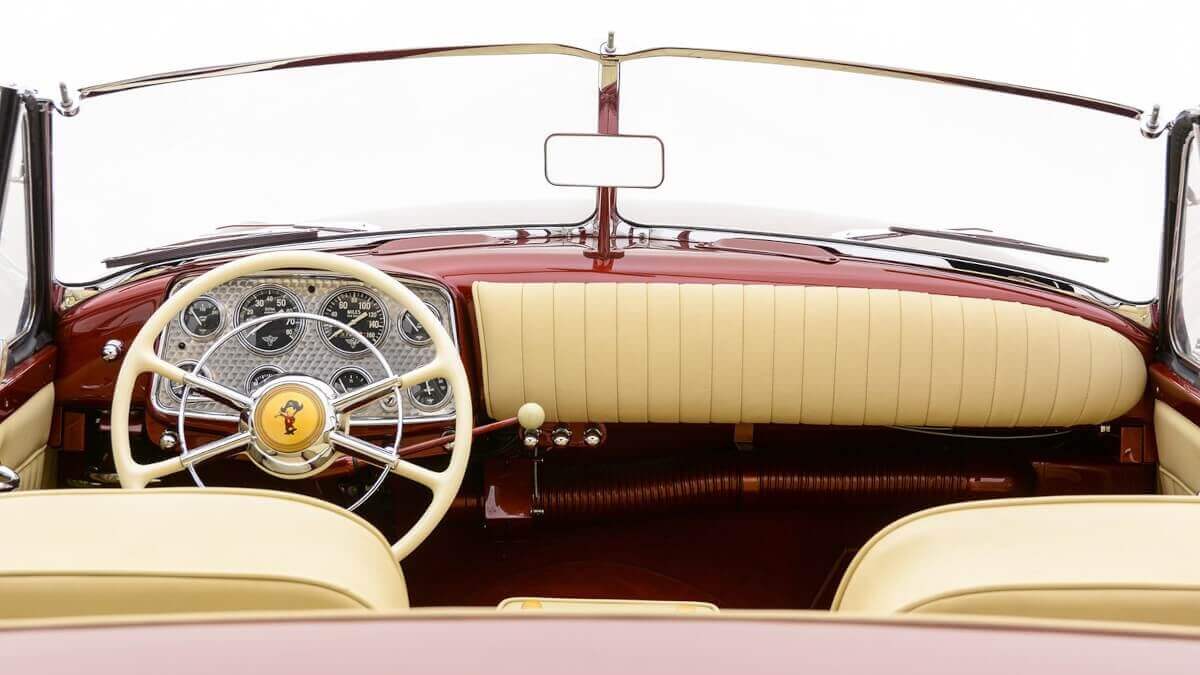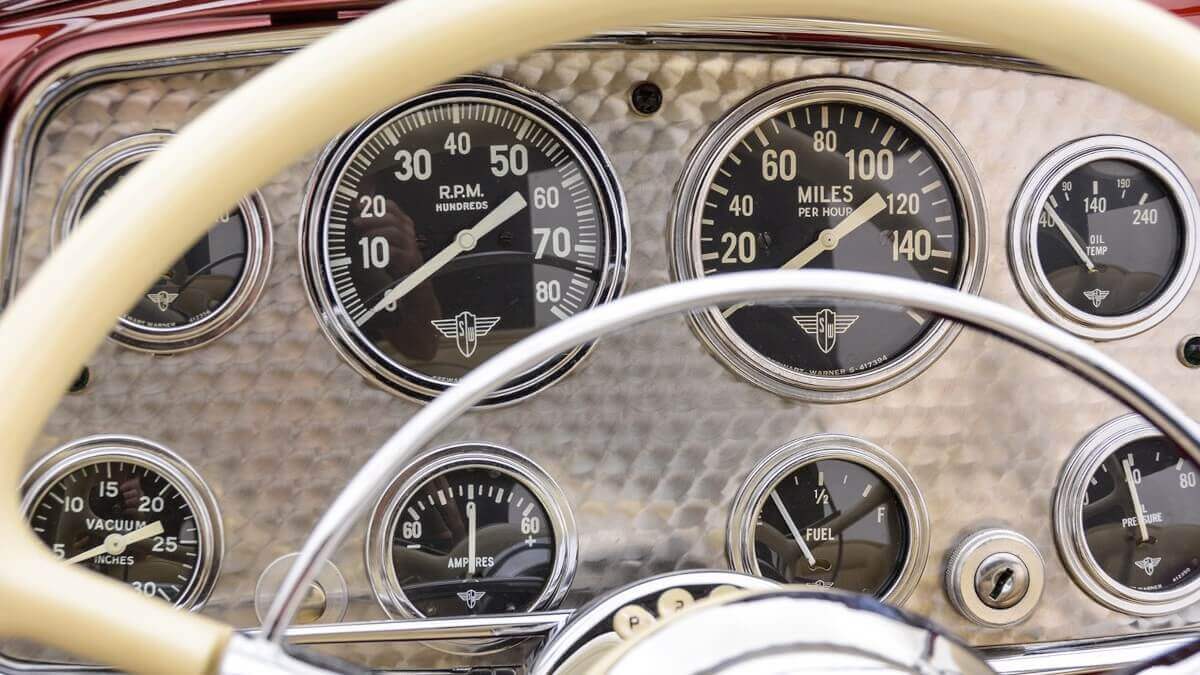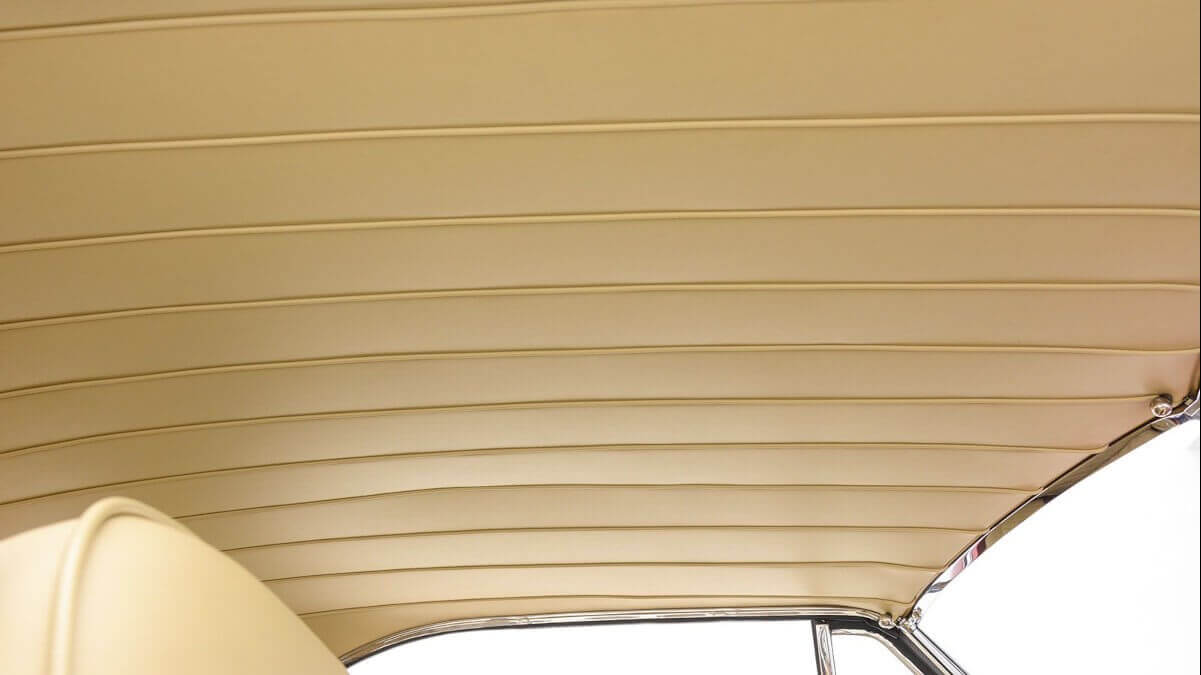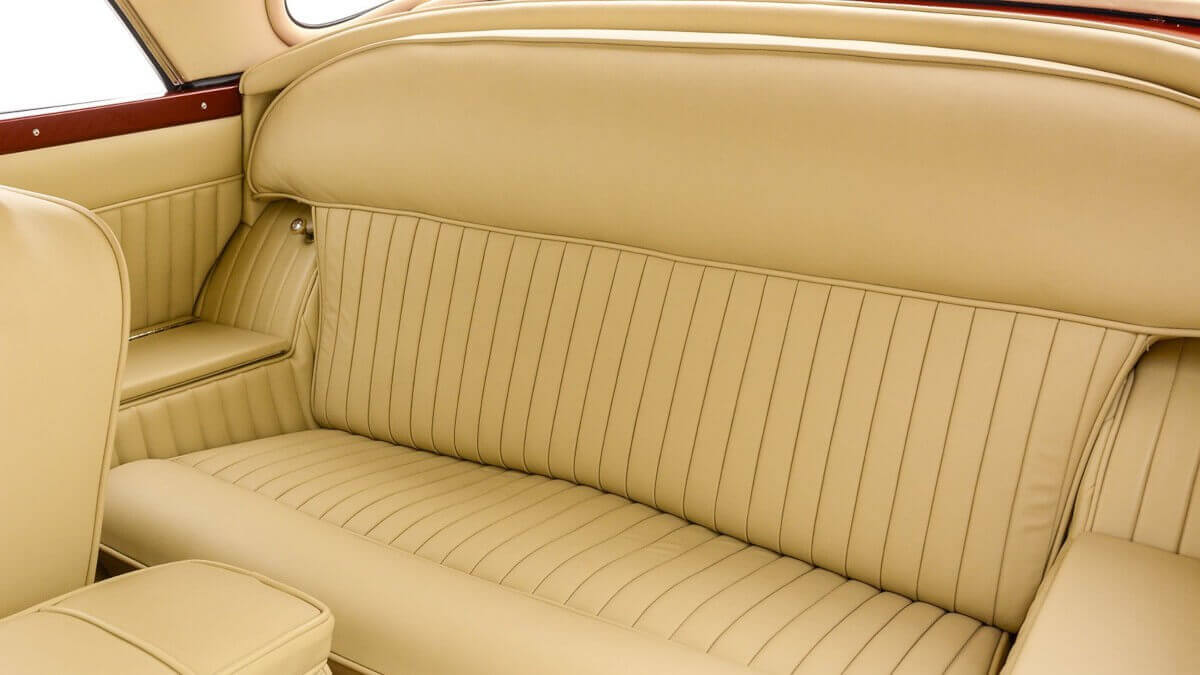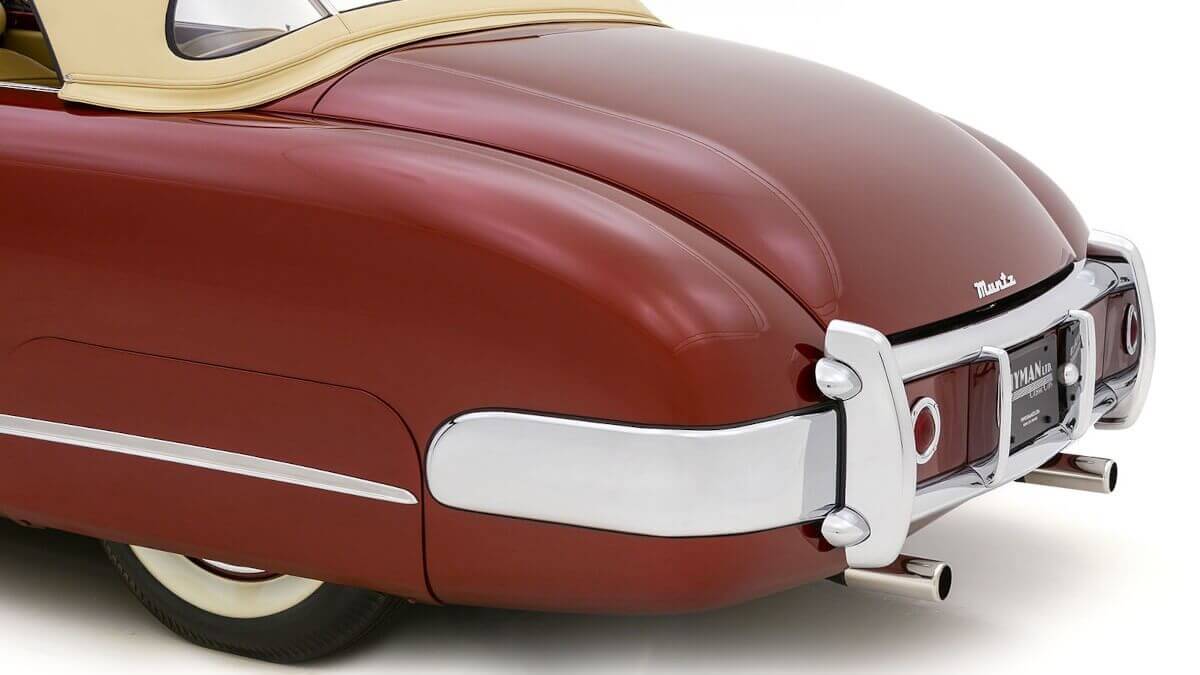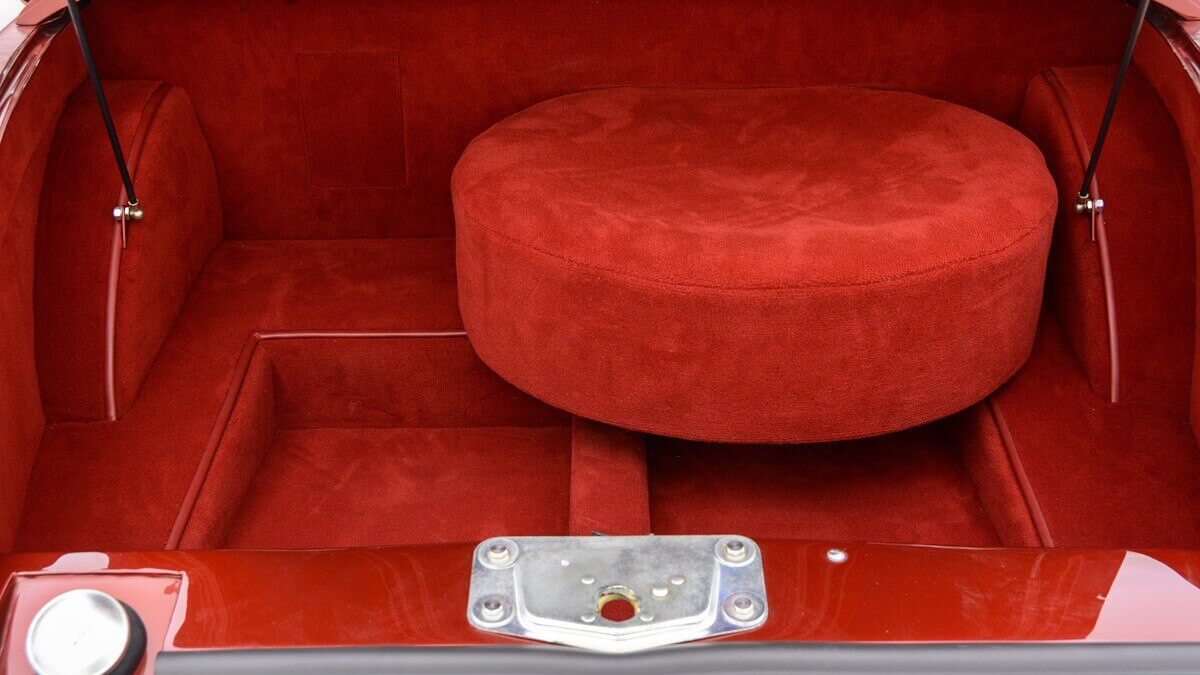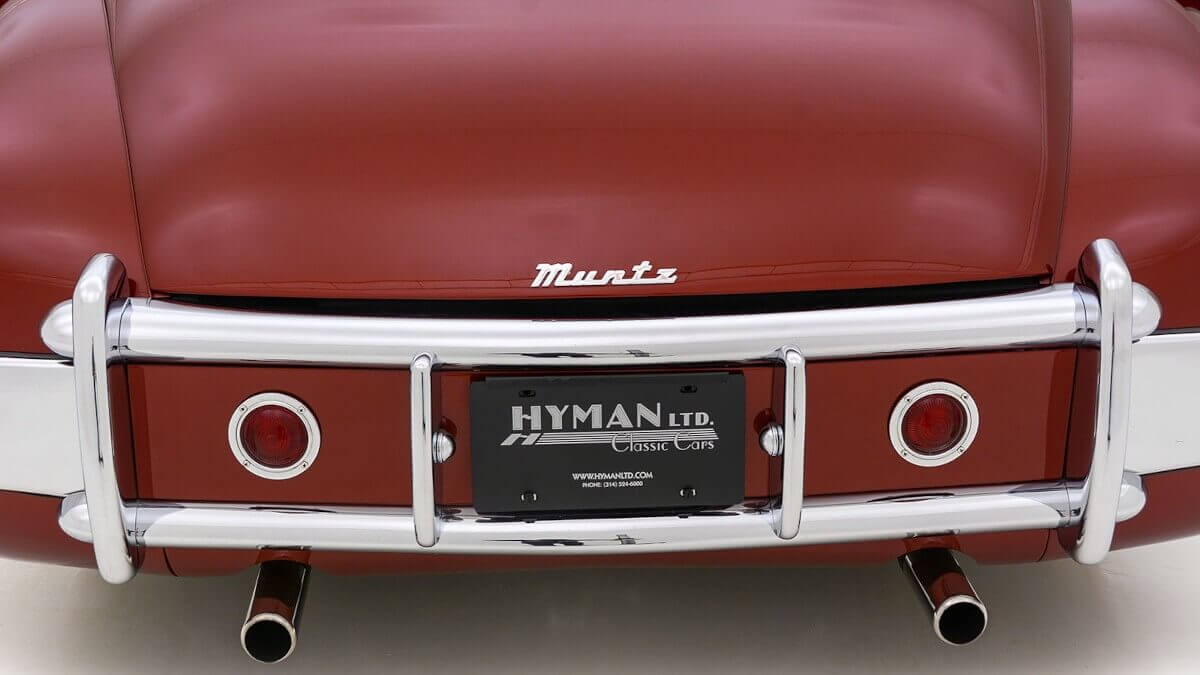 Finest leather upholstery covered the front single seats, the back seats, the door and side panels as well as the roof lining, the center armrest with storage compartment and integrated radio and parts of the dashboard. A licquor cabinet including ice shelf could be installed in the rear on request. Due to the comparatively high base price of US$ 5,500 the customer interest was limited. Altogether only 198 copies of the Muntz Jet are said to have been built, whereby Earl Muntz always claimed that he had lost up to US$ 1,000 on each of them. The first 28 cars were built in the premises of Kurtis-Kraft in Glendale/California and received aluminium fenders and doors. Later Muntz moved the production to Evanston and exchanged these components for plastic parts.

At the classic car dealer Hyman Ltd. the second ever built car from the small series is currently for sale. This car with the chassis number M102 appeared in various advertising photos of the Muntz Jet, partly together with Frank Kurtis and the factory test driver Sam Hanks, who in 1957 won the Indy 500. After its time as a promo car M102 changed into private ownership and in 1969 to the current owner. He had responded to an advertisement in the 'Chicago Tribune' and bought M102 for only US$ 60 as a parts car, as he already had another Muntz parked in his garage. This second car, however, was destroyed in a fire for some years and so he started to restore M102 in the early 2000s, using some parts from the fire-destroyed car. He attached great importance to a restrained color configuration and chose a dark Merlot red from the late Jaguar range with leather in cream beige and a matching fabric hardtop. At SRIII Motorsports in New Lenox/Illinois the chassis received a complete overhaul including a modern air suspension with adjustable dampers, disc brakes all around and power steering. The Cadillac engine was increased from 5.4 to 5.8 liters, providing 325 hp and 475 newtonmeters of torque. A GM four-speed automatic transmission transfers this power to the rear axle. Matching the excellent chrome trim, M102 was fitted with hubcaps bearing the 'Madman Muntz' logo, which is also on the steering wheel's horn button. Hyman Ltd. now offers this extraordinary car for US$ 225,000.

Images: Hyman Ltd.