Lifestyle
Maserati 125 Tipo T2
Sports cars like the Ghibli, the Bora, the Merak, the 3500 GT, the 5000 GT or the GranTurismo, sporty sedans like the Quattroporte or the current Ghibli and even SUVs like the Levante are known from the Italian brand Maserati. After all, they are on the market since 1914. Until shortly after World War 2 they concentrated on building racing cars. It all started as a family business, founded by Alfieri Maserati. Shortly thereafter, three of his five brothers, namely Bindo, Ettore and Ernesto, joined him in the company. Before World War 1 mainly racing cars of Isotta Fraschini were serviced and prepared for the next events. In the war years, the brothers developed airplane engines and spark plugs, afterwards it went on with the development of racing cars, mainly for Isotta Fraschini and Diatto. When Diatto closed the in-house racing department in 1925, the 'Fratelli Maserati' (Italian for brothers Maserati) took over the latest construction and renamed it into the Maserati Tipo 26, which in the following year won the class up to 1.5 liters at the Targa Florio. Several other racing cars followed. But after Alfieri Maserati died in a racing accident in 1932, the company lost its creative drive, which is why the remaining brothers sold it in 1937 to the entrepeneur Adolfo Orsi. He owned several steel mills as well as production companies for machine tools and agricultural equipment. Since the brand name Maserati already was well known in Italy because of the racing successes, Orsi expanded it to technical equipment as well.
Light sporty motorcycle from Maserati
So shortly after World War 2 also some motorcycles showed the famous trident logo with the Maserati lettering. However, the production did not take place in the car factory, but at the 'Fabbrica Candele Accumulatori Maserati S.p.A.' which, as a supplier company, otherwise manufactured spark plugs, batteries, alternators and light bulbs for cars and motorcycles. Since there was a high demand for cheap means of transport in Italy after the war years, they started producing motorcycles, whereby the German DKW RT 125 was used for technical inspiration. The first Maserati motorcycle was named 125 Tipo T2.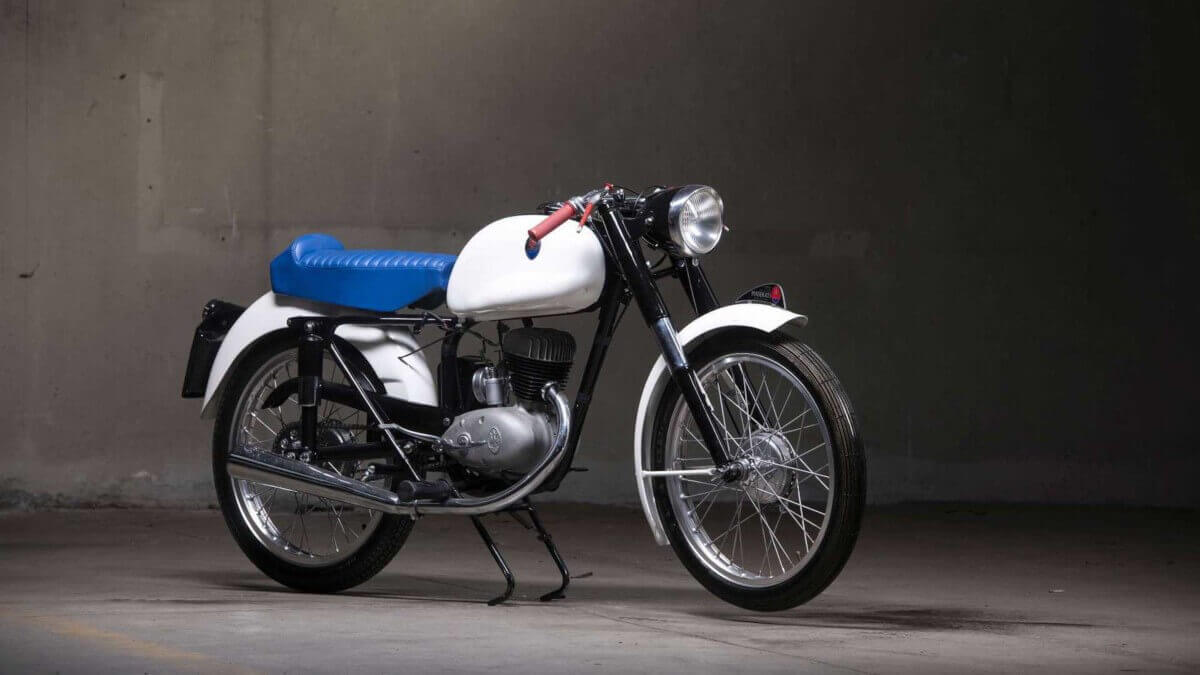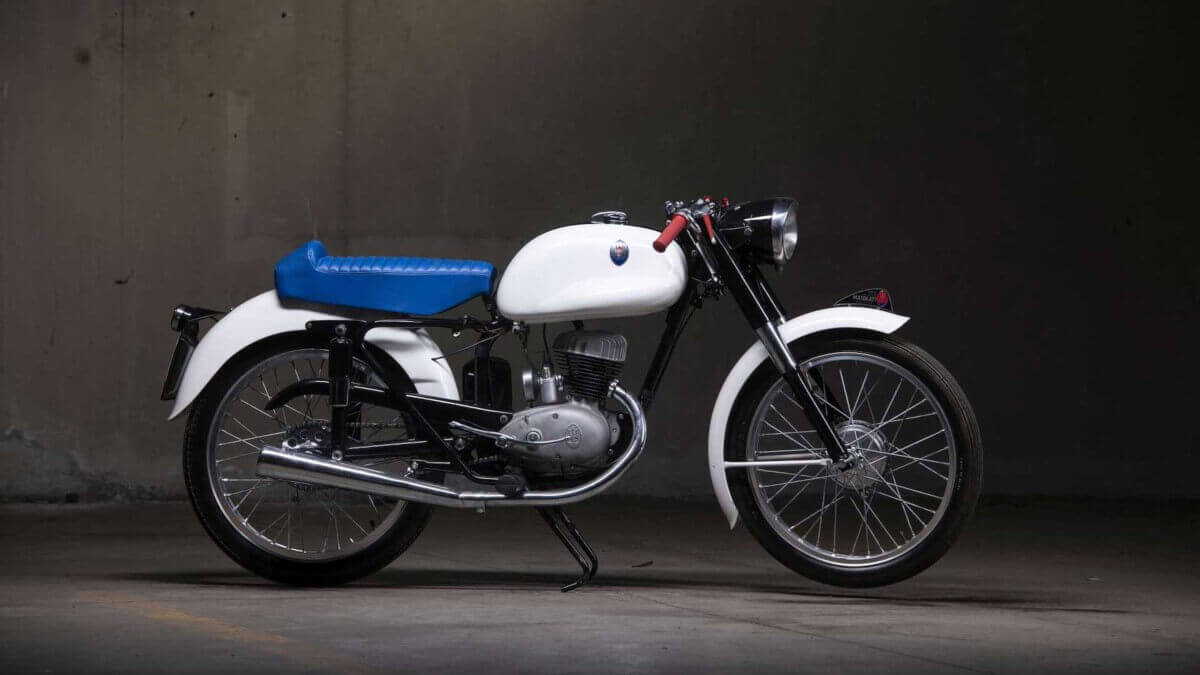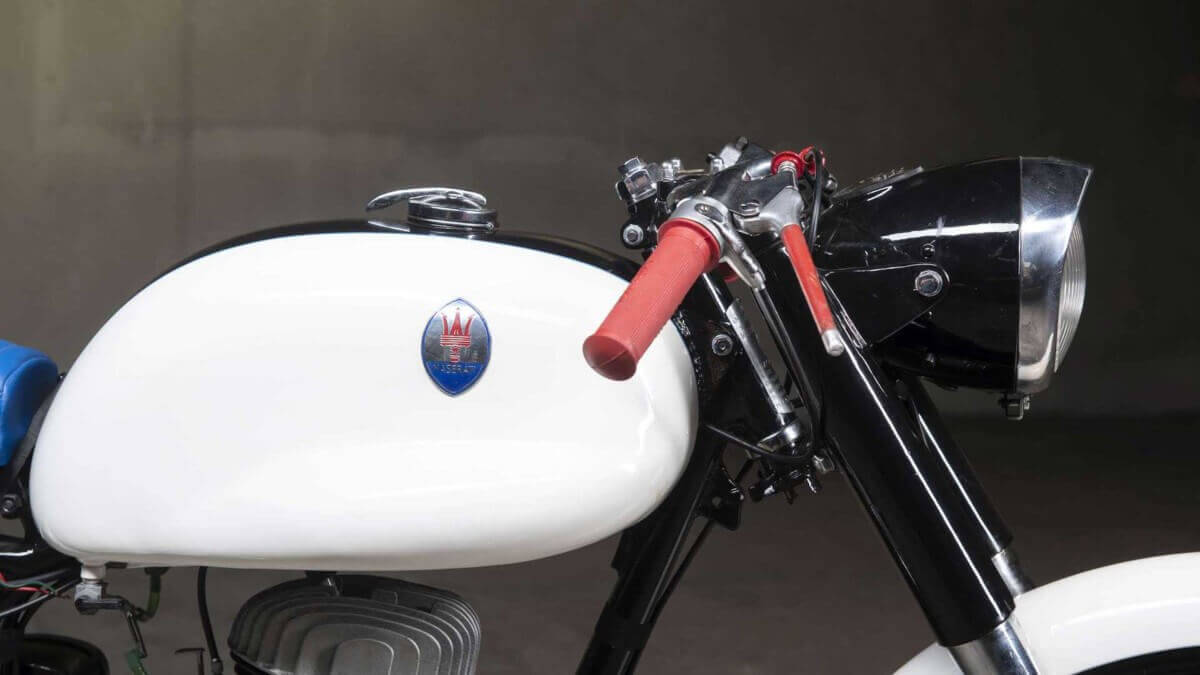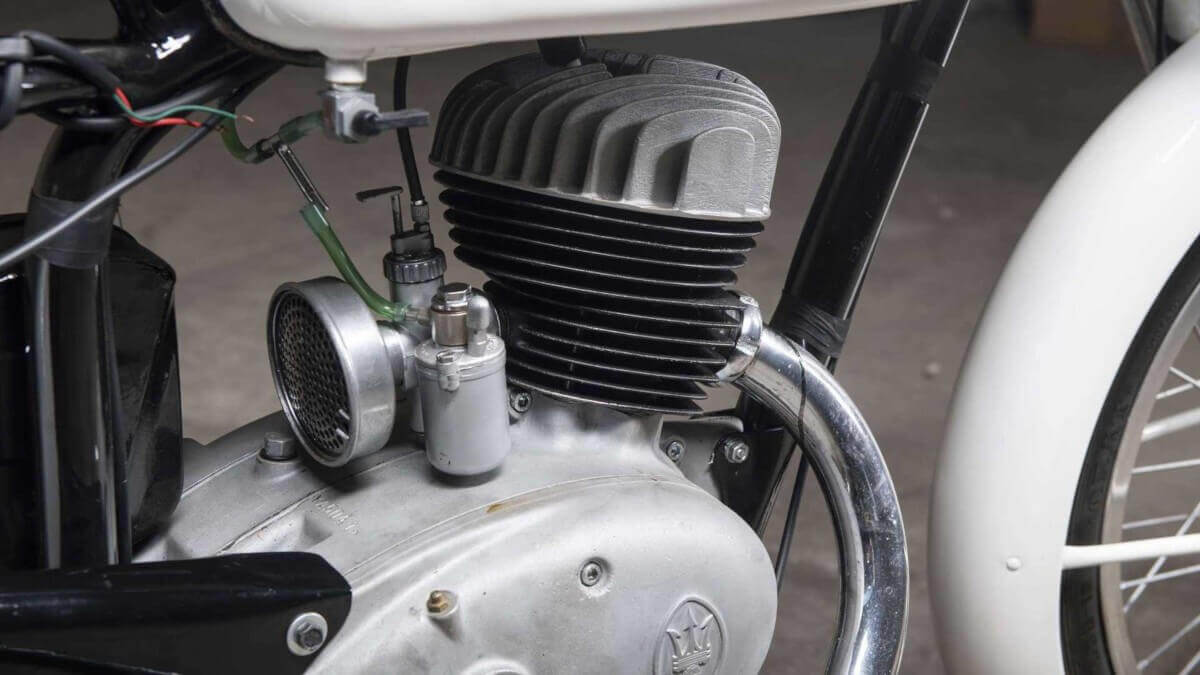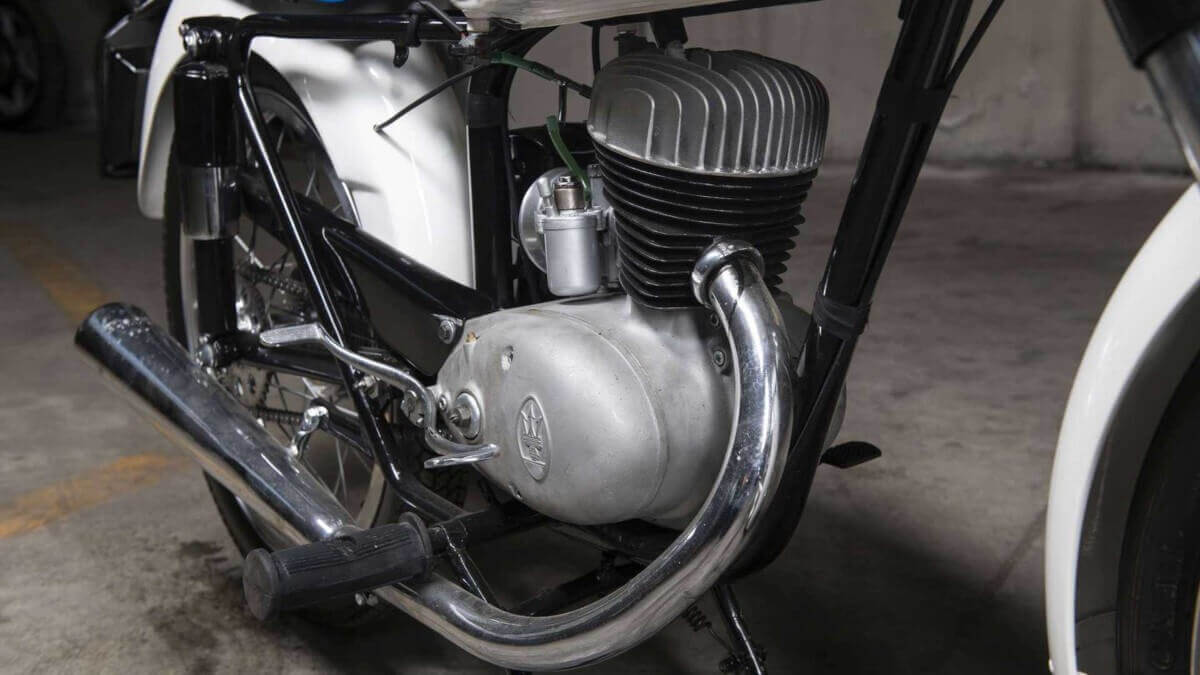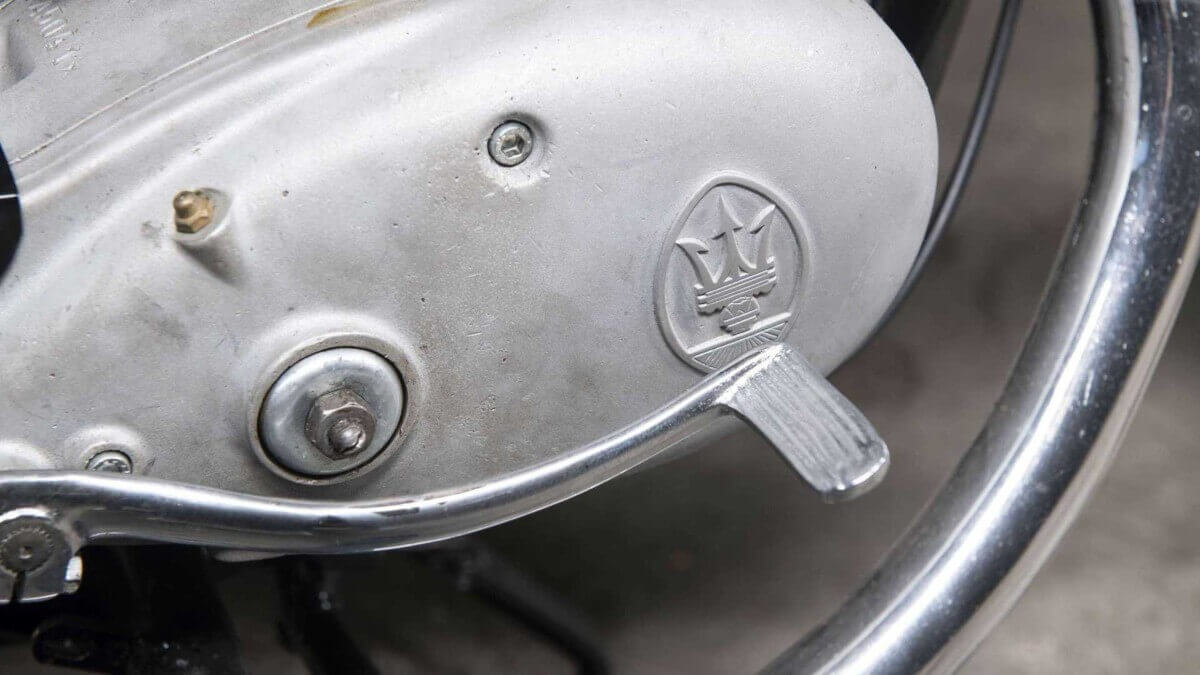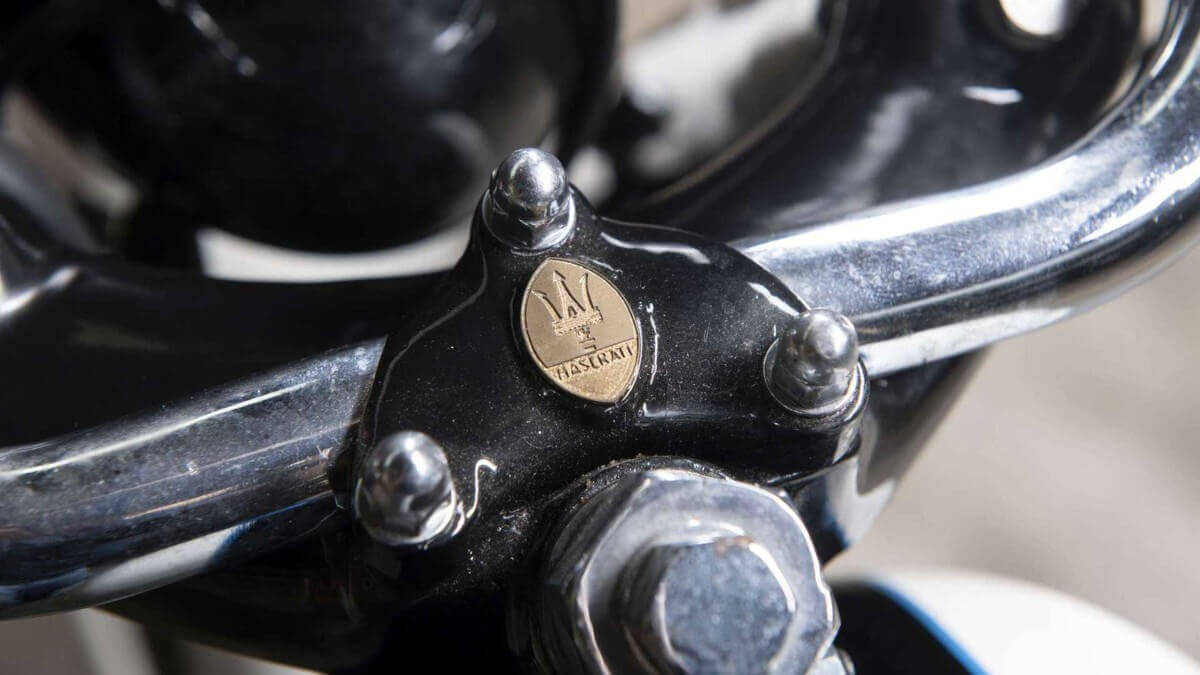 With a displacement of 125 cubic centimeters from a single cylinder, the Tipo T2 developed 6.8 horsepower and reached a topspeed of 100 kph (62 mph). Enough to swim in the traffic back then. But besides going to work or to the market, the Maserati also some private racers in Italy for city to city races like the 'Milano-Tarneto'. The two-stroke engine has a carburettor with a diameter of 24 millimeters and could be tuned a bit.

At the Paris-based auction house Artcurial, a beatiful restored copy of the Maserati 125 Tipo T2 was auctioned last Saturday. With its white paint on the tank and fenders, black powder-coated frame and the blue saddle, it blends in well with the color schemes of classic Maserati racing cars up to the rare supercar MC12 from the early 2000s. Opportunities to acquire such a motorcycle are exremely rare.

Author: Matthias Kierse – Secret Classics

Images: Artcurial, Dirk de Jager