620-hp V8 biturbo engine
For some years now, rumours have been circulating in the world of sports cars that Ferrari has a new entry-level model in the pipeline. Initially, many fans hoped for a new edition of the legendary Dino, maybe with a V6 turbo engine. Yesterday evening, the brand from Maranello finally presented the new Ferrari Roma as a coupé with a V8 biturbo engine, mounted behind the front axle, in the Italian capital Rome. Compared to the Portofino convertible with retractable hardtop, the power output was slightly increased to 456 kW/620 hp and 760 newtonmeters of torque, which are transmitted to the road via a new eight-speed dual-clutch gearbox. This accelerates the coupé to 100 kph (62 mph) in 3.4 seconds and to 200 kph (124 mph) in 9.3 seconds. Ferrari specifies a topspeed of more than 320 kph (200 mph).

Designwise the new Ferrari Roma reminds surprisingly strongly of some competitors. Evil tongues even suggest a romantic night of a Mercedes-AMG GT with a Jaguar F-Type Coupé and an Aston Martin DB11 in a cosy garage. Behind the long and flat bonnet there is a relatively compact passenger cell, whose roof rises a bit further from the windscreen to offer the driver and co-driver enough headroom, but then falls off in a continuous swing towards the rear end. At the front, the LED headlights show a new design for Ferrari and allow air into the vehicle through intakes around the light housings in order to specifically inflow radiators and front brakes. With its grille, the radiator grille quotes a bit the styling of the 1980 Ferrari Pinin Concept by Pininfarina. The rear shows four flat LED lights and a trunk lid that reaches up to the bumper and includes the rear license plate. Four exhaust tailpipes help the V8 engine to sound better.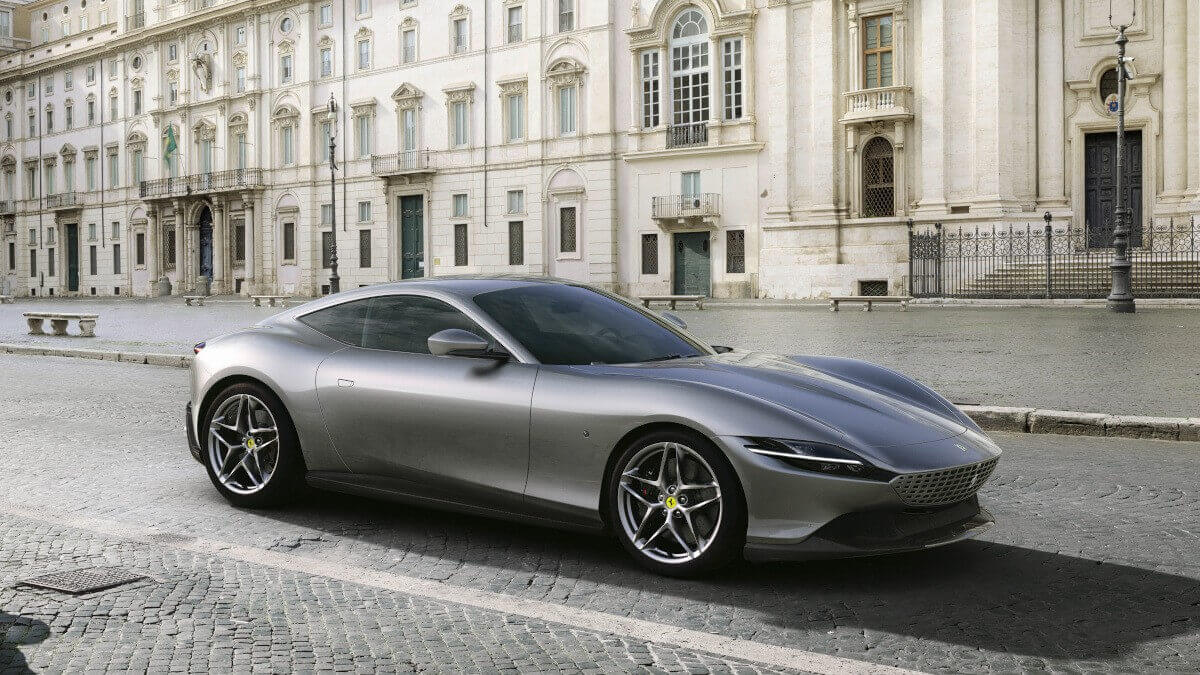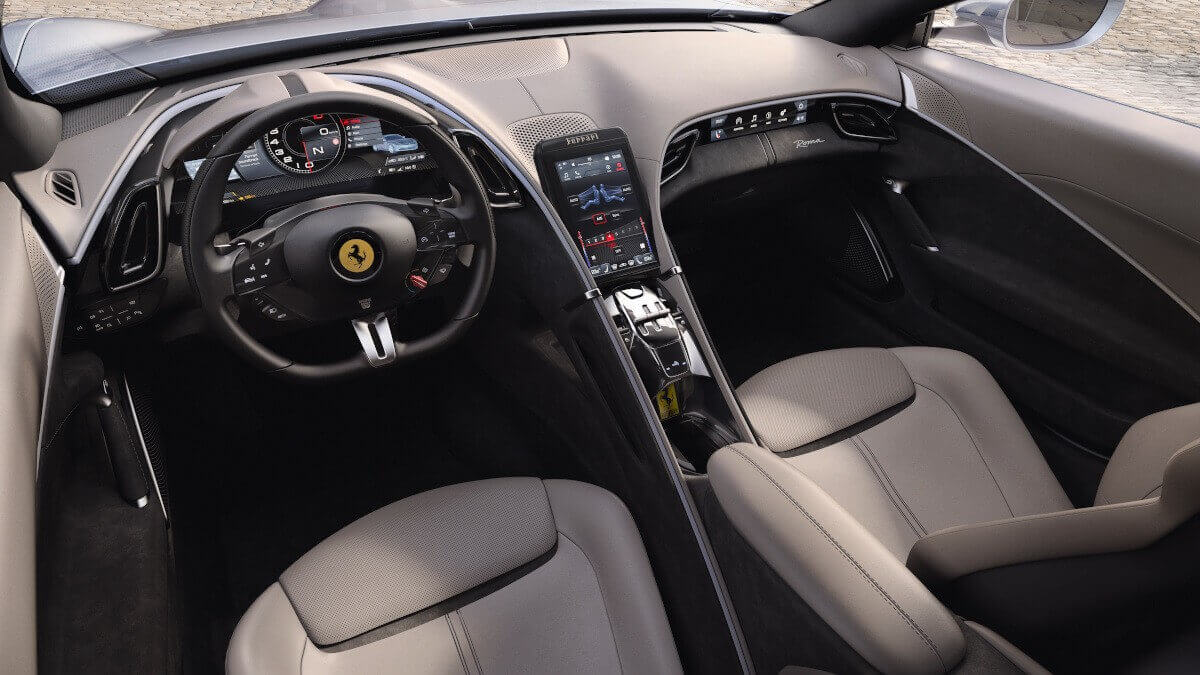 When designing the interior, Ferrari deliberately chose to divide it into two separate seating areas for the driver and front passenger. The dashboard has a curved design and runs diagonally into the center console. It has a small number of buttons, including for the transmission modes, and a large touch screen display. The area behind the steering wheel is also completely digitalised. Even the round rev counter, which has always been offered by Ferrari as an analogue instrument, is now an animated display. In front of the co-driver is another display to show him or her the speed of the car and some more information.

So far Ferrari hasn't announced the prices for the new Roma, nor the date by which it will be available at the dealers.

Author: Matthias Kierse – Secret Classics

Images: Ferrari