Lifestyle
A G for the Moon
"Baby it's cold outside," know the designers of the first collaboration between Mercedes-Benz and Moncler. So why not keep the G-Class snug and warm with a down jacket? Not just any jacket, of course, but the iconic Moncler Puffer Jacket.
But from the beginning. We take you with us to London, where Monclers' first collaboration with a car manufacturer is presented. The unveiling of the art project will take place at none other than London Fashion Week. The setting is Moncler's show, which is themed "Art of Imagination" and is a tribute to limitless possibilities of discovery. It aims to inspire the realization of one's dreams, to grow beyond oneself and to break new ground. So far, so good.
Now about the setting on site: we dive into an imaginary world in the universe without gravity, impressively staged by starry rain, spotlights and smoke. You hear exciting music and look down on a large platform that resembles an icy landscape. A massive, flashing cage hides the contents. The mood is crackling, captivating, somehow otherworldly.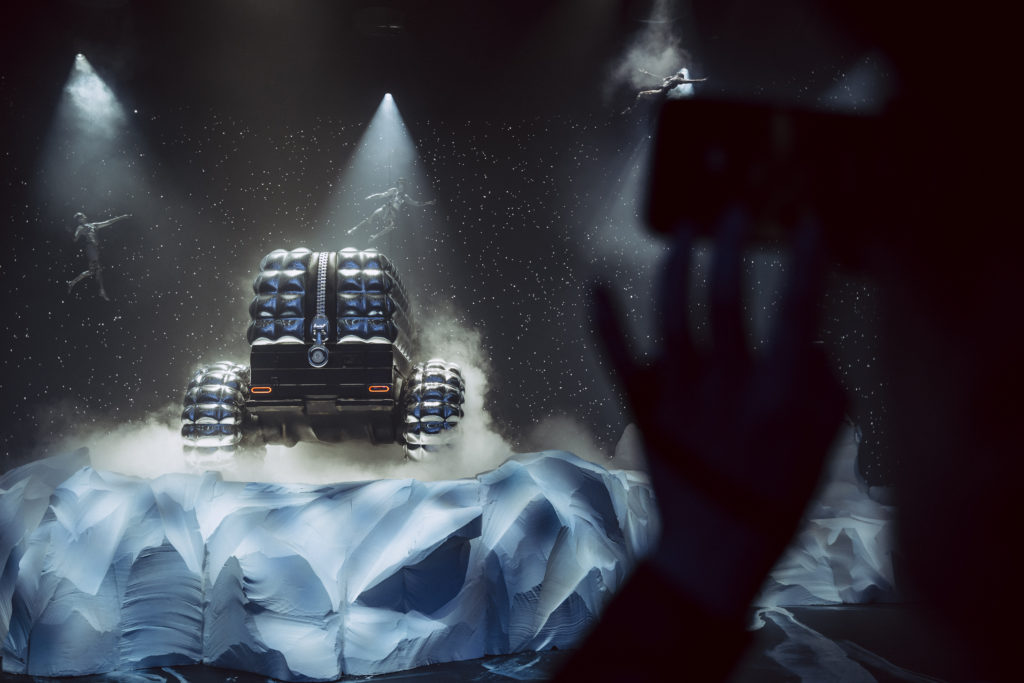 Then finally, the unveiling: the cage disappears, the music slows down and the work of art is revealed, slowly rotating on its pedestal. It reveals a fusion of design elements that at first seem very opposite. The hard edges of the legendary G Class, the first model from 1979, which stands for tradition and practicality like no other. The deliberate patina look and the dark, geometric outlines are striking.
Contrast Monclers' style defining down jacket, made of soft quilted elements. It stands out with its silver reflective high shine.
The result is a charming work of art of two functional products, which in turn stand for iconic luxury and timeless lifestyle. Mercedes-Benz and Moncler share a passion for succinct design language and for thinking outside the box in terms of collaborations that like to turn heads.
An oversized zipper converts the coupe into a convertible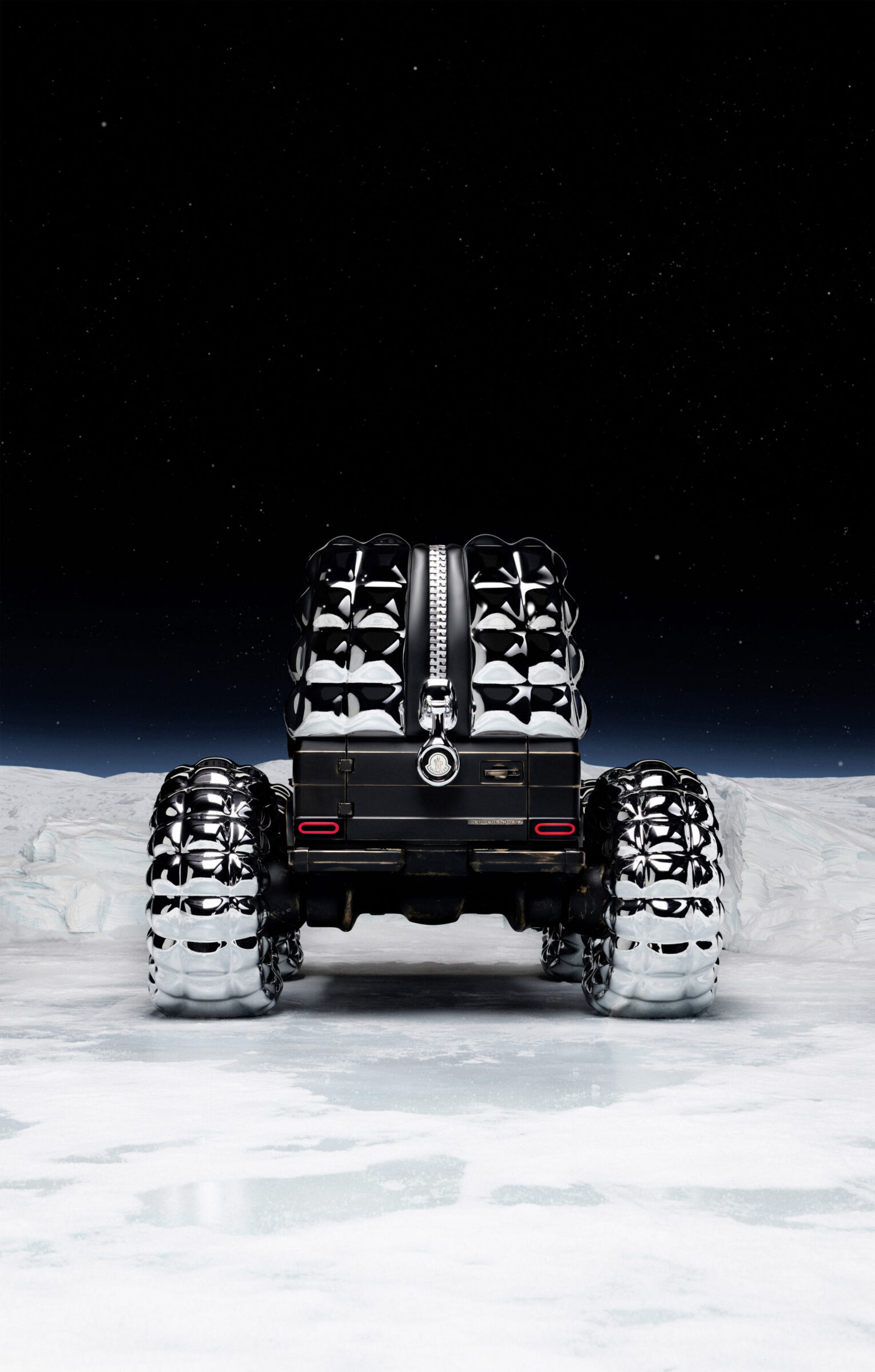 Gorden Wagener, Chief Design Officer Mercedes-Benz, speaks of "polarizing art to set new impulses and trends." The sculpture is even more impressive from the rear. An oversized zipper converts the coupe into a convertible
All this with (almost) real dimensions: the work of art measures 4.6 meters long, 2.8 meters high, 3.4 meters wide (with wheels) and weighs 2.5 tons.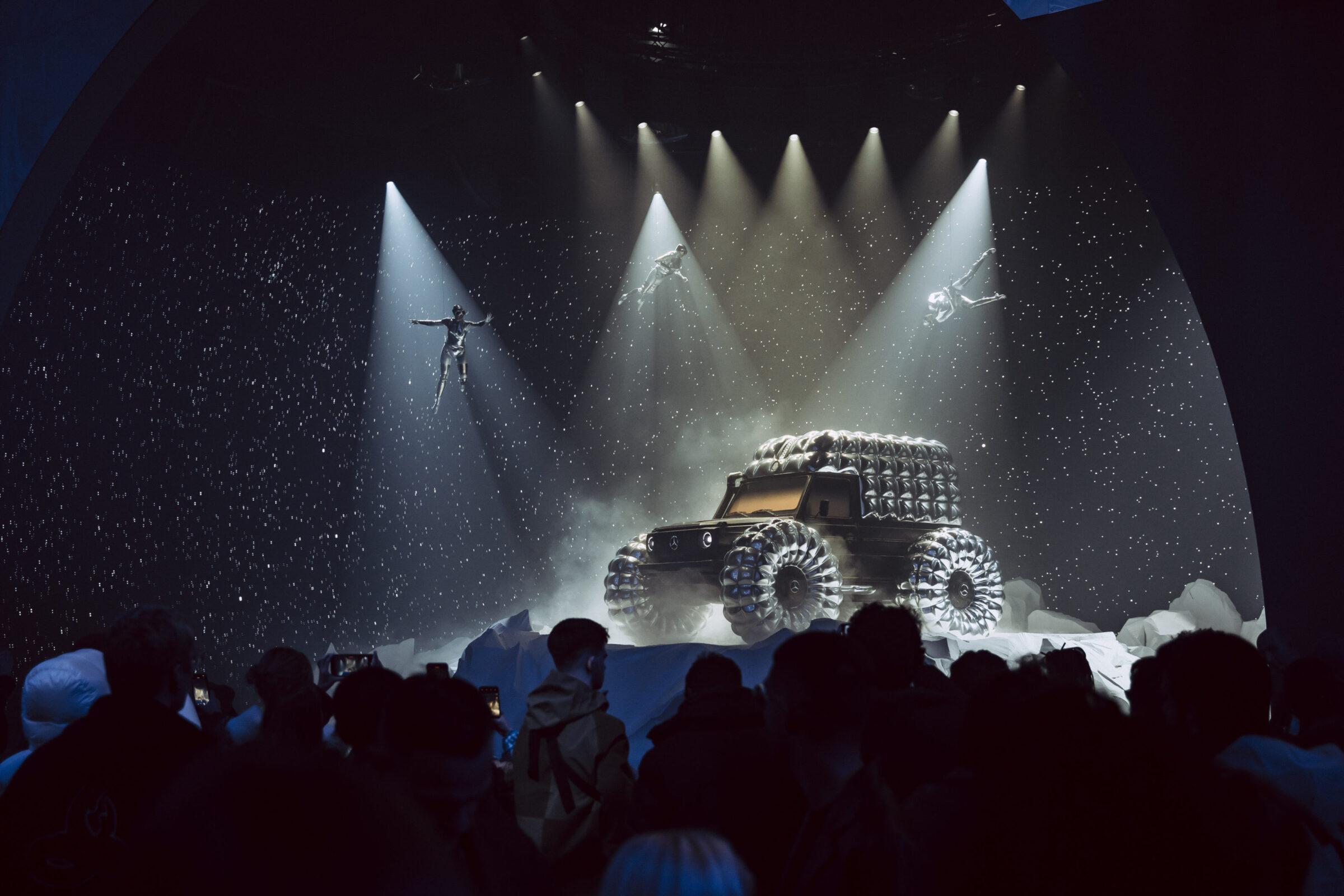 For me as a fashion enthusiast, this is an exciting collaboration that makes me want more. What's next – an SLS AMG with a sneaker? The bottom line is that with the creation of the Project Mondo G, Mercedes has pushed the boundaries of traditional design and set out for new horizons in design and culture. The goal of bringing forth an unexpected creation from the combination of both brands has definitely succeeded.
---