Automotive
Porsche 911 (992) Targa 4 GTS Edition 50 Jahre Porsche Design
In addition to its famous sports cars, Porsche is also well-known for good design outside the world of cars. Whether sunglasses, wristwatches or cell phones, the Porsche Design brand has left an impression in various places. The associated design studio was founded in 1972 by Ferdinand Alexander Porsche and his brother Hans-Peter, grandsons of Ferdinand and sons of Ferry Porsche. Their basic philosophy was: "Good design must be honest." Accordingly, various everyday objects and other products were created with thoughtful, functional and durable aesthetics. To this day, this idea hasn't changed under the leadership of the current Managing Director Roland Heiler. The design office now has locations in Zell am See, Berlin, Ludwigsburg, Los Angeles and Shanghai. Meanwhile, the various products are created in cooperation with companies such as Panasonic, KEF or LaCie.
911 S 2.4 Targa one-off
On the occasion of Porsche Design's 50th anniversary, a classic one-of-a-kind vehicle and a special series have now been created. Both share the same exterior and interior color scheme. This is inspired by the legendary Chronograph I designed by F.A. Porsche in 1972. The one-off is based on a 1972 Porsche 911 T 2.4 Targa, which Porsche bought in poor, incomplete condition. However, in view of the modifications already planned at that time, this was of no consequence. In addition to an extensive factory restoration, the car received the same visual details as the planned modern special edition series. The technicians installed all the components of the 911 S 2.4 already available in 1972, i.e. a 190 hp boxer engine with mechanical fuel injection. To match the Chronograph I, the car also received black paint and trim strips in Platinum silk gloss. The Targa rollbar also received a glaze in Platinum silk gloss and a special metal badge sits on the rear grille.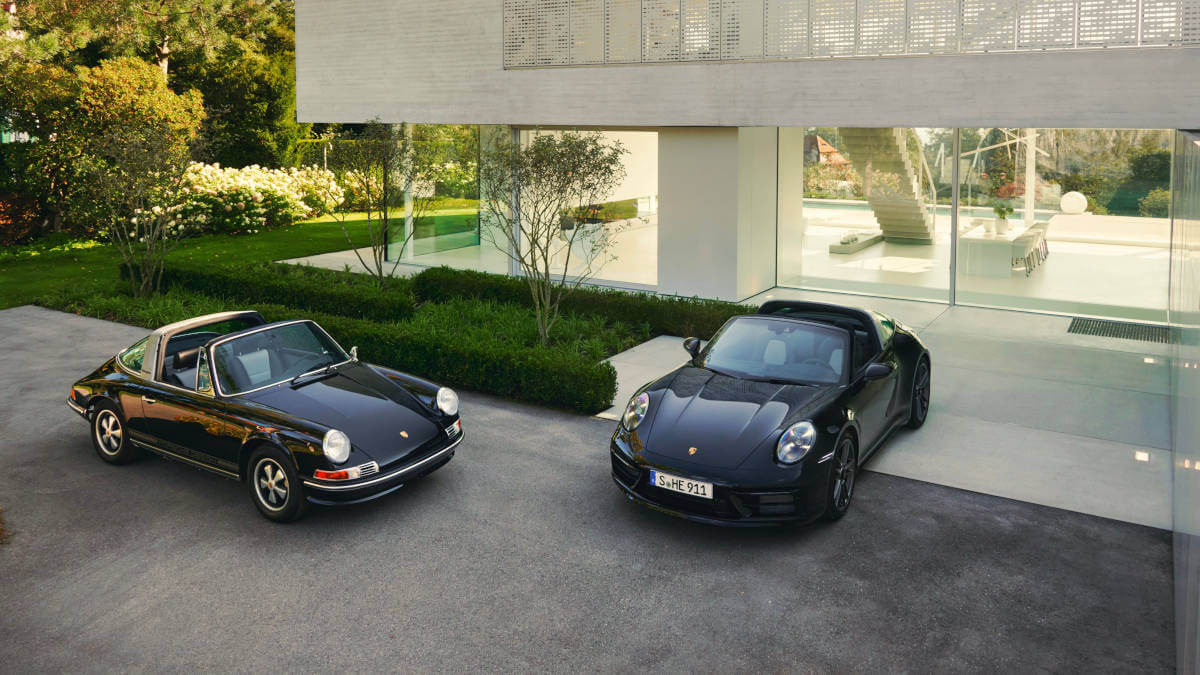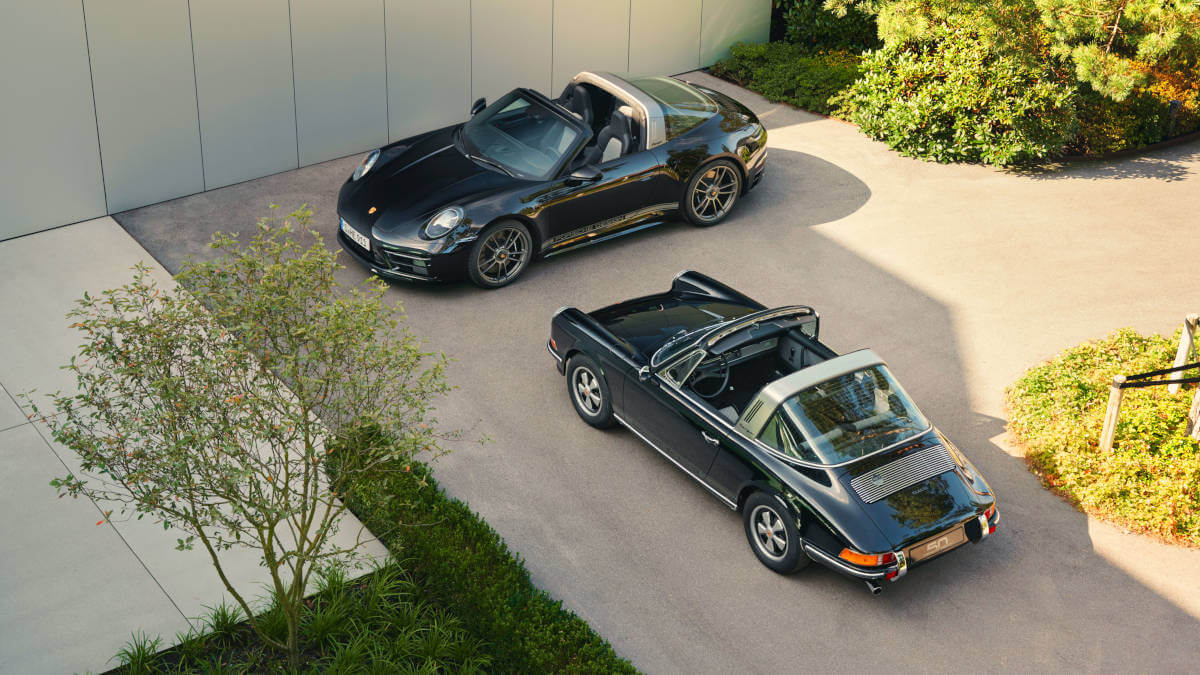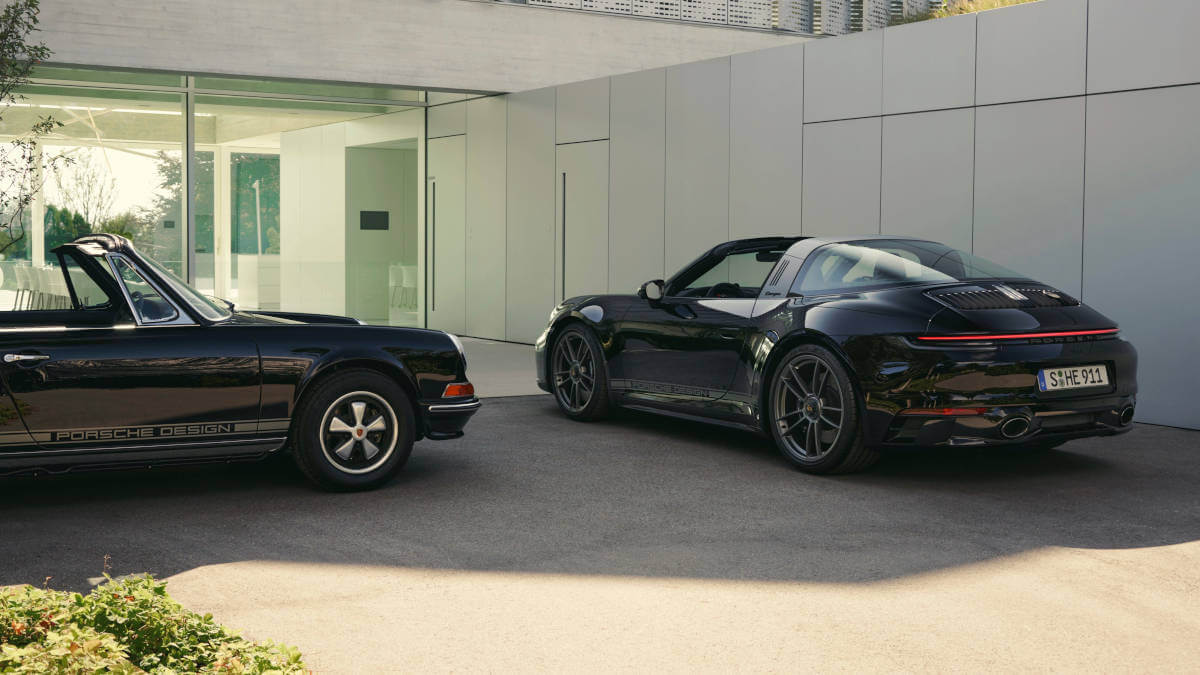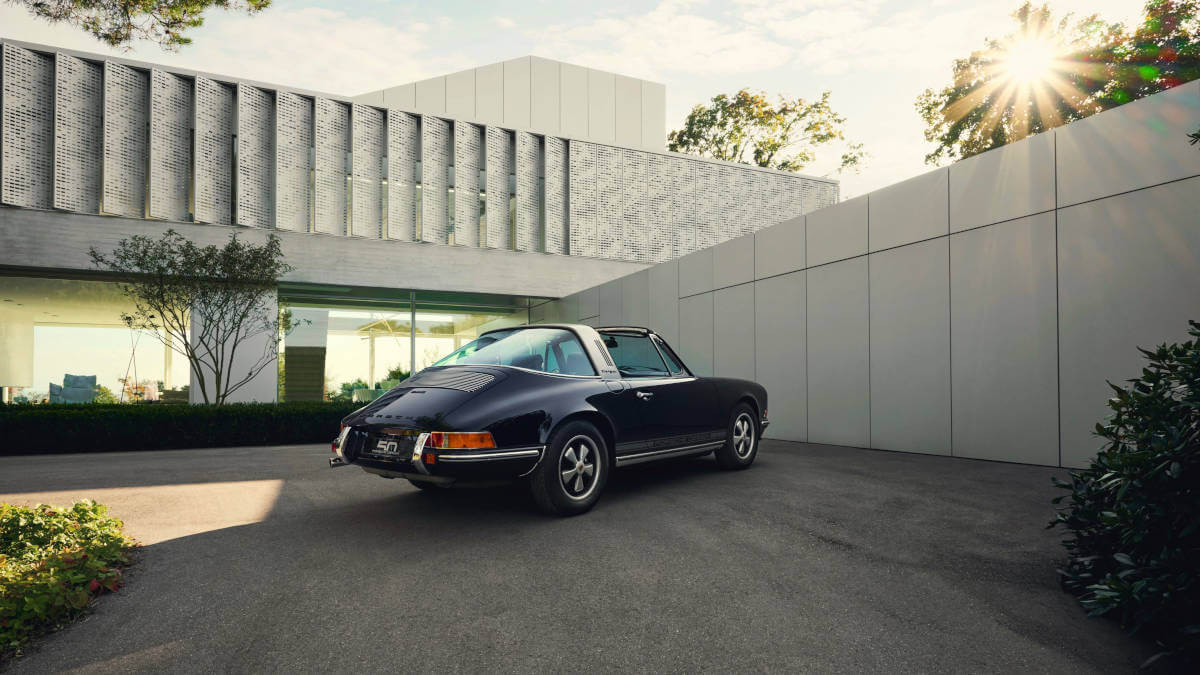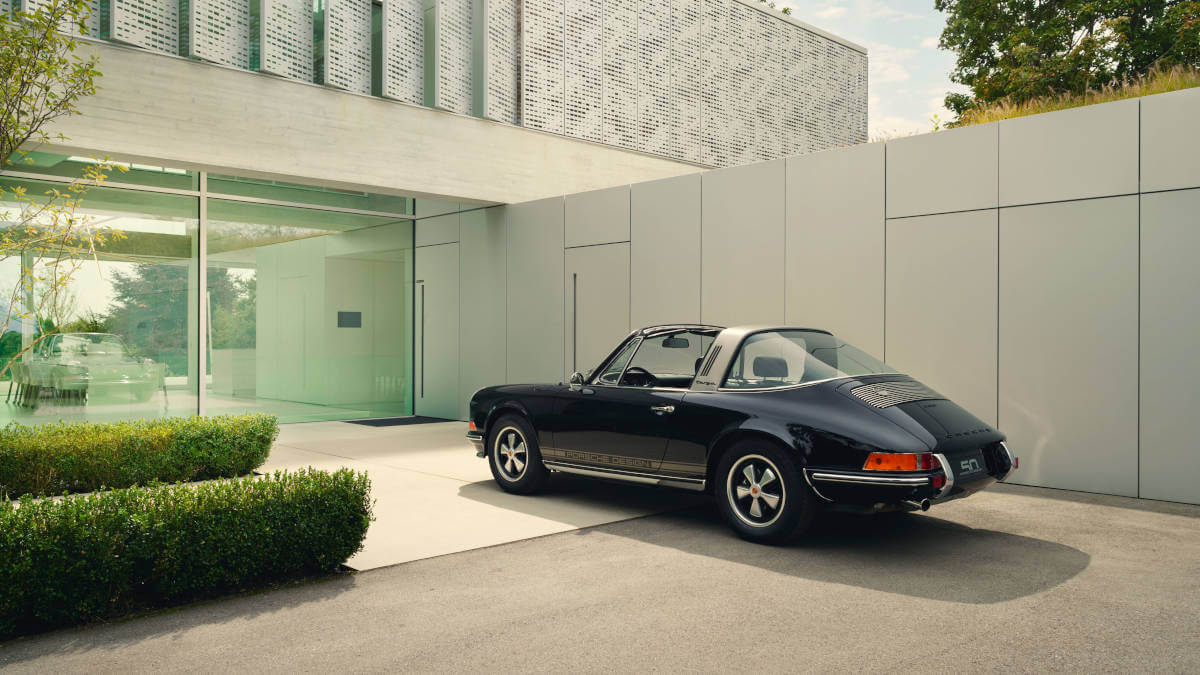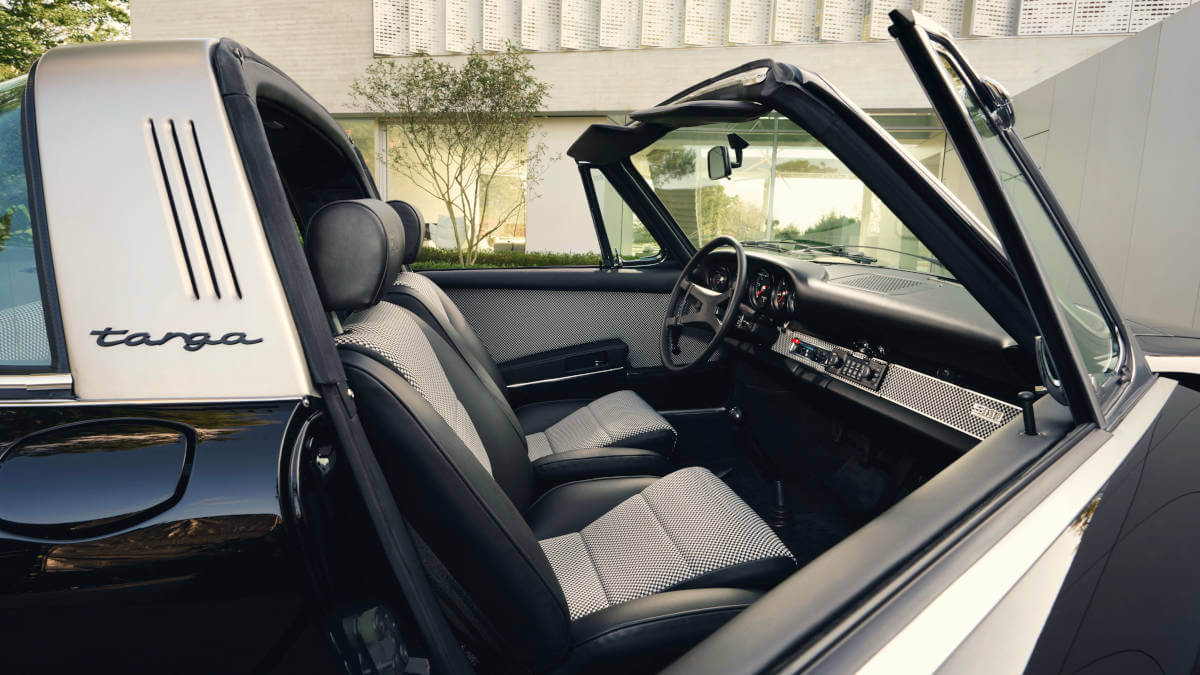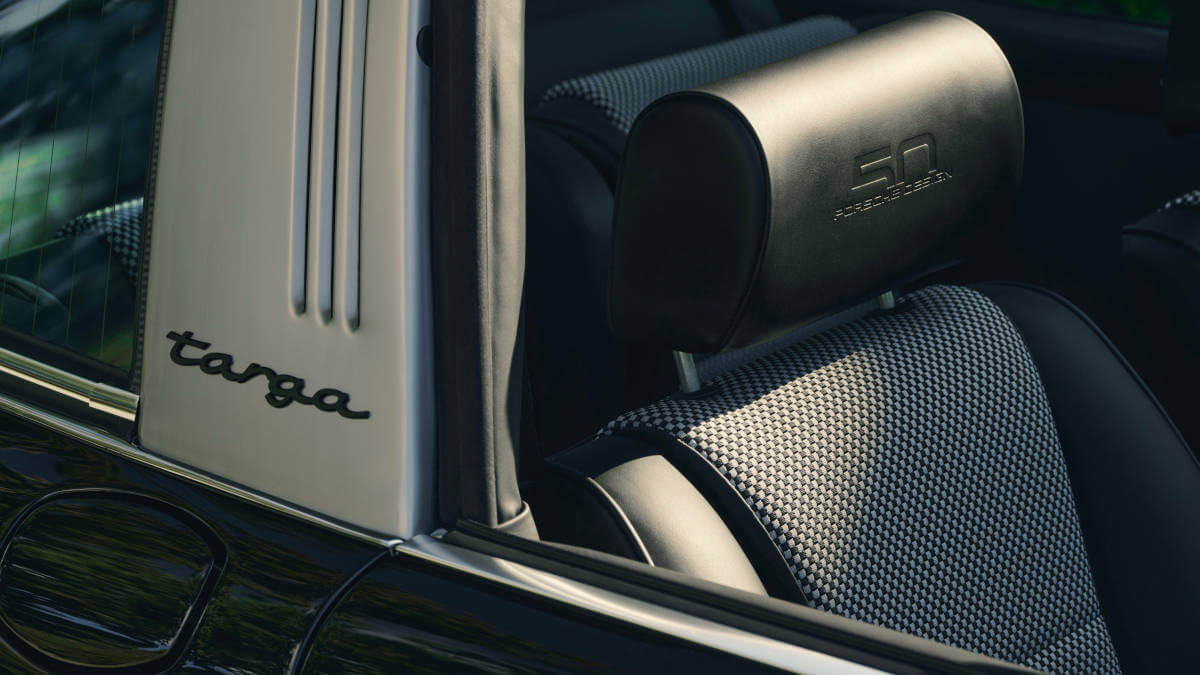 911 (992) Targa 4 GTS Edition 50 Jahre Porsche Design
This special metal badge with a reference to Porsche Design's anniversary and a replica of F.A. Porsche's signature can also be found on the rear of the limited special edition. As the Edition 50 Jahre Porsche Design, 750 units of the 911 (992) Targa 4 GTS are rolling into dealers. They are numbered on another metal badge on the dashboard. In addition, they also feature black paint and details in Platinum silk gloss. The seat centers are adorned with Sport-Tex in a black and white check pattern, and an anniversary logo is embossed on the headrests. Next to that, the F.A. Porsche signature is embossed on the lid of the center storage compartment. The second hand of the standard Sport Chrono package glows in red. The first vehicles of the limited edition will be rolling into dealerships from April. Orders are being taken now.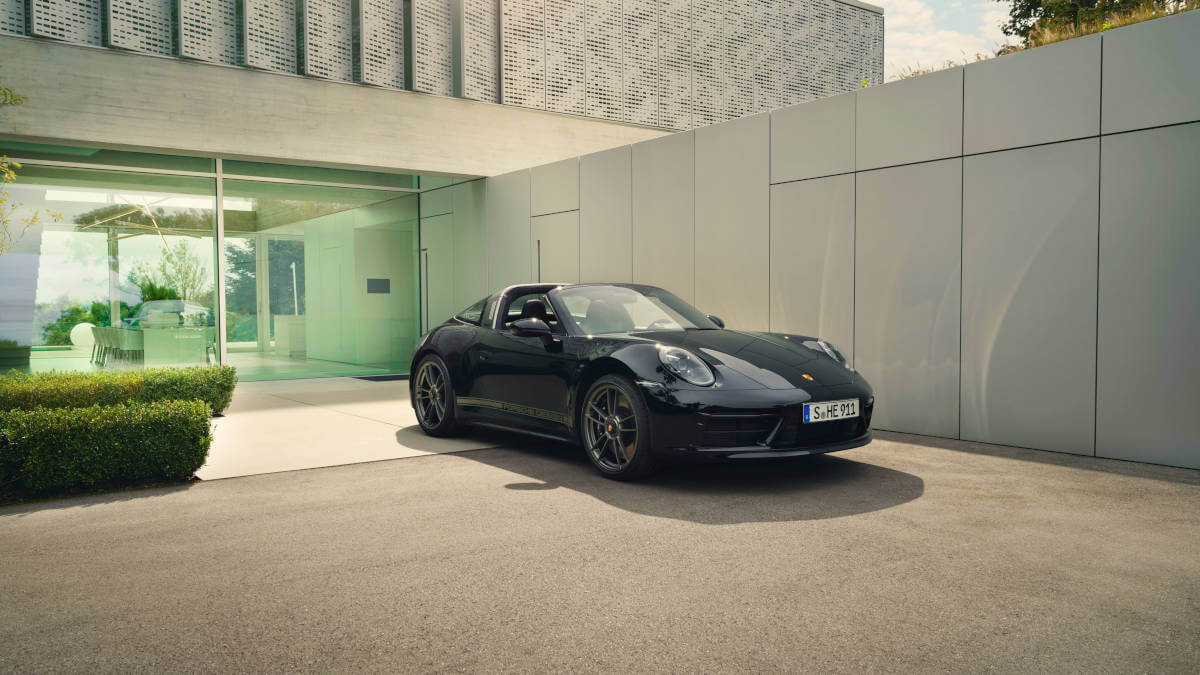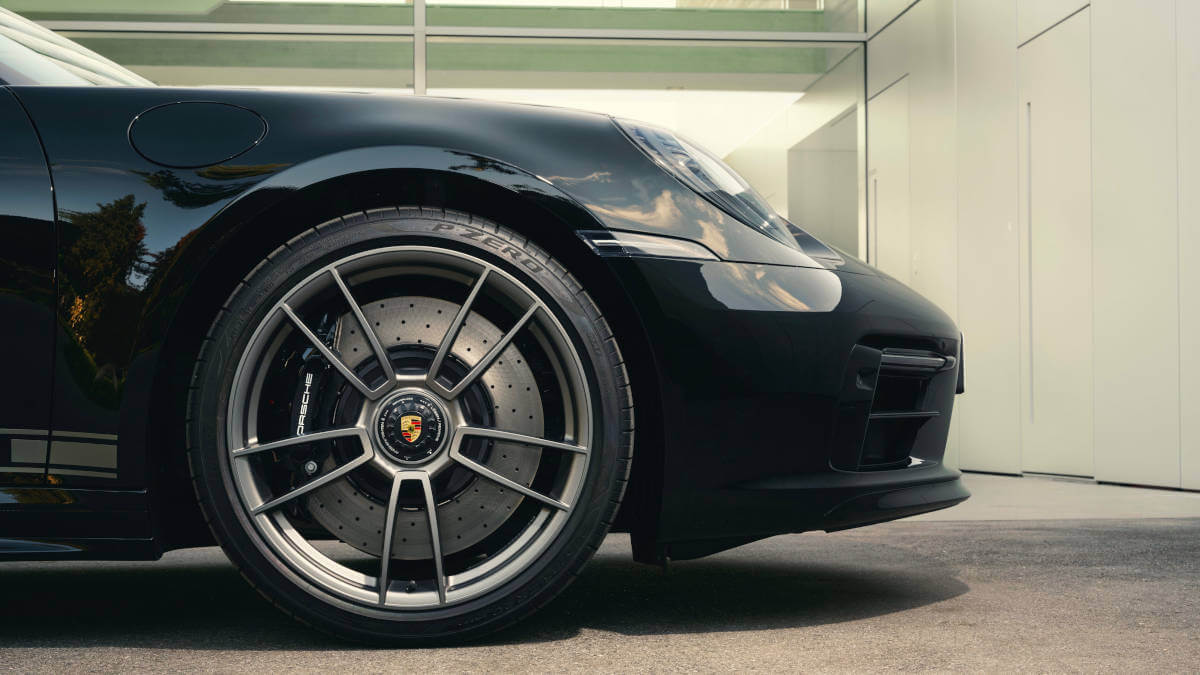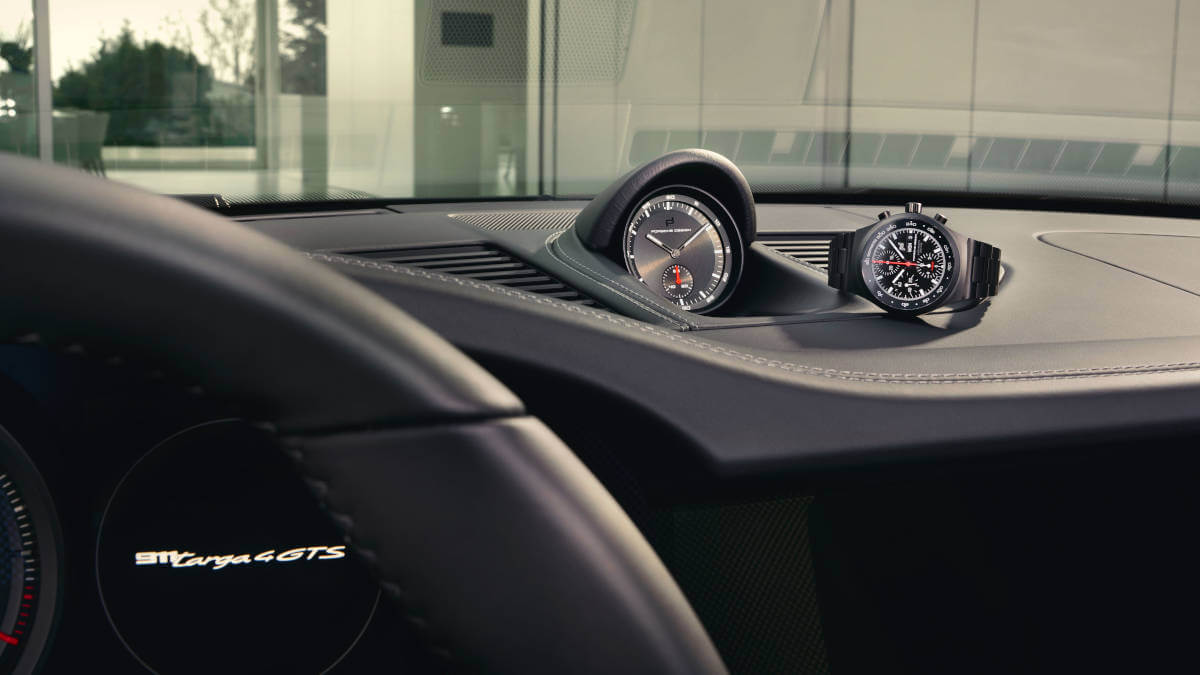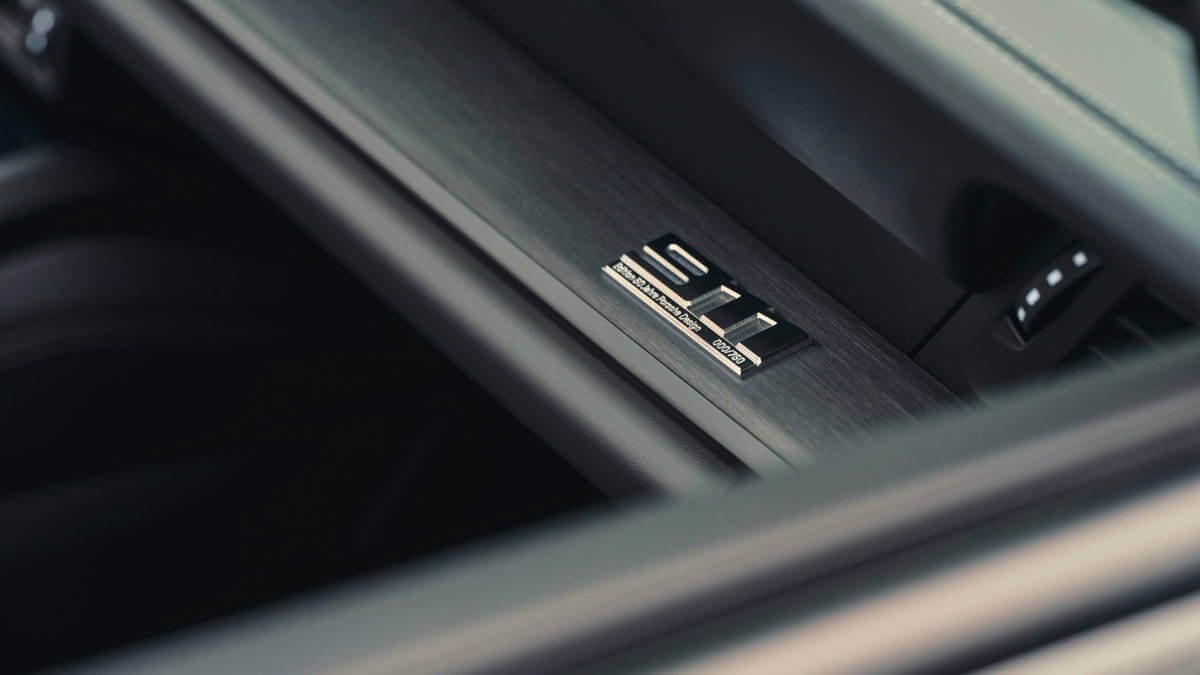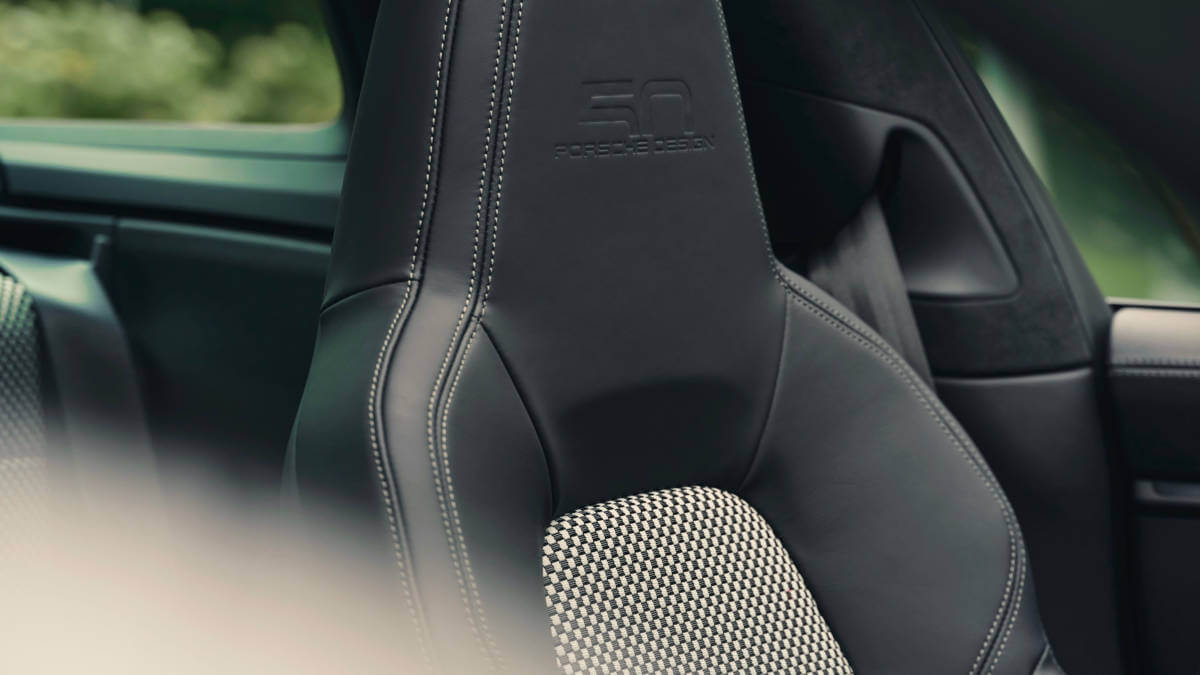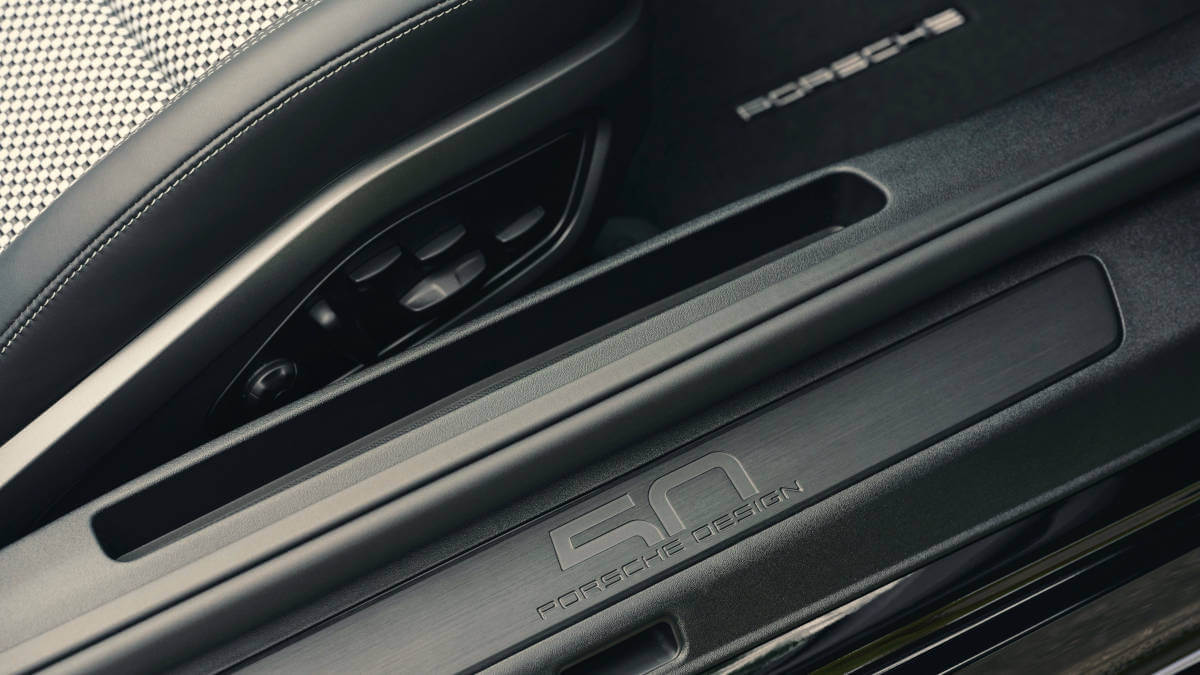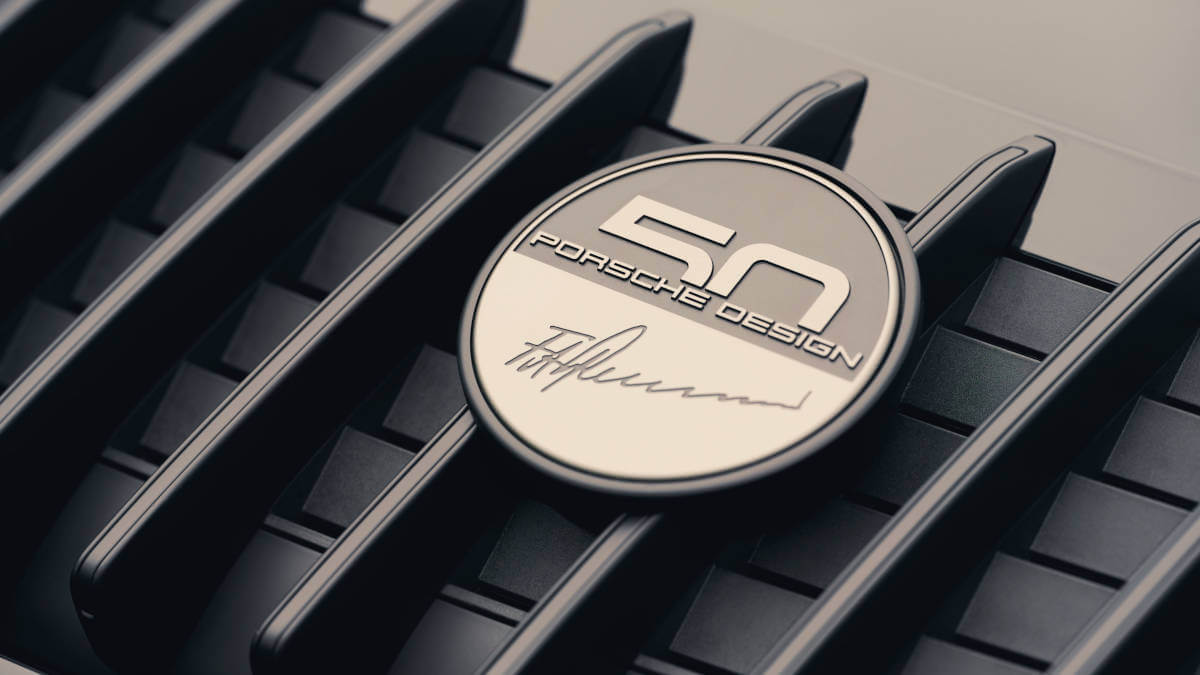 Exclusive watch and special exhibition
In keeping with the historic one-off and the new limited edition, Porsche Design is presenting the Chronograph 1 – 1972 Limited Edition. In contrast to the 911 (992) Targa, this one is even limited to just 500 consecutively numbered pieces. Apart from the basic color scheme, only the winding rotor in the form of the rims shows any reference to the car. In keeping with the company's anniversary, the Porsche Museum in Stuttgart Zuffenhausen is holding a special exhibition from today until July 11, 2022. This provides information about the life and work of F.A. Porsche and shows various exhibits. These include, for example, the P'8478 pilot's goggles, the P'3613 pipe and the P'9521 cell phone. In addition, F.A. Porsche's 911 (993) Speedster and the 904 Carrera GTS he designed are on display on the balcony at the end of the museum's tour. The special exhibition is rounded off by the unique 911 Targa mentioned above.

Images: Porsche