Automotive
Peugeot 405 T16
As the top model of the middle class sedan 405 Peugeot introduced the T16 in 1993. It took its nickname from the Group B rally car 205 T16 and the 405 Turbo 16 prototype, which was successful twice at Pikes Peak and at the Paris-Dakar Rally. Decades later, there was another successful racing car at Pikes Peak with the 208 T16. But let's stay with with the high-performance sedan at this point.
Last US model from Peugeot
Already in the fall of 1987, the Peugeot 405 rolled to the dealers as a sedan. The station wagon Break followed in May 1988. Pininfarina had helped design the bodywork, as with various previous models, without the company logo being visible anywhere. In the beginning the 405 Mi16 with 116 kW/158 hp was the spearhead of the line-up, which was also available as 405 Mi16x4 with permanent four-wheel drive. Due to the introduction of a catalytic converter in 1988 the power dropped to 108 kW/147 hp and only rose again to 112 kW/152 hp in 1992. By this time Peugeot had already definitively stopped exporting cars to the USA. The 405 had held the flag of the French brand there until the end.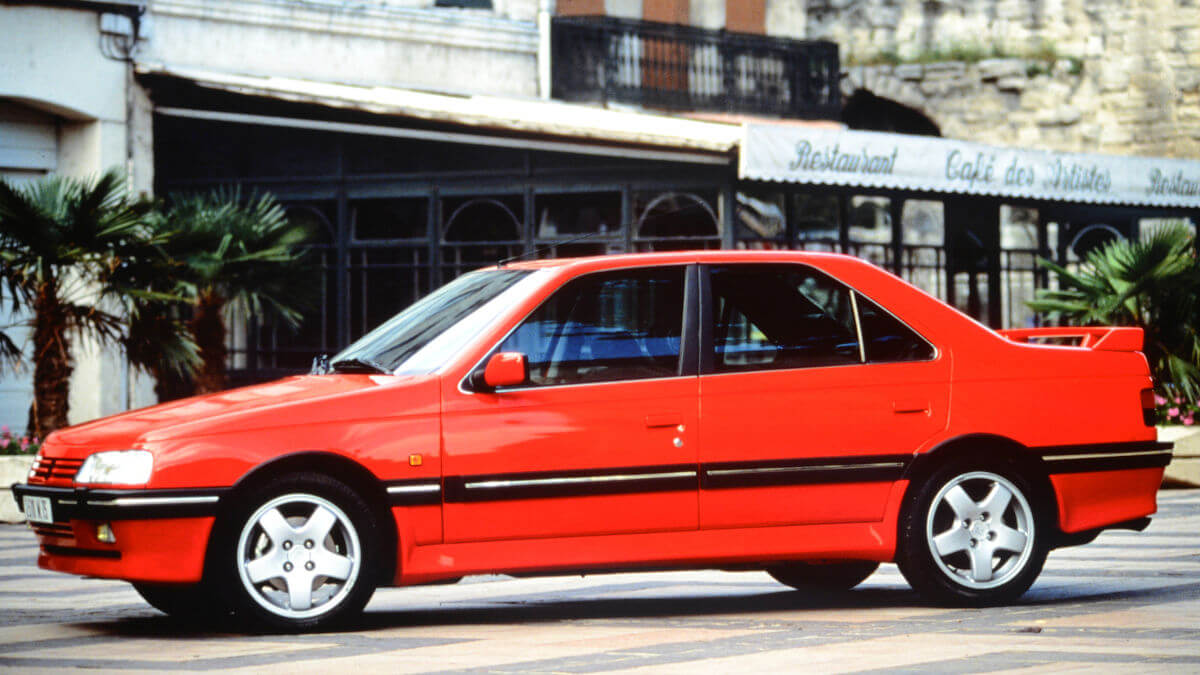 From 1993, the new top model, the 405 T16, rolled into the dealerships. Like its predecessor, the Mi16, this version was only available as a sedan. At the same time, all other 405 models received a small facelift with new rear lights and modified dashboard. The T16 was equipped with a two-liter four-cylinder turbo engine with 16-valve technology. The Garrett turbocharger used was given a variable turbine geometry. It was supported by a water-cooled intercooler and a sequential injection system from Magneti Marelli. The power output was 144 kW/196 hp, which was temporarily increased to 162 kW/220 hp by an overboost function. Via a manual five-speed transmission, the power reached the permanent four-wheel drive system with viscous clutch. This distributed the torque 53 percent to the front and 47 percent to the rear. It enabled the 405 T16 to reach 62 mph in seven seconds and a topspeed of 146 mph.
Blue Mauritius of the 405 model series
Visually, the 405 T16 received the sportier bumpers and a small wing on the trunk lid of the Mi16. New were the 16-inch light-alloy wheels with five spokes each and the headlight cleaning system. Compared with the normal 405, of which a total of around 2.8 million units were built in France up to 1996, the T16 is a real rarity. Only 1,046 copies rolled off the production line. Of these, 46 went to the French Gendarmerie. A total of only 99 units reached the German market when new. The basic model of the 405 still rolls off the production line today in a slightly modified form as the AAV Peugeot Pars in Egypt and as the Peugeot 405, Pars and Roda at Iran Khodro in Iran.

Images: Peugeot