Automotive
Ferrari SF90 Spider
Ferrari presents the SF90 Spider a little more than a year after they showed the Coupé. This means that the most powerful series model from Maranello now also comes as an open-top version. The Retractable Hard Top (RHT), already known from the 458 Spider, 488 Spider and F8 Spider, was adapted to the modified body shape. It guarantees the best possible noise and temperature insulation when closed and is stable even at high speeds. It can also be lowered behind the seats in 14 seconds. Thanks to its aluminium construction, this roof is around 40 kilograms lighter than comparable folding hardtops. The rear window can be opened and closed separately from the roof.
Up to 124 mph in seven seconds
At the same time, the SF90 is the first high-volume Ferrari with plug-in hybrid technology. A V8 biturbo engine is located directly behind the passengers. This alone already has an output of 574 kW/780 hp. Three electric motors, one on the rear axle and two on the front axle, assist in propulsion and increase the system's output to 735 kW/1,000 hp. The driver can select the four driving modes 'eDrive', 'Hybrid', 'Performance' and 'Qualify' via the eManettino on the steering wheel. This allows the car to cover all needs between electric driving and fastest possible acceleration. Ferrari specifies only 2.5 seconds for the sprint to 62 and seven seconds for the sprint to 124 mph. The topspeed is 211 mph. The optional Assetto Fiorano package gives the SF90 Multimatic shock absorbers and some carbon and titanium components to reduce weight by 21 kilograms. In addition, the rims are then covered with Michelin Pilot Sport Cup 2 semi-slick tires.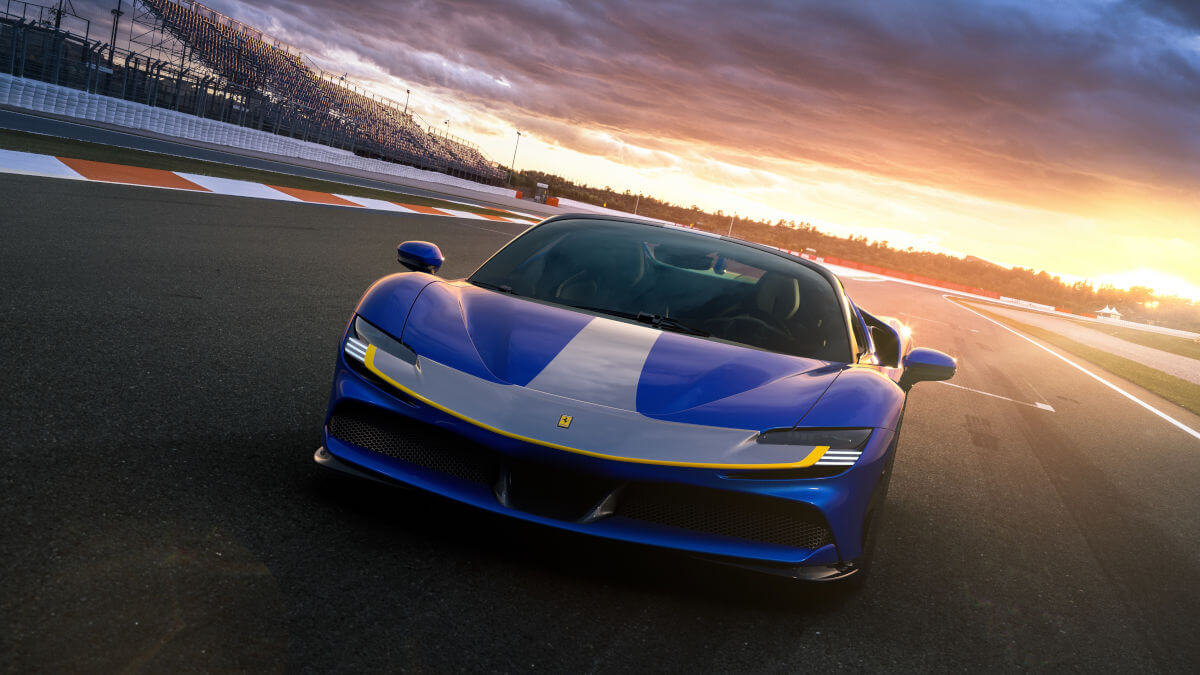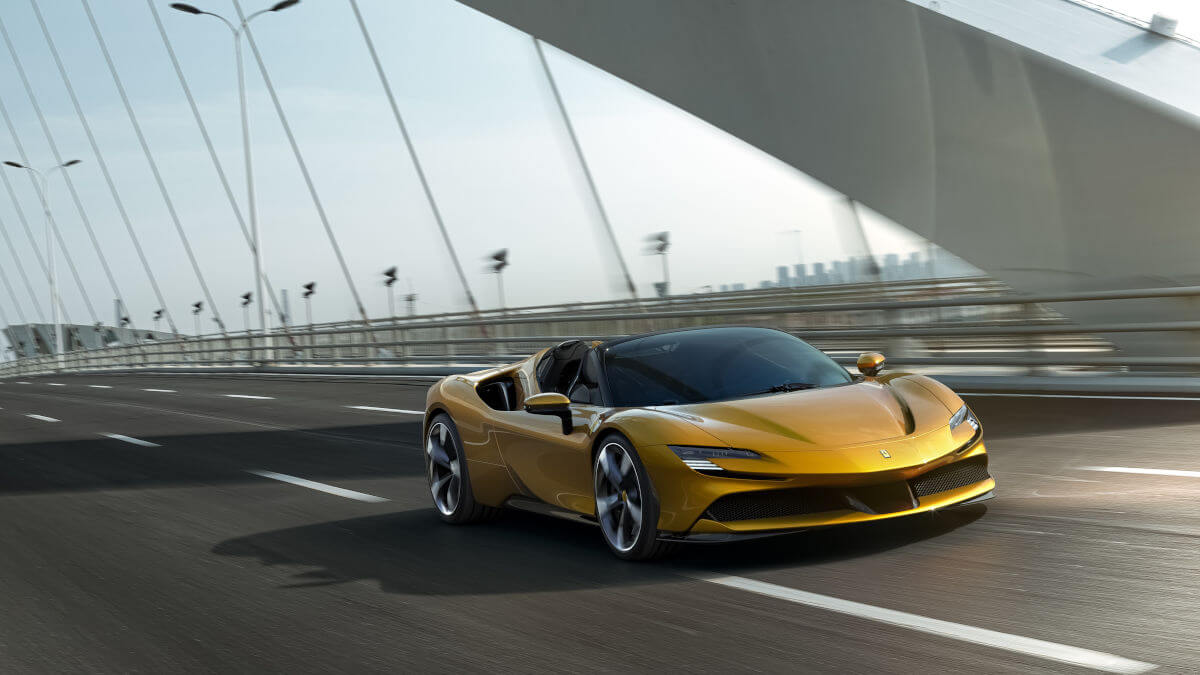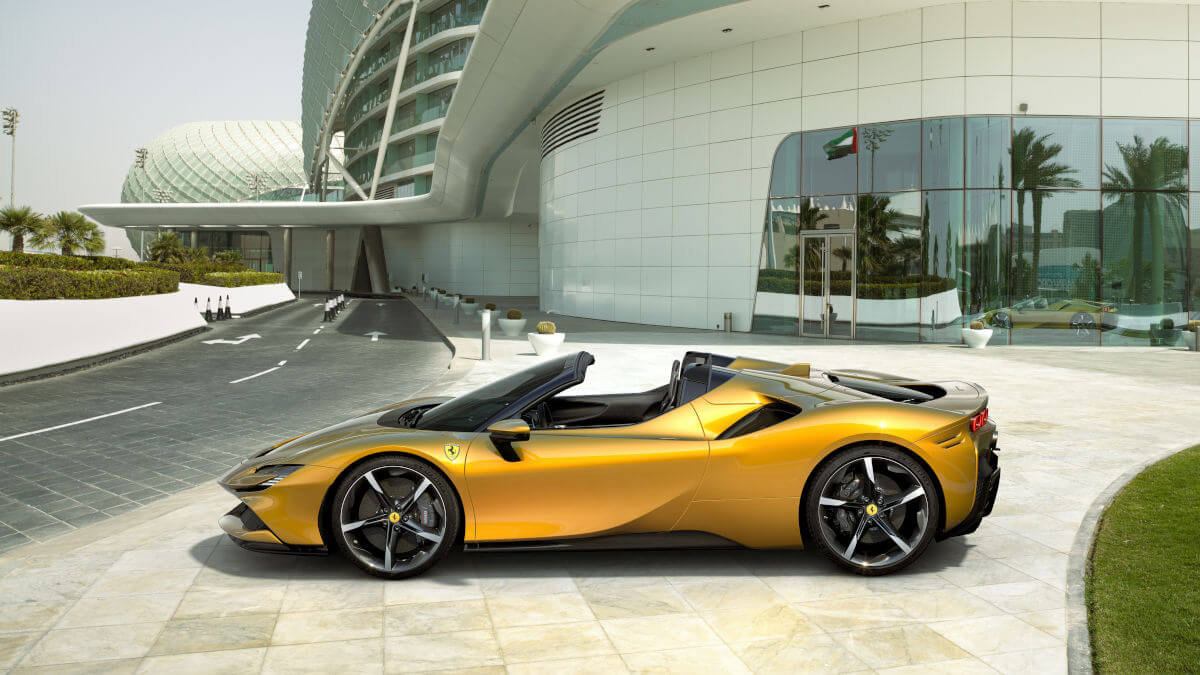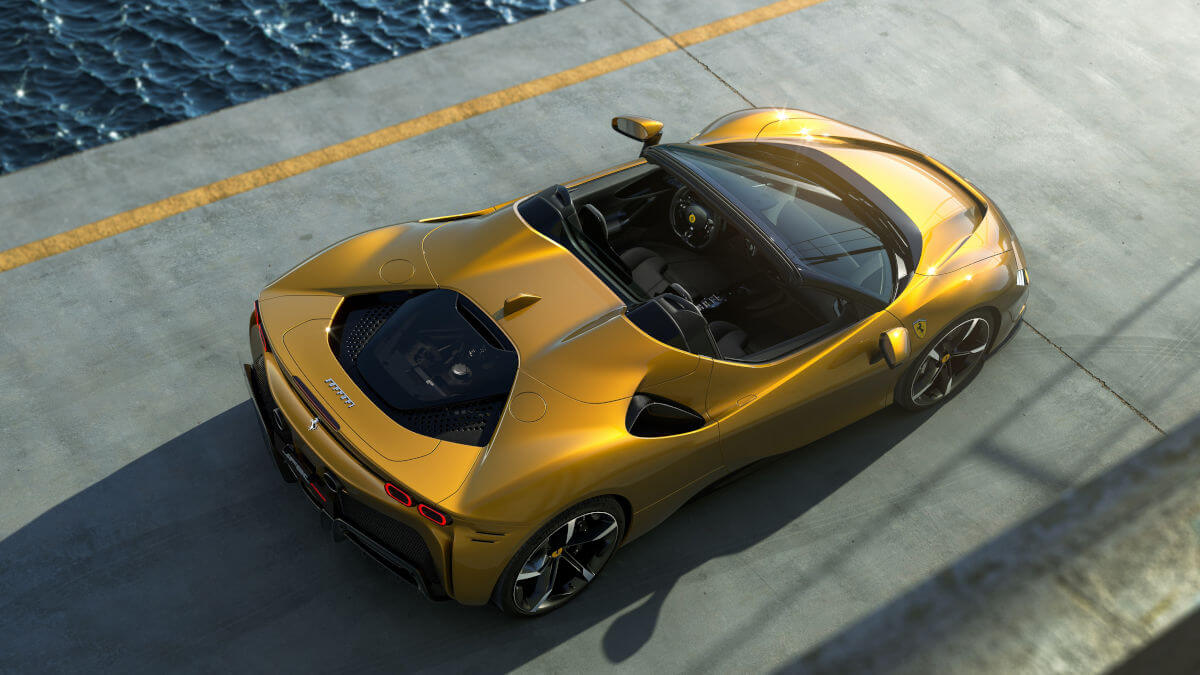 As in the Coupé, the Spider also features the latest generation of the eSSC control system for the driving dynamics. It uses various sensors to control the torque of each individual wheel to precisely match the situation at hand. Thus, the SF90 not only has a permanent four-wheel drive but also Torque Vectoring. This gives the car the best possible traction out of corners. Power transmission is provided by an eight-speed dual-clutch gearbox with electric rear axle differential. This transmission has 30 percent faster shifting times than its predecessor with seven gears.
Assetto Fiorano pack adds colors
The aforementioned Assetto Fiorano package also allows customers to order the SF90 Spider in a two-tone version with front accents and racing stripe. Without the package, the body has a main body color with a black roof. Apart from the minimally visible beading of the hardtop, the Spider is no different from the already familiar Coupé. The same is true for the digitalized cockpit with various displays.

Images: Ferrari